Sometimes more is, well, more
By Kelly Hockenberry, Columnist, UnionvilleTimes.com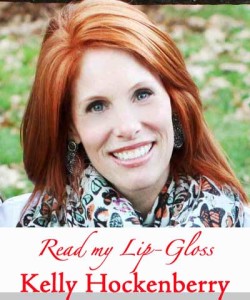 It would be relevant and timely to do some sort of "football fashion" etiquette for this week.
However, I find it difficult to concentrate on the Super Bowl for longer than Madonna's half time show.  In fact, I enjoy watching the commercials more than anything else.  (Confident that I am not alone on this one)
SO, as a distraction for the 12-hour constant stream of athletic commentary (woefully outnumbered in my household), I thought it might be fun to try my hand at a "tutorial" of sorts….
The Art of Layering 101: by Kelly
Winter is the PERFECT time to play around with pattern and texture!
Eliminate the boring compartmentalized notion that an "outfit" consists of a top, pants and shoes.  Instead, think about how a jacket, scarf or pile of bracelets can transform your look into something much more fashion forward.
Let us start with a simple enough ensemble —
EXAMPLE ONE: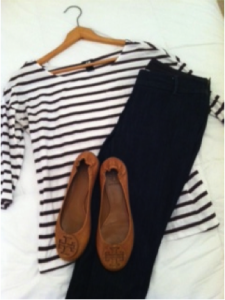 Jeans /striped cotton top/ flats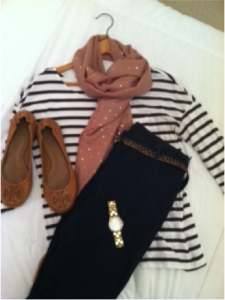 Perfectly acceptable, right?
HOWEVER, adding a few extra pieces elevates this outfit into something infinitely more stylish:
The addition of the pattern on the scarf and animal print belt add a quirky, fun spark to a very plain Jane get-up.  Throw on a gold watch, and you are completely chic.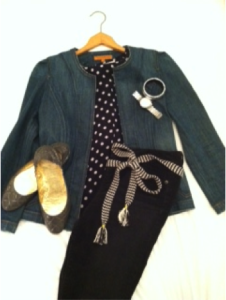 Corduroys/ Polka dot blouse/ Gray ballet flats
The jean jacket and the unexpected juxtaposition of the striped belt make this look like a brand new creation.  The silver watch and glitter bangle add a little sparkle.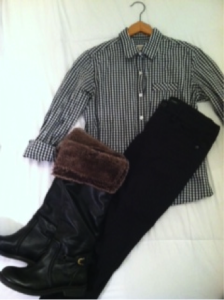 EXAMPLE THREE: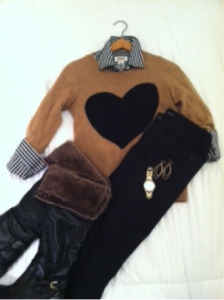 Gingham top/black skinny pants/fur trimmed boot
Don't be afraid to mix brown and black.  These two neutrals pair perfectly together!
Freezing temperatures necessitate layering…not only for the extra warmth that it provides, but, the ability to combine items in your closet in a new way to liven up your "same old" basics!
I also love to layer with my jewelry!
"Arm candy" is a huge trend that is continuing right into Spring!  Bust out those baubles that have been collecting dust in your jewelry box.  More is more, ladies!
The same is true for necklaces.  Throw on a delicate chain and layer longer and progressively heavier pieces over it.  My only suggestion when it comes to piling on jewelry is to pick one or the other to accessorize.  In other words, if you have a forearm full of bracelets, don't have four necklaces on, too.  Otherwise, you run the risk of looking like "Mr. T"….and, that's not so great.
Well, this concludes my first "Master Class." Hopefully, you will be encouraged to mix and match the clothes hanging in your closet.  Putting together a new look with old items will put a "spring" in your step…even if it still feels like winter outside!
Happy Weekend!