By Kelly Hockenberry, Columnist, The Times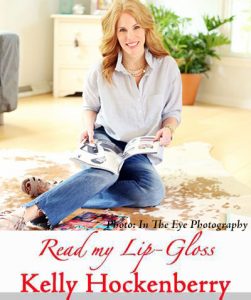 This may come as a surprise…but, I am not a fashion expert (although, I sorta have held myself out to be since I started this column six years ago). I don't have a degree and I can't even sew a button. I just have strong opinions, a big mouth, and a knack for picking the most expensive options on the planet. What can I say? It's a gift.
However, I am here to tell you about an opportunity to get some honest-to-goodness, authentic, expertise AND have a really fun night out! My friends, David of Unionville Saddle and Alexis of Alexis Kletjian Jewelry, are hosting a styling event on Tuesday, October 23rd at Unionville Saddle (1712 W. Doe Run Road) from 5pm to 8pm. They are connoisseurs of couture and will be on hand to show you how to look like Park Avenue when you stroll down State Street.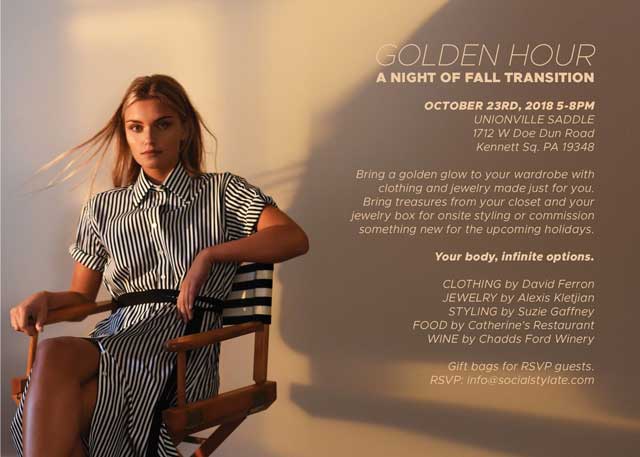 Do you have a burning fashion question about transitioning your wardrobe from summer to fall? Do you wish that you could find the perfect accessory to go with your favorite outfit? Well, this is your chance! They will also be booking for custom pieces just in time for the holiday season.
When I found out about the event, I texted my girlfriends to ask what questions they had to give as examples (in case you are feeling overwhelmed and/or tongue-tied). Here are the top five:
"I have noticed, on blogs and in magazines, women wearing dresses with sneakers.
HOW can I pull this off without looking like Working Girl from 1988?"
"I need a lesson in layering jewelry! How do you do it so that it's cool and not a tangled mess?"
"If I bought one item of clothing and one, sparkly accessory this season to spruce up my closet, it should be….."
"Pattern plus jewels? Help! I feel confident choosing when I have a monochromatic ensemble, but a print throws me off. I don't want to look too busy."
"Classic versus trendy…how can I be bold with my choices but still ensure that I will want to wear the items five years from now?"
Great questions, right?!? Feel free to jot them down and ask away!
In addition to wonderful advice, there will be nibbles from Catherine's Restaurant and wine from Chaddsford Winery! There are gift bags for RSVP guests, so be sure to do that RIGHT NOW to info@socialstylate.com.
Hope to see you there! Happy Weekend