By Kelly Hockenberry, Columnist, The Times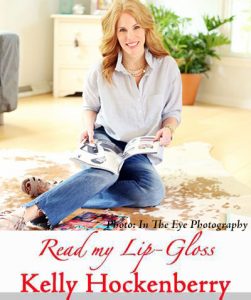 Autumn, is that you?
Could it be that Mother Nature has agreed to forgo the relentless heat and humidity in favor of some seasonable weather? I love, love, love fall in Chester County. The colorful leaves add even more magic to an already stunning landscape. And, the chilly temps necessitate adding layers, which is my favorite when it comes to personal style. Whether we're talking fashion, accessories, or home decor…keep piling it on, please!
When it comes to "building" a look, think about starting with the classics and then add trendier pieces to create visual interest. I've rounded up six of my favorite, fall finds to get you in the spirit! Hope you enjoy…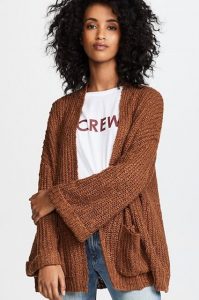 shopbop Moon River cardigan ($72) – Nothing beats a good cardigan in the cooler months. While it is still relatively nice outside, it can double as a jacket. I picked this particular piece because of the bell sleeve and the pockets (who doesn't love pockets?) I like it styled how it is pictured with a graphic tee underneath. Casual, yet chic. New customers get 15% off with the code APP15. Click here to shop https://bit.ly/2OC3T04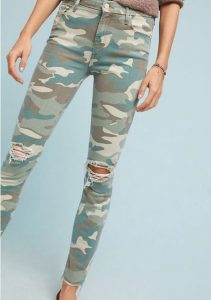 Mother Denim Camo jeans from No109 Shop – I am not a hunter. I have never even held a gun in my life (and don't plan on it). And, I can guarantee that I would starve to death before eating venison anything. However, I loooooove me some camo. So, these jeans are right in my wheelhouse. They are not cheap. I know. But, Mother Denim is (literally) the BEST. You will wear these over and over and over. Pair them with a cropped jacket, t-shirt, and sneakers or a chunky sweater and booties. No.109 is open weekdays until 6pm (Thursday until 7pm), Saturday 10am to 5pm, and Sunday 12pm to 4pm. 109 W. State Street, Kennett Square, PA 19348 or on the web at www.one09shop.com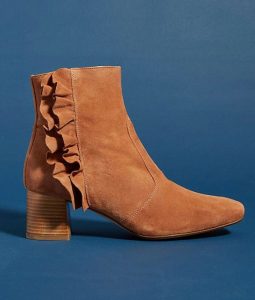 Anthropologie Mia Ruffled Ankle Boots ($118.50 on sale) – Hurry! It's the much anticipated Anthro Birthday Sale (this weekend only) where everything is 25% off! I am obsessed with these ruffle booties (also available in a pretty, moss color). The heel height is appropriate for wearing all day. I hate when shoes are only tolerable for an hour or two before you are in agony. I'm too old for that. These would look amazing with denim or dresses. Normally $158, snag them while they are at a reduced price! Click here https://bit.ly/2J754Pb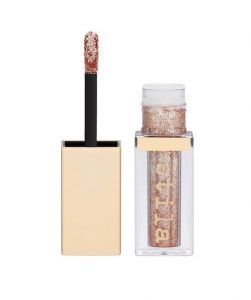 Stila Cosmetics Glitter & Glow Liquid Eyeshadow ($24) – This eyeshadow is EVERYTHING. I probably wouldn't wear it for Back to School Night or to Starbucks on a Tuesday morning (who am I kidding? Of course I would. But, I realize how extra I can be); however, for date night or moms' night out, this little container of sparkle can transform your face. Less is more ladies. A tiny dab will give you the pizazz you've been craving. Click here for a wide variety of colorful options https://bit.ly/2PJANbX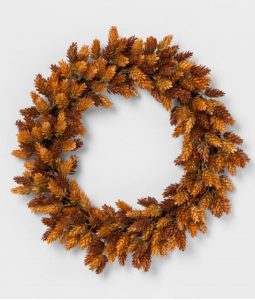 Threshold Wreath at Target ($24.99) – A simple wreath adds instant character to any decor. Of course, we think of a wreath when it's Christmas time. But, having something representative of the four seasons is an easy way to add warmth to your space. I am hanging this one on my front door to compliment the mums and pumpkins. It's plain, yet perfect. Click here to find a wreath that suits your style https://bit.ly/2PGDLxL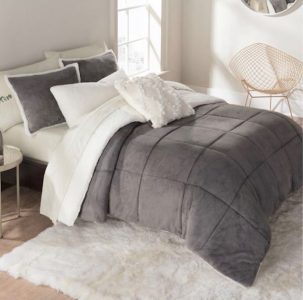 UGG Clifton Reversible Comforter Set ($69.99 – 109.99) – This comforter set reverses from a solid color to SHERPA fleece. What the whaaaaat? The only problem with this purchase is that you could end up a recluse. I mean, what could possibly be better than staying in bed? Don't shoot the messenger, people. Click here https://bit.ly/2CtfhV4
Well, there you have it. My six picks for fall! What are you obsessing over lately? As always, please share in the comments.
Happy Weekend – now, go get a pumpkin spice latte.