By Kelly Hockenberry, Columnist, The Times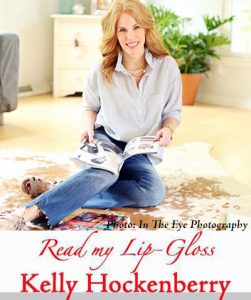 Ladies and gentlemen, I have a bittersweet announcement to make : this is the very last "Read My Lipgloss". Although The Times will continue, it will be an abbreviated version. As I reflect upon my brief stint in the world of journalism, I am grateful that Editor, Mike McGann, gave me the opportunity to be a part of this community voice. I have written hundreds of articles about all kinds of topics. I originally thought Read My Lipgloss would be a simple, fashion column. But, it evolved into a diary, of sorts. Whatever happened to be on my mind when Friday night would roll around, I would sit at my computer and type away. Sometimes it was well received, others…..not so much.
My first article was entitled "Confessions of a Fashion Addict" and it debuted on March 6th, 2011. You can read it here : https://bit.ly/2Abuhox. I'm pleased to say that my suggestions for the "Top Ten Must Haves" for the "fashionable woman" are still valid, even though almost eight years have flown by! THAT is the benefit of sticking to the classics. They never go out of style. Every once in a while, I would hit a nerve with my chosen "subject matter" of the week. These are two examples of the more "controversial" : https://bit.ly/2EFD6tY and https://bit.ly/2LwdnFI But overall, I think that most readers recognized my sarcastic sense of humor and appreciated that I was totally willing to throw myself under the bus for a laugh, as demonstrated here https://bit.ly/2BAxqhC.
Some of my personal favorites had to do with my family like this one https://bit.ly/2EBuoga (OK, now I'm tearing up! I can't handle how little my boys look!) or my husband's one and only response https://bit.ly/2Sf5neL where he relished the opportunity to have HIS say.
I recorded memories from our trips abroad, like Italy, here https://bit.ly/2CsxCkt and London and Paris here https://bit.ly/2ELy4ww.
I wrote to my kids (a lot) but this one will be forever in my heart : https://bit.ly/2EEy0hu.
I will miss "talking" to you all every Sunday through this article. It has been a pleasure sharing my life experiences in print. Thank you for your comments, feedback, and support and for graciously overlooking the fact that I was never truly qualified to be a columnist…let alone a fashion expert.
Signing off for the last time… Happy Weekend
Xoxo, Kelly