Or how Kelly learned to move beyond the 'same-old, same-old' at a local shop
By Kelly Hockenberry, Columnist, UnionvilleTimes.com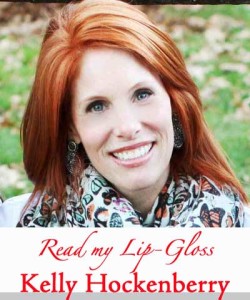 I am NOT low maintenance.  I get that.  HOWEVER, when it comes to make-up, I am.  Truly.
Notice my "**BEFORE" photo: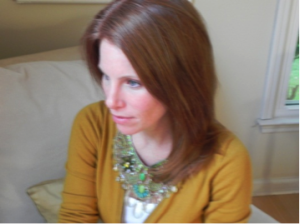 **I was not purposefully trying to look depressed in my "BEFORE" photo, fyi.
Proper make-up application is a daunting prospect for me.  I feel there is a VERY fine line between amazing and looking like Dustin Hoffman in "Tootsie".
Here is my daily routine: moisturize (very important after age 40…wah, waaaah), curl lashes, mascara, under-eye concealer (also crucial), lipstick or gloss, a swipe of bronzer and maybe some cream blush. Done.
Unfortunately, my "routine" does not vary much (if at ALL) whether I am going to watch my kids play in a game OR go to a wedding or fancy night out on the town.  Kinda pathetic, huh?
Well, I decided to fix all that and actually go out into the world and educate myself.  I hopped in the car and drove the few short miles down Rte. 52 to Houppette Cosmetics and Accessories in the quaint little town of Greenville, DE. There, I hooked up with the owner, Cristi Miller (a Kennett native herself!) and her head make-up artist, Kristina.
I explained that I wanted to know what products they felt were important for achieving a flawless make-up application and (for selfish reasons) how EXACTLY to do a "smokey eye" without looking like I was in a bar fight.
Here's what they did (using Laura Mercier products):
STEP ONE– Apply an eyelid primer (who knew?) in a color that complements your skin tone (mine was peachy in case you were wondering)
STEP TWO–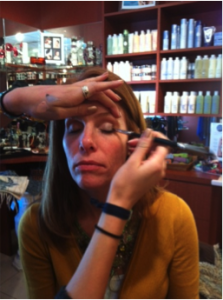 Start building the base with a neutral shadow all over the lid.  Kristina used a metallic cream in the color "Alloy".  She then added "Sable" for more depth and a light dusky lavender and pink color as a highlight. Building and layering the color is crucial to achieving a multidimensional effect.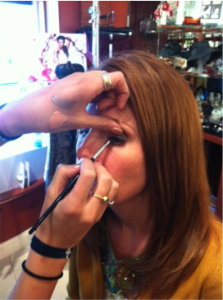 One of my favorite techniques that I learned was how to "stipple" on wet shadow as an eyeliner to give the illusion of fuller, thicker eyelashes.  I was not blessed with Bambi lashes so I listened VERY closely to this one.  You need the right brushes first and foremost (put this at the top of your holiday wish list…and Houppette has a prepackaged Laura Mercier set that is BA-NANAS). You take the small flat edged brush and wiggle the color onto the base of the lash line.  AWESOME.  Seriously.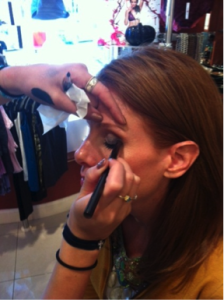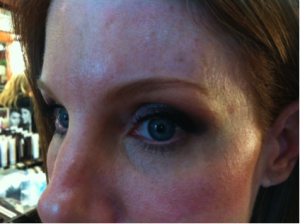 After applying the base  and the eyeliner, take a darker shadow into the crease and build out the corner of the eye.  When finished, clean up any loose particles that have fallen and erase dark circles with concealer.  Kristina also added a "brightening pen" (that I'm hoping finds its way into my stocking this year) as an adorable attempt to make me look younger and peppier than my actual 40 year old self.  God bless her.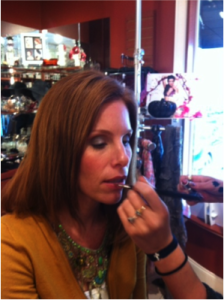 Finally, the lip.  In order to achieve a classy look, it is important to balance a bold eye with a toned-down, more natural lipstick.  Kristina used a lip stain on me in a gorgeous fleshy peach.  A pop of gloss for some sparkle and I was complete!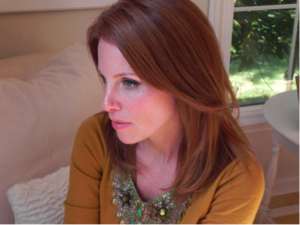 It was a real shame that after all of that beautiful make-up, the most exciting thing on my agenda for the evening was taking my boys to basketball practice!!  However, the lessons that I learned I will put into practice every day.  Pinky promise.
Kristina is available at Houppette for YOUR own private lesson.  Book for eyes ($35) or a full face ($65) before your next big event!!!
And, do NOT miss the upcoming holiday specials:
GIRLS' NIGHT OUT, Thursday, November 17th
MENS' NIGHT OUT, Wednesday, December 14th (is this an amazing idea, or WHAT?  Especially if your guy is the type to say that he has no idea what to buy for you!  Let the girls at Houppette make this your most beautiful winter EVER!!!)
As always ladies, stay gorgeous!  Happy Weekend!