Growing gap between urban, suburban schools is unconscionable
By Sen. Andrew E. Dinniman, State Senator, 19th District
"It was the best of times, it was the worst of times."
It's almost like Charles Dickens was describing public education in Pennsylvania.
Today, the disparity between the academic services, technology and basic resources available to students in inner city school districts versus those in their affluent suburban counterparts is shameful. In fact, it's downright outrageous.
To add insult to injury, Pennsylvania is now imposing the Keystone Graduation Exams, a series of three high-stakes exams students will have to pass to graduate. Beginning with the Class of 2017 (current sophomores) students must pass exams in Algebra I, Biology and Language Arts in order to receive a diploma.
A legacy of budget cuts, shortsighted policies and economic hard times have resulted in two systems of public education in Pennsylvania: separate and unequal. And the best predictor of a student's likelihood of future success isn't an SAT score or grade point average, it is their zip code.
Let's take a closer look at the tools and resources offered to students in two Philadelphia area high schools.
I want every high school in Pennsylvania to be like West Chester B. Reed Henderson High School in my legislative district. In 2014, Newsweek ranked it 295th in the nation (up from 925th two years earlier).
This year every freshman at Henderson will receive a laptop for school and home use.
But the West Chester Area School District is not just investing in technology; the district has also hired biology specialists to teach at each of its three high schools. These specialists will prepare students for the Keystone Exam in Biology and provide remediation for those who do not pass it the first time.
Keep in mind, this comes on top of the regular science and biology curriculum taught by instructors who are certified in their fields and with the latest textbooks that are aligned with the Keystones. Henderson students participate in labs weekly and can always use their laptops to access online resources or take practice tests.
Meanwhile, about 20 miles down the road in Philadelphia, students at Overbrook High School are literally worlds away in terms of educational curriculum, materials and resources.
Overbrook, once a top-tier high school, is now one of the lowest performing schools in the Commonwealth. In fact, Overbrook has Title 1 status – meaning it is supposedly a top priority for improvement and increased funding by Pennsylvania Department of Education.
Based on my recent conversations with Overbrook teachers, the school is still using a Biology textbook from 11 years ago – one that does not cover the Keystones. Nor do students have hands-on labs, which are considered an essential component of Biology education.
Unlike Henderson, Overbrook students do not have access to computers in the classroom and those that are available are either outdated or broken. Even basic supplies like projector bulbs, graph paper, pencils, hand soap and paper towels are lacking.
Furthermore, this year Overbrook has no Biology teacher. Students are not even taking the standard Pennsylvania Biology curriculum. Instead, they take a course called Environmental Science and even that is often taught by other teachers or substitutes who are not necessarily certified in it.
Is it any wonder why students at Overbrook High School are scoring significantly lower on standardized tests than those at Henderson High School?
For 2013-14, Overbrook had a School Performance Profile Academic Score of 39.3. Henderson had a score of 98.8. During that same time, the graduation rate at Overbook was 53.4 compared to Henderson's 97.25. And remember, this was before graduation was tied to three standardized tests.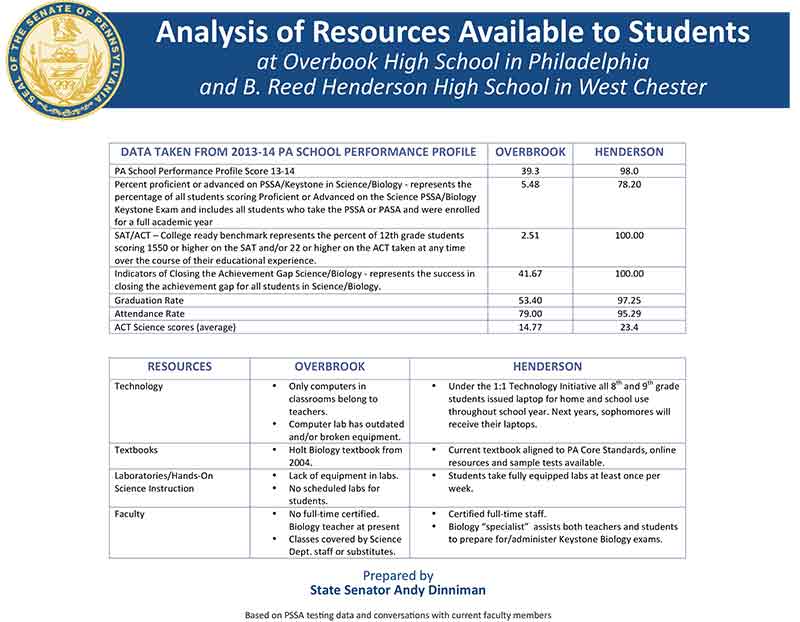 There is no question that the Keystone Graduate Exams only exacerbate the already dire situations in our most struggling high schools in Pennsylvania. How many students at Overbrook and similar high schools will graduate when diplomas are determined by exams that they are not remotely prepared for? More importantly, how can we in good conscience stamp "failure" on the backs of kids who lack the teachers, resources and classes to pass such tests?
Overbrook High School is not in my district. But as a state Senator and minority chair of the Senate Education Committee I, along with my colleagues in the legislature, share both a moral responsibility and a Constitutional duty "to provide for the maintenance and support of a thorough and efficient system of public education."
We are not meeting that responsibility. We are setting students up for failure. And until the legislature and the administration step up to the plate, I can only hope that the Public Interest Law Center's fair funding lawsuit prevails in court.
For the sake of our students, this unconscionable situation at Overbrook and similar high schools cannot be allowed to continue.
State Senator Andrew E. Dinniman is the Minority Chair of the Senate Education Committee and a member of the Pennsylvania Basic Education Funding Commission.