With his base secured, a deal on liquor privatization, pensions could be in play
By Mike McGann, Editor, The Times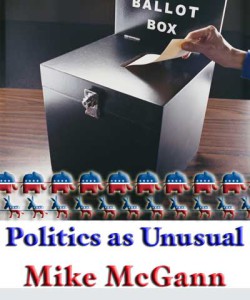 Depending on who is reading the tea leaves, Gov. Tom Wolf is either drawing a line in the sand — and guaranteeing four years of abject gridlock, or he's securing the base with the idea that he's going to have to make deals in the coming weeks and months that won't be popular with the left wing of the Democratic Party.
From everything I can tell and everyone I've spoken with lately, I think it's the latter.
Since taking office not quite a month ago, there have seemingly been two Gov. Wolf's.
The public one fired former/current Sen. Dominic Pileggi aide Erik Arenson as executive director of the Pennsylvania Office of Open Records, just days after former Gov. Tom Corbett hired him, prompting a nasty court fight, announced plans to expand Medicare under the Affordable Care Act, placed a halt to executions in the state and is rolling out his natural gas severance tax proposals. 
The left-learning types in the state have been all but dancing in the hallways, as Wolf has apparently emerged as a defender of the true faith.
But has he?
There's another Tom Wolf, the one who has been going out of his way to make personal contact with Republican legislators from day one, the pragmatist businessman who is looking to see what sort of deal can be made.
"I was working late one night, my staff had already gone home," said State Rep. Steve Barrar (R-160) this week. "And I hear the door to my outer office open and I'm wondering what's going on. And then my office door opens and it is Gov. Wolf, just coming by to say hello."
Wolf has been meeting with local state representatives one on one and in small groups, looking to build some personal rapport, an effort, at least on a personal basis that seems to be working.  Local state reps Dan Truiit (R-156) and Chris Ross (R-158) confirmed that they had been part of the group type events.
Already a few GOP legislators — who weren't enthused to be identified on the record saying nice things about the new governor — said they thought Wolf seemed very personable and someone they might be able to do work with.
So, with the big public posturing — which look good on paper but are more symbolic — is Wolf giving himself room to deal? Could a real liquor privatization deal be made?
This week, in visiting Chester County to promote his plan to create an extraction tax and fund education, Wolf stuck to the "modernization" script, but carefully didn't ever rule out other options including privatization. With a liquor privatization bill likely to move out of the house in rapid order, one very similar to last year's failed effort, the issue is likely to come to a head sooner rather than later.
Although Wolf suggested that "modernization" is popular, it's pretty clear there's a very strong public consensus that it is well past time — Truitt told me this week it's the top issue people bring up to him — for the state to get out of the liquor business.
But do I think Wolf is willing to trade privatization for an extraction tax? No.
Already, members of the GOP caucus have caved on the gas tax issue, with a 3.2% bill already making the rounds with solid Republican support. Combined with the current impact fees — and Wolf said Wednesday that his extraction tax plan replaces the impact fees — the base percentage is about the same. The main sticking point is the 4.7 cent tax per thousand cubic feet Wolf also is proposing, a fairly small difference.
When I asked Wolf Wednesday about the impact his extraction tax proposal would have on property taxes, he allowed it would not have any — and he suggested other actions would be needed to cut property taxes. Without saying it, it appeared he was hinting about raising income and other taxes to better fund schools and, at least in theory, reduce dependence for education on property taxes.
And that's where he's going to want to make a deal.
With a healthy number of Republicans already committed to a tax increase on natural gas, might enough of them be willing to trade getting liquor privatization and maybe more progress toward moving state and school pensions from defined contribution to defined benefit (which should in the long term help property tax rates), in exchange for an increase in the base income tax rate, the sales tax (or adding certain products to it) and a handful of other taxes to better fund education (among other things)?
Granted, this will be a tough lift for Wolf — he'll need to get a lot of Democrats to back the tax hikes and give him only token resistance on the liquor and pension issues — and it will take fixing the funding formula for public schools as well to get a number of legislators on board.
But it seems a deal is there to be made. There's more pragmatic leadership in the house and while the senate is a bit more of a wildcard, with Democratic votes, there might be enough to get some of the trickier stuff through.
Granted, it is Harrisburg and this seems kind of well, logical, which may make it a bit dubious.
But with a $2.2 billion deficit facing lawmakers, maybe finally, there's an opportunity to go big, work together and have everyone declare victory.
* * *
With Sen. Dominic Pileggi's announcement that he intends to run for Delaware County Court of Common Pleas, it is all but certain that his 9th District State Senate seat will be opening at some point in the coming months. As Pileggi is the only Republican candidate running for the court, and any Democratic challenger has a "snowball in a nuclear reactor's" chance of winning (especially in light of a renewed civil war among Delco Democrats), the scramble is already on to replace him.
Right now, it looks like it comes down to two candidates: State Rep. Steve Barrar (R-160) and State Rep. Tom Killian (R-168). Both are said to "full in" on running — and from here, the edge goes strongly to Barrar. Barrar has strong relationships in southern Chester County, having represented portions of the county for more than a decade. He has also served as state representative for two thirds of the towns in the 9th. Killian has less connections in Chester County, but may have better relationships with the Delco party structure.
Assuming Barrar wins — a special election would need to be held once Pileggi resigns, with county committees picking the candidates and virtually all of the Chesco votes would seem to go to Barrar — expect something of a scramble for Barrar's current job in the 160th.
I keep hearing Frank Murphy, the former Unionville-Chadds Ford School Board member and current Chadds Ford Township supervisor, is likely to be a strong candidate there. This could be very interesting to watch unfold.
* * *
Both county parties will meet this week — weather permitting, as snow is forecast — on Tuesday night to determine their endorsed slates for county row offices and court of common pleas.
While the top of the ticket seems pretty firm for both parties — the GOP will be led by Terence Farrell and Michelle Kichline and the Democrats led by incumbent Kathi Cozzone and, according to insiders, Marian Moskowitz, who ran a strong race last year for State Representative — there may be some surprises down ballot.
The GOP has a scramble for Court of Common Pleas, although it appears consensus is building around Allison Bell Royer, who stepped aside two years ago and worked hard for 2013 slate.
Downballot, the only drama appears to be for Prothonotary, with long-time incumbent Bryan Walters is facing a challenge from Matt Holliday, who currently serves as State Rep. Dan Truitt's chief of staff. Sources suggest that Holliday has run up a pretty big lead among committee members and will win the endorsement Tuesday night. Walters has said publicly he will not seek the office without a party endorsement.
On the Democratic side, word continues to filter out about a few things: one, the proposed slate may not be filled by this week. Two, it is possible that the party will focus efforts on just one row office, possibly Prothonotary, and have either placeholder or no candidates at all for the other offices. Word is a number of prominent Democrats have declined to run, preferring to wait for a more hospitable environment in 2016, not to mention a likely Hillary Clinton presidential GOTV effort, which will be vastly more effective than local party GOTV efforts have been for the last decade or more.
* * *
Lastly, it's early, but the indications are that Hillary Clinton will face Jeb Bush for president in 2016. Aside from the fact that I think this will be a dangerously polarizing election — to many the Bush and/or Clinton name is enough to touch off a flashpoint — can't we get someone else in the game?
Consider this: 2012 was the first year since 1976 that no Bush or Clinton sought the presidency.
Hillary versus Jeb seems a lot like a royal squabble for power between two ruling families, rather than anything like a Democratic process. Maybe with the money, special interests and the corporate stage managed backroom deals our government is nothing more than an oligarchy rather than a representative democracy.
But if there is a chance to preserve, as Lincoln put it so well, "government of the people, by the people, for the people" maybe we shouldn't be in such a rush to coronate Clinton or Bush.