Your home can — and should — reflect your sense of style
By Kelly Hockenberry, Columnist, The Times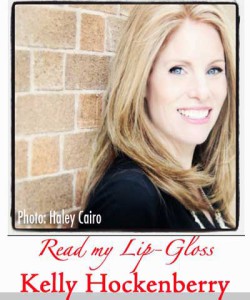 that you dress yourself. In fact, a soon to be released documentary entitled "Interior Motives" focuses on exactly this concept. Click here for the trailer: http://www.entrypictures.com/
Looks interesting, right? Can't wait to check it out.
In the meantime, we are in the process of converting our spare bedroom into an office. Thank goodness for Pinterest. It has revolutionized brainstorming. I had an idea about the color scheme- neutral palette with pops of bold pattern. My husband is anti-wallpaper, so, we painted the walls the perfect "greige" and I plan on stenciling the above hexagonal pattern in shades of black, white and gold on one wall.
I found a great desk on Overstock that is technically for crafting purposes (ha! wouldn't it be nice to have time to craft?) with amazing organizational shelves (which makes me all tingly). I have always wanted a lucite chair but they are incredibly expensive! Design bloggers rave about this IKEA version for $80. SOLD.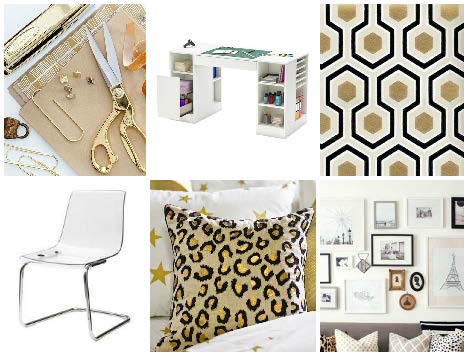 Seaming together fashion and interiors, if you peek into my closet you can tell that I am a fan of an animal print. So naturally, the pillows on my day bed will have a bit of leopard alongside complementary prints of stripes and polka dots. I prefer gold jewelry to silver and obviously my desk accessories will coordinate! Have you tried a gallery wall? I have a ton of very cool art (thanks to the talent of my son) and have been researching tips for how to arrange a collage. I do not want to buy a pre-made kit.
I like the way it looks when the type and size of frame differs a bit. My thought is to hit some consignment shops to find ornate options that I can spray paint in either white or black to add contrast.
The bottom line is that your house and decor should reflect your sense of style. Just like being disappointed in clothes that don't fit properly or make you feel frumpy, coming home to spaces that don't inspire you can be depressing. This weekend, take a look at your surroundings. Do they reflect you? If not, there are relatively inexpensive ways to add your personality:
● buy new accent pillows at places like Home Goods or TJMaxx in colors that you are drawn to in your wardrobe
● update window treatments or better yet, expose some windows to all of the nature light outside
● paint something! it's cheap and instantly transforms a room- the pop of color is similar to applying your favorite lip gloss
What are your best tips and tricks?
Share in the Comment section below.
Happy Weekend!