From new polish to why it pays to travel to Wayne in this month's list
By Kelly Hockenberry, Columnist, The Times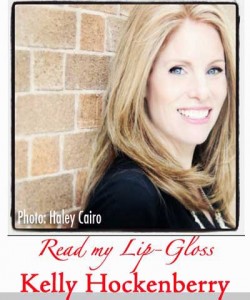 It's time for the April edition of the SUNDAY SUPER 6!  (Just a little list of the things I am obsessed with this month)
1. Scotch Naturals nail polish!  These eco-friendly all-natural polishes have beautiful saturation of color and absolutely NO smell!  I am in love with this perfect pink (called "Whisper") and a neon violet color called "Queen of Scots.".  GORGEOUS!  Order online here: http://scotchnaturals.com/products.php
2. I have the 7-year itch…with my home decor.  Time to switch it up a bit!  I am tired of my furniture but can't afford to buy all new stuff….soooooooo, I am changing the little things.  Window treatments (like these from CoolRoomDecor on Etsy) are a mere $30 and add that pop of pattern I am craving!
3. I always seem to talk about a new Too Faced beauty product that I cannot live without!  I received this "Chocolate Bar" from my girlfriend as a gift and I am in love with EVERY color in the palette!  Bonus?  It smells like chocolate.  And, the packaging is adorable, which is important to me.  WINNER!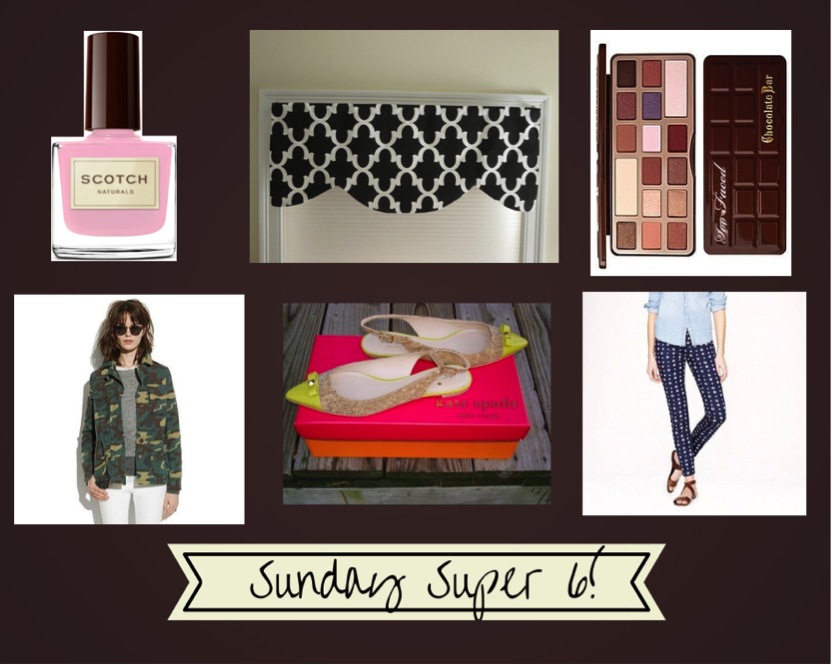 4. I heart Madewell.  Sometimes I feel like I am cheating on JCrew when I shop in the store…but, don't worry, they are spearheaded by the same company.  Total fashion gods, if you ask me.  I picked up this camo blazer/jacket ON SALE and plan to wear it to death this season.  Just sending that warning in advance.  Like, I will wear it so much people will start to talk.  Did I mention that it has a cinched waist?  To quote Rachel Zoe: "it's maje."
5. Have you been to the TJMaxx in Wayne?  Ummmmmm, beyond fabulous.  They have a very gigantic designer section that gives me heart palpitations.  I bought these Kate Spade pointy cap-toe neon cork flats for about half of their original retail price.  So what that they debuted last year?  I will be wearing them WITH the camo jacket, FYI.
6. JCrew Minnie pants.  See?  I am a loyal fan.  Got these on sale, too!  I am attracted to a patterned pant like a moth to a flame.  Paired with a denim shirt for spring or a white tank on a breezy summer day, these will be in serious rotation.
There you have it!  Next month my Super 6 will be about bathing suits!!!  After the unrelenting cold weather we have had, it barely seems possible!
Happy Weekend!