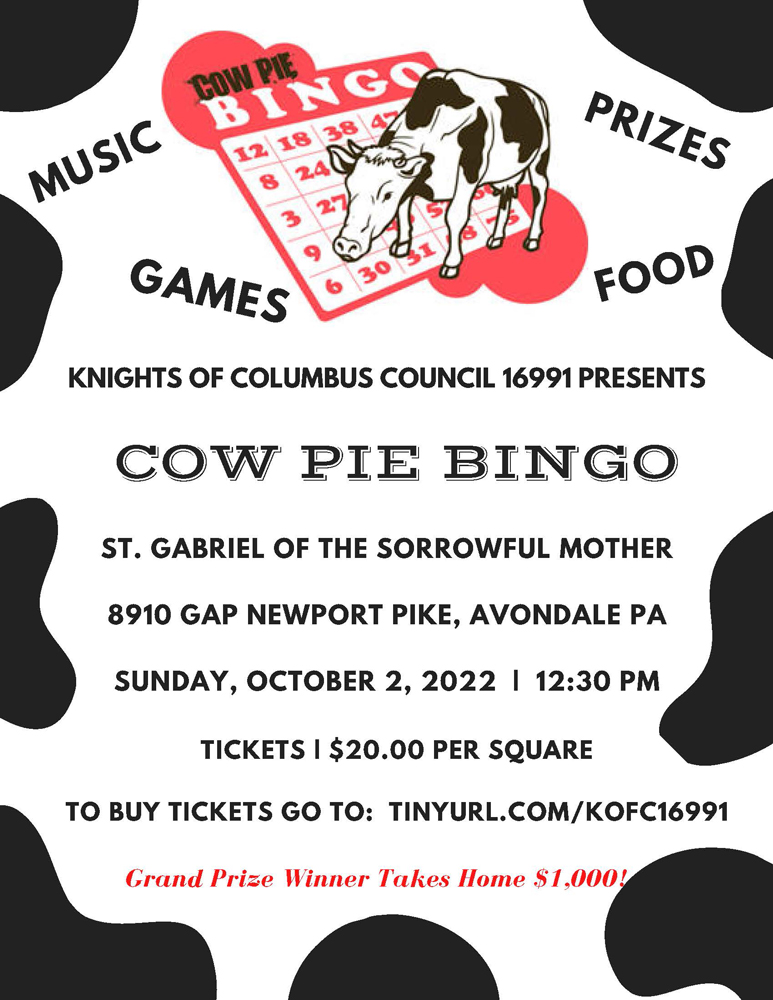 St. Gabriel's Parish is hosting its annual fundraiser Sunday Oct. 2 at noon. Proceeds benefit local charities like Mission Santa Maria (Coats for Kids), the Kennett Area Community Center and parish programs.
The event is called "Cow Pie Bingo."   While it is a fundraiser, it is a family event and there is no cost to attend.  Tickets for the bingo and sandwiches are available for purchase.  We have a "Pumpkin Patch" where children can pick out their own pumpkin to decorate and take home (first 100 children), games, and other activities.  Last year we had a baby calf that children could pet and feed.  The Avondale Fire Company will have equipment at the event for display.
What you need to know about the event:
-The event is referred to as Cow Pie Bingo and will take place outside near the Church Hall on Sunday, October 2nd.
-What is Cow Pie Bingo you might ask?
-First of all it does involve a real live cow!
-At 1 PM on the 2nd, a cow will be led out onto a field that will contain a grid marked with 400 2 foot x 2 foot squares
-The squares will have a randomly assigned number between 1 and 400 that corresponds to it
-Between 1 and 2 PM whichever square the real live Cow "deposits" its 1st Cow Pie on is the Winning Square
-The holder of the ticket with the corresponding number to that square is the winner of a $1,000 Prize
-If by 2 PM the Cow has not "deposited" a Cow Pie, we will then have a random drawing to determine the winner and the winner does not need to be present to win
-Tickets are only $20 and on sale after mass
-You have a 1 in 400 chance of winning that $1,000 prize and the remaining proceeds will benefit our Parish and our Community