By Mike McGann, Editor, The Times @mikemcgannpa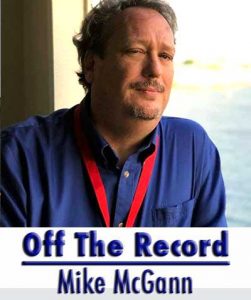 New Year, same old lie.
I really wanted to write something hopeful about 2021, about how it would be a better year and that maybe some of the people acting like felon-trainees in politics and the local business community would see the light and start acting like reasonable human beings again.
Nope. New Year, same old @#$%.
You may have seen Donald Trump's newest lie this past week piggy backing on a fictitious claim by a handful of deranged GOP members of Pennsylvania House of Representatives that somehow, 6.9 million votes were counted while only 6.7 million voters are registered in Pennsylvania. For the record, about 9 million people are registered to vote in Pennsylvania.
Once again, these people are literally trying to take away your and my right to vote because they didn't like the outcome. That it was somehow unthinkable that a guy who presided over an economic crash (yes, the economy was drifting into recession before the pandemic) and of course, the COVID-19 crisis where we've seen a larger share of our population die than any other developed country due to denial and blatant mismanagement could lose an election. 
I'm guessing they were shocked that Herbert Hoover lost in 1932, too.
Of course, the difference is that when Republicans did embrace undemocratic behavior in 1932-33 — they did so in an attempt to give the incoming Democratic president broad and unprecedented powers. The economic panic was so bad, many in the GOP offered Franklin Roosevelt nearly dictatorial powers — which he wisely declined. Maybe if the stock market weren't be propped up by $3 Trillion in Federal Reserve funds and it were a true indicator of the greater economy which is hanging by a thread, the GOP might have a different take on things.
However, as long as their Corporate Overlords continue to cash in, Republicans can continue to run with trying to overthrow an election and failing to address the real needs of average people and small business owners.
Which brings me to U.S. Senator Josh Hawley (R-MO), who mortally insulted the voters of Pennsylvania with his announcement he would challenge the results of the presidential election, specifically because of the results in Pennsylvania.
While it was clear a number of GOP members of the U.S. House would object, the U.S. Senate was seen as having some small measure of dignity and respect for democratic process — Hawley proving otherwise. As it turns out, Hawley and 12 other senators will object, and all literally want to throw out the votes of 2.6 million Pennsylvanians.
Hawley knows there was no fraud — no evidence has been presented and court after court has rejected the the unsupported allegations. And yet, he trashes our commonwealth for nothing more than cynical political gain. He embraces casual disenfranchisement of millions to kiss up to Trump and his delusions.
To the credit of our own Republican Sen. Pat Toomey, he called Hawley out on a GOP Senate conference call (which, of course, Hawley skipped out of cowardice) and has made it clear he sees Joe Biden as having been fairly elected. Even Senate Majority Leader Mitch McConnell seems to have have enough of this crap — and is prepared to vote to accept the electors as presented.
Toomey issued a statement making it clear that the elections were free and fair and ripped into Hawley and his junta of amoral misfit toys: 
"A fundamental, defining feature of a democratic republic is the right of the people to elect their own leaders. The effort by Senators Hawley, Cruz, and others to overturn the results of the 2020 presidential election in swing states like Pennsylvania directly undermines this right.
"The senators justify their intent by observing that there have been many allegations of fraud. But allegations of fraud by a losing campaign cannot justify overturning an election. They fail to acknowledge that these allegations have been adjudicated in courtrooms across America and were found to be unsupported by evidence. President Trump's own Attorney General, Bill Barr, stated 'we have not seen fraud on a scale that could have effected a different outcome in the election.'
"I acknowledge that this past election, like all elections, had irregularities. But the evidence is overwhelming that Joe Biden won this election. His narrow victory in Pennsylvania is easily explained by the decline in suburban support for President Trump and the president's slightly smaller victory margins in most rural counties.
"I voted for President Trump and endorsed him for re-election. But, on Wednesday, I intend to vigorously defend our form of government by opposing this effort to disenfranchise millions of voters in my state and others."
Toomey and the majority of the Republicans in the U.S. Senate appear ready to stand for the Constitution and vote against this stupidity. That didn't stop Hawley from calling out Toomey Saturday and lying about how the Pennsylvania Constitution works — there is nothing in the state constitution that requires in-person voting. A quick look at the document would have confirmed that. 
But Hawley thinks he's going to be president someday — so he's lying to toady up to Trump. I'm pretty sure he doesn't even deserve a second term in the U.S. Senate, let alone a run for the White House. I would also hope that the Missouri Bar Association reviews his actions as well, as no one needs an attorney who can't or won't read.
Regardless of this duplicity — which seems likely to last into the night on Wednesday — unless there is a literal coup d'etat, Joe Biden will be certified as our next president. There will be drama, but the Democratic-controlled House of Representatives will vote to reject the Hawley Junta's objection and it seems likely the Senate will, as well.
As for the eight Republican members of the U.S. House from Pennsylvania — including Lloyd Smucker, who used to represent parts of Chester County — who say they will object: unless they are admitting their election was fraudulent and they should not be seated, this is nothing more than pandering. They are an embarrassment to the commonwealth and should be replaced by the voters as soon as possible.
Remember these names. Remember these actions. They bring shame upon our people and our nation.
***
Meanwhile, on Tuesday, the state legislature is sworn in and begins its work. Two items that should be top of the list, but won't because of the GOP majority: legalizing recreational marijuana and raising the minimum wage.
Both Gov. Tom Wolf and Lt. Gov. John Fetterman strongly support legalization, but Republican legislators — many of whom got tons of political donations from opioid manufacturers — refuse to budge.
With New Jersey legalizing marijuana, one can imagine that people will be crossing the Delaware to get it — depriving the state of badly needed tax revenue. It would be nice to have a state legislature that acted like this is the 21st Century and not the 19th.
Similarly, our minimum wage of $7.25 is a cruel joke.
An inadequate minimum wage promotes corporate socialism — too many people work full-time jobs and yet qualify for SNAP and government housing assistance, because no one can live on a minimum wage, meaning we taxpayers have to foot the bill to subsidize the likes of WalMart and McDonald's. Gov. Wolf has proposed a graduated step up, but — shockingly — Republicans refuse to budge.
New Jersey just raised its minimum wage to $12 and is the process of legalizing marijuana. When NJ is kicking your butt on something, it is time to look in the mirror and ask why?
Add that to the list of education funding, infrastructure and so on that the GOP refuses to take action on — it is why Pennsylvania is a third-world state and young people and businesses are fleeing.
***
A very sad note: State Rep. Mike Reese (R-59), died suddenly Saturday of an apparent brain aneurysm. Just 42, Reese was a rising star in the Republican state house caucus, serving as Majority Caucus Leader. He leaves behind a wife and three young children.
***
While Operation Warp Speed has been about as successful as Trump Steaks, our local Chester County Health Department has shined in running one of the most effective COVID-19 vaccination programs in the state.
County Health, in running operations both here and in neighboring Delaware County, has one of the top per-capita numbers in terms of getting people vaccinated. 
If fact, nearly as many Chester Countians have gotten the first dose of the vaccine as people in Philadelphia, according to new numbers released by the state Department of Health.
They — and our County Commissioners — deserve a big pat on the back for delivering when our federal government refused to do so and the state government was hamstrung by a lack of resources. 
There are some misguided people out there who refuse to take the vaccine — and yes, there are a handful of people whom medical professionals say should wait, I'm not speaking of those.
These are the folks who go on the Internet and "learn" about stuff and then proceed to lecture their doctors.
To be clear: the COVID-19 vaccine is safe and wildly effective. I will be rolling up my sleeve the second it is available to me.
More than 500 Chester Countians have died from COVID. I don't want to be added to that number.
Neither should you.
Until then: wear a mask. Keep your distance. We can beat this virus, but we actually have to try.