Ornamental Iron Work can enhance the look of your home
By John D'Annunzio, Columnist, KennettTimes.com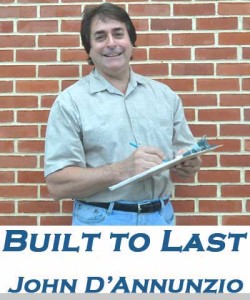 When I was growing up I remember an iron railing and guardrail set up in my house. In fact most of my friends in the neighborhood had the same model house and they also had iron railings. As kids we would climb all over it maybe four or five kids at a time, and it never budged. So, iron railings had and still do have their place in all kinds of dwellings and businesses. One of the advantages was the cost and the convenience of having them made off site. It wasn't too difficult when installation time came, because with only a few bolts for installation you had a strong product that would last for years.
Today, all kinds of beautiful designs are available from ornamental fabricators for home owners who want to add their own personalization to home decor. Most of the homes I have inspected with swimming pools have ornamental enclosures around property lines whether for privacy or to keep children away from a pool area. I like the advantage of the different designs and the availability of the different metal and finishes.  If you're in the market for a railing system whether to replace an existing setup or starting out with something, consider the following:
If you want a knock out appearance for inside your house or backyard projects consider ornamental iron work. Design advantages, such as Victorian, to modern and traditional style are great. Or use your imagination because that's what it is all about: customization.
Consider a wood and steel combo maybe with scrolls or swirls. You can also have personal effects such as initials on gates and flowers, animals, etc. As far as longevity think about stainless steel or aluminum as they are low maintenance. Also consider the most popular and affordable option: steel together with a good factory primer and finish coat will last a long time.
I met with Walt Messinger from Allen's Iron Works located in Yeadon, PA in Delaware County. Walt has been doing iron work in Chester and Delaware counties since the early 1970s. I visited his shop and he opened me up to a whole new world of ironwork. He showed me railing systems for inside and out for circular stairs, curved stairs, you name it. He also had beautiful railing designs for pools and driveways with personalized gate designs: the perfect way to accent any home.
This type of work is an art in itself. Though it is a little more expensive, the results will bring a lot of compliments. Walt has done work on high end homes to moderate homes and can meet everybody budget. Before considering anything other then ornamental iron work look into this time tested product consider an old fashioned proven idea with a modern twist. Visit Allen's Iron Works at http://allensironworksllc.com/Home_Page.html or call 610-626-4112.
John D'Annunzio is a local Commercial and Residential builder who has held nearly every job in the construction industry from heavy equipment operator to home builder. He is ICC building code certified and lives and operates in Chester County, PA. His column will appear weekly and address various home improvement and building issues with special attention to subjects of interest locally.

Contact John at johnd3656@verizon.net