Picking the right things to fix up can make all the difference
By Jill Goldman, Special to The Times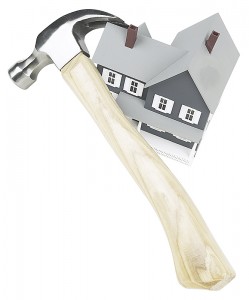 Many of you have considered home renovations over the past year, and know that they types and costs of such projects vary greatly.  The most affordable renovation is usually the one that provides the biggest benefit when selling, and that is fresh paint.  Yes, just fresh paint.  Good paint can run as high as $35-$50 per gallon, but one gallon will cover a typical bathroom or a small bedroom and picking a neutral, warm color that covers the scuff marks and aged look of the old paint can make a world of difference.
The most popular renovation plans are usually the most expensive, and include finishing a basement, redoing kitchens and bathrooms, and adding onto the house.  We will tackle adding on at a future date but that is a topic that requires many considerations.  Kitchen and bath remodels can add value to your home, but if you plan to "get back" what you spent on those projects when you sell the house, it is unlikely that you will see a dollar-to-dollar return at this point.  It is important to decide whether you are doing the remodeling just to increase sale price, or whether you are doing to improve your quality of life.  It is also important to carefully budget the costs.
Erin Devine of  DIY Home & Floor Blog offers the following advice for potential home remodelers:
1. Calculate the costs of your renovation project.
Estimating how much you will spend on installing hardwood flooring or purchasing new appliances is fairly easy to do. However, calculating cost can become difficult if you don't consider the full scope of the project. Before committing to a renovation, consider the size of your home, the amount of materials needed, and the length of the project. Only after you've calculated the total cost can you assess whether renovating is a savvy investment.
2. If needed, ask for professional assistance.
Refusing to hire a professional contractor is another mistake that many home owners make. While it's possible to successfully complete simple projects on your own, more complex projects like remodeling a basement should be left to a reputable contractor. If you're anticipating a large renovation project, you need to start pricing the cost of labor through local contractors. If you can't afford to have a contractor renovate your home, try doing some of the simpler renovations on your own while saving up for the larger projects.
3. Determine how much value the renovations will add to your home.
Only after you determine the cost of the renovation should you estimate how much added value it will bring to your home. If you're spending thousands of dollars to upgrade your home with features like hardwood flooring and granite countertops, you need to be able to justify the investment.
Select which renovation projects offer a greater return. For example hardwood flooring usually offers a greater return on investment than granite countertops. According to HGTV, kitchen remodels will help you recoup between 60 and 120 percent of your investment depending on what you renovate, while a bathroom addition can recoup 80 to 130 percent.
But home owners are encouraged to meet with an appraiser or a real estate agent if they really want to know how much they stand to recoup and for help in calculating just how much that renovation project will add to their home's current value.   Home Remodeling Adviser, September 24, 2012.
A real estate agent can typically look at your home in its totality – neighborhood, condition, size, updates – and give you good advice on whether a planned renovation project will be "worth it" when you sell.  They can also help you understand how an appraiser values certain upgrades like finished basements and additions, and can give you good advice on whether to invest in a project.
Jill Goldman is a partner at The Matson Goldman Team, Prudential Fox and Roach, West Chester, PA. www.matsongoldman.com