Tough to see summer end, but fall fashions ease the pain
By Kelly Hockenberry, Columnist, The Times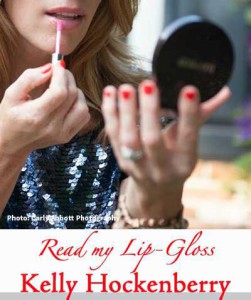 Technically, I am not supposed to be doing my Sunday Super Six until NEXT weekend, but, I have something special planned. So, I decided to jump the gun and tell you what's on my mind as we wrap up this glorious summer season.
I must say that I am very sorry to see it go; although, I soothe myself with the promise of fantastic, fall fashion. I can never have too many pairs of denim and my search for the quintessential, autumnal shade of lipstick is a quest I am excited to embark upon. I'm tired of of pink and orange. Bring on the warm neutrals!
Veggie Spiralizer ­ OK, this has absolutely nothing to do with fashion or ..but, it is fabulous and therefore must be included on the list. Zucchini noodles have been all the rage lately and in order to get the perfect width and shape, you need to invest in the proper tool. There are a million options and they can be purchased anywhere from Walmart to CVS. I found this yummy dish with sauteed vegetables on Pinterest and had to share (http://bit.ly/1NEOzIn). YUM.
Fringe Jacket from Zara ­ I have a thing for, in fact, jackets replace my statement t­-shirt addiction when the weather gets chilly. This one in particular makes me swoon. I love the cut, color and fringe. Super chic and, at $69.99, a trend that you can justify purchasing. Imagine this piece with a thin, white sweater, dark, skinny jeans and caramel colored boots for a football game. Yep. That'll be me. Go Unionville! (Click here: http://bit.ly/1JrcQOd))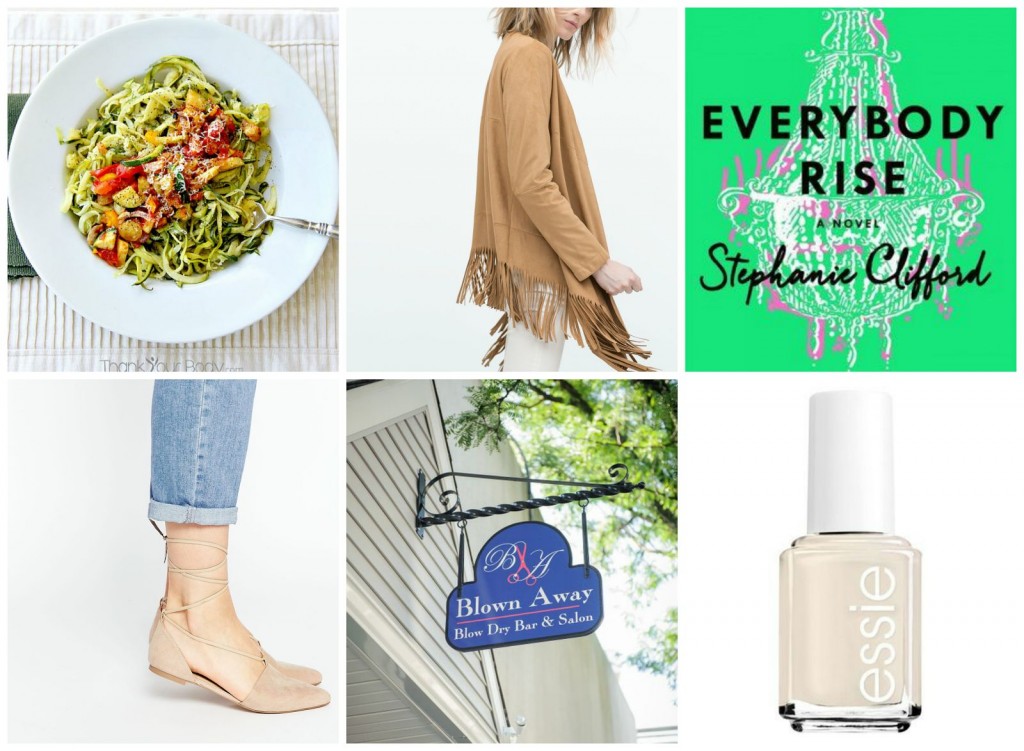 Everybody Rise by Stephanie Clifford ­ Even though I read an obnoxious amount in my grad school program, I cannot resist having a book for pleasure on my bedside This one has been written up in every blog on the internet. People are raving! Have you read it? On my list, for sure. (Click here: http://amzn.to/1JC4xfs)
Lace Up Ballet Flats by ASOS ­ Unless you have been hiding under a rock for the past few months, you know that lace up flats are having a moment in the fashion world. I love that they are versatile enough to wear with a dress or with rolled up pants. These are under $45 and the color is perfection, don't you think? (http://bit.ly/1NMT7vv)
Blown Away Blow Dry Bar & Salon ­ No longer do we need to travel to the city to get a professional blow out before an event or just a fun night on the town! Blown Away Dry Bar & Salon is a one stop shop (for cut and color) that has a menu of blow­out options to choose from! Located at 110 South Union Street, it is a welcome addition to Kennett Curious? Walk­ins are welcome or schedule your appointment at www.BlownAwayKS.com
Essie Urban Jungle ­ I have been branching out and trying new colors on my fingernails all summer long. That being said, I am starting to crave something a bit more demure for Since a white manicure was the "it" pick of the summer, I am transitioning slowly into autumn by choosing this soft, creamy, beige called Urban Jungle. It's a great juxtaposition to a dark colored pedicure.
There you have it! My End of Summer Super Six. I can't believe that school starts tomorrow. Someone on Facebook even had the nerve to start a countdown to Christmas! Can we slow our roll just a bit? Time flies fast enough…
Happy Weekend!