Kelly compiles her "must-have' list of cosmetics
By Kelly Hockenberry, Columnist, The Times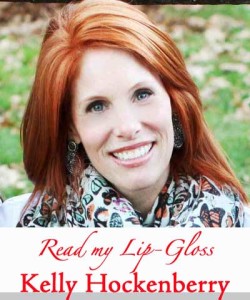 I am a make-up junkie.  Lip-gloss, nail polish, under eye concealer….you name it, I've got it.
Walking around a cosmetic store is a little slice of heaven.
But, I also purchase a good deal of my products at the drugstore or supermarket.
Here is a smattering of my favorites:  (in no particular order and color coordinated for the autumnal weather we are finally experiencing!)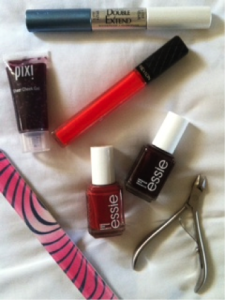 L'Oreal Double Extend Mascara: I love the first coat of white primer that helps to create lashes you weren't born with!  I always wear waterproof so I don't have to worry about smudging during the day.  My tried and true eye make-up remover?  Vaseline.  Yep.  Takes it all off and conditions my lashes at the same time!
Pixi Cheek Stain (available at Target): This sheer gel (I chose the color "Flushed" for fall) is the perfect wash of color.  Do not be put off by how dark it looks in the package.  If applied sparingly to the apple of the cheek, it is PERFECTION.
Revlon Lip Gloss in "Sizzle":  (I bought it as much for the name as for the color!).  An orange lip continues to be all the rage this autumn.  Worn over a darker pigmented lipstick, this gloss is shiny and has no smell/weird taste.
Essie nail polish:  "Wicked" a black cherry and "Spinning Again" which has a rust like undertone.  I am a HUGE fan of Essie.  In my opinion, it is the best (economical) polish for natural nails.  And, I have several hundred bottles to prove it.  These two are in heavy rotation this fall.
Sally Hansen cuticle clippers:  My manicurist wishes that I would put this tool away and leave my cuticles to the professionals….but, alas, if you have the urge to clip, this is the one for you!
Emery Board:  Available at any drugstore for about 99 cents.  I keep one in my purse, the car, my gym bag, etc…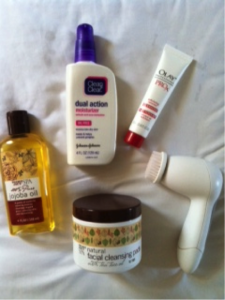 As for facial products, I have found some that work as well as any fancy brand for about one-third the price!
Trader Joe's Jojoba Oil: I have talked about this stuff before but it is worth repeating.  Particularly with cold weather right around the corner, this magic liquid soaks right into the skin.  I love to put it on my hands and feet (as well as my face) when the chilly air has made everything dry and flakey.
Trader Joe's Cleansing Pads:  These little pads are soaked in tea tree oil, which is a natural antiseptic.  If you have breakouts, they are a MUST HAVE.  I love to use them when I get home from the gym and don't have time to shower right away.
Oil of Olay Spin Brush:  There are several versions (most of them much more expensive) of this battery-operated brush available in the marketplace; but this works great and is a fraction of the cost.  It really does elevate a normal face wash into a more spa-like experience.  You will be shocked at how much cleaner your face feels.
Clean&Clear Dual Action Moisturizer:  I like this moisturizer because it contains a bit of salicylic acid to prevent breakouts.
I would love to hear about YOUR fall favs!
Leave a comment!
Happy Weekend 😀