By Gabrielle Samulewicz, Student, Patton Middle School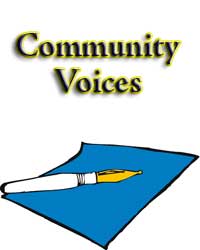 Why is Halloween the only day of the year that someone can dress up and no one can say anything about it? As a little girl I loved putting on my mom's high-heels and stumbling around the house, feeling like a big girl.  Yet no cared.  Yet no one commented.  Yet no one judged. They thought I was adorable.
I always looked forward to the costumes I would wear on Halloween and get so excited to set off on my quest for sweets in the darkness. This was the time when princesses were real and fairies existed. When all then mattered was what time to begin preparing my outfit for the tea party.
I sometimes wish I could go back into the past and relive the days where I was free to do anything I wanted. Those days left memories behind, and left permanent marks on my heart too. When I could dress up as a princess and prance around my room with my sparkly little pink wand, it was easy to be an individual person and dress as I wanted rather than following along with the new styles, because of what people might say. Whereas in eighth grade the things I wear do matter because people are judged. Dressing up as a little princess has slowly faded from my life but I still get to enjoy the feeling every year in my performances on stage with a local Kennett theater group.
KATS has open up a narrow passageway for me to walk back to my past and live it again each year. I get to wear a different costume annually and have people put on my makeup and do my hair for me. I'm glad I have found a way to keep the tradition of dress-up going. And all though I have moved on from my childhood years, I will always remain a little girl at heart who loves to play dress-up.