Editor's Note: Today, we continue a semi-regular feature, Community Voices, featuring writing by members of the Unionville community on a wide range of topics. Many of the writers — as our first three writers this week — will be students and we think they have interesting insights. Our first installment ran Monday, the next installment will run Friday. Let us know what you think.
By Jace Bridges, Student, Patton Middle School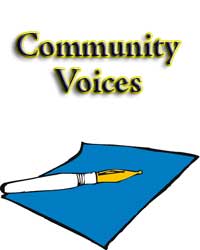 I believe in sunny days at the beach.
Sandy air, sun burned skin, cool saltwater washing over my feet, nothing could be better. Worries roll away with water and everything is calm.
My Dad's family is scattered across the country, so we only get together once a year, at the beach. A group of over 30 people share the house and kids run chaotically around. We arrive and embrace each other warmly, commenting on how everyone has grown to much. Excitedly, we put on our swimsuits and play the never ending game of sunscreen tag. After loading onto golf carts, we race off.
The babies splash in the water and build sand castles, while the uncles take the older kids out to jump the ever – crashing waves. We splash each other, the cool water drenching our faces, and then we laugh until we have stitches in our sides. We run around in the hot sun, building the memories that will last forever.
Then the unexpected came, we were all shocked when we found out my grandmother had cancer. All I could think of was her sitting on the beach, with a wide brimmed hat, teaching my baby cousin how to build the perfect sandcastle. Her soft hands, sugary sweet southern drawl, and loving attitude was captured in that moment on the sandy beach.
Even though we weren't all together, we called each other, and planned different surprises to help my grandmother through this time.
The beach trip came, and she had lost all her hair. But, always one for fashion, she wrapped a scarf around her head and made a fashion statement that no one questioned. Everything was different, yet when we were all playing on the beach together, things felt like they were going to be OK.
And they were. The cancer left, after a fight. The next year came, and her hair was beginning to grow back, she looked healthier.
Time passes, yet our family picks up each year just as if we had never left each other.
People change and the world moves, but the beach doesn't. It is always waiting there for us, to come spend time as a family.
And I believe in those sunny days at the beach, because life rolls like the waves, but the sand will always be there to welcome our feet.