Editor's Note: Today, we continue a semi-regular feature, Community Voices, featuring writing by members of the Unionville community on a wide range of topics. Many of the writers — as our first three writers featured — will be students and we think they have interesting insights. Our first installment ran last  Monday, the second installment ran last Wednesday. We thank these gifted young writers for their contributions and hope to publish more in the future. Let us know what you think.
By Megan Bell, Student, Patton Middle School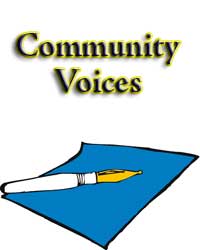 The small child sits in a wheel chair by the window; she stares outside at the hospital's garden. Her eyes are beautiful and blue, but sadness is present in her expression. Her head is lightly placed against the glass, in a depressed position.  Her hospital gown is pale blue and thin. She spends most her days in the garden, but today she feels weaker than ever. Her parents try to visit her as much as possible, but they have to take on more jobs to pay for the treatments she needs and some days they can't even visit at all. Cancer has taken over her body and doctors don't know if she'll make it.
It's not her fault. She needs help.
Another boy in Africa lies on the ground covered by just a tattered sheet.  He is starving. His home is a tent and his sisters have to travel hours to get water and it is not even clean. His father is sick and is too ill to help take care of his family, so the boy must take on the task. The child's mother passed away years ago. He now must care for his father and little brothers as he watches his community suffer.
It's not his fault. He needs help.
A young boy wanders the streets alone searching for a free meal. He doesn't have a home or a family. He sleeps on park benches or in allies. His clothes are worn and he is filthy. All his belongings fit in a bag he carries on his shoulder.  He has nowhere to go.  The shelters are full and he is miserable. On a good day he eats and it doesn't rain.
It's not his fault. He needs help.
All of these children need food, treatment and shelter, and why shouldn't they get it? What have they done to deserve this low level of life?
It's not their fault.
People have they power to fix this problem. Those who have need to give. If everyone did something, even if it's a little thing, we could help children like these get a second chance.