By Colleen Boyle, Columnist, UnionvilleTimes.com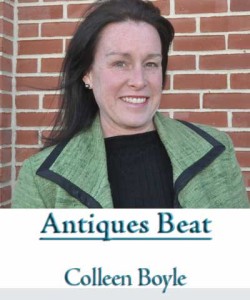 During the early 20th century Rene Lalique created artistic glass car ornaments that adorned the most expensive cars of the period.  A special base and wiring was designed so that as the car accelerated, the glass mascot would glisten. Last November a Lalique glass fox 'renard' car mascot hood ornament was estimated to sell at $100 to $150  at a  Chester County auction house. The eventual hammer price for this unique Lalique piece  was $175,000 setting a world record.
A stone's throw away in 2010 another record sale of Lalique glass took place at  a rural Pennsylvania auction house when  a classic red Lalique vase sold for $132,250.  Recently, a Lalique Dragonfly Pendant Brooch sold at a New York auction house for $170,500.  The market is strong for the works of Rene Lalique as people continue to recognize the attractiveness of his objects as well as  his importance in the Art Nouveau and Art Deco movements.
Rene Lalique was born in 1860 in a rural village located in the Champagne region of France. In 1876, he began working as an apprentice  in Paris  for the leading Parisian jeweler, Louis Autoc. By the end of the century, he was working as a free lance designer for Cartier, Boucheron and many others, which eventually led to the opening of his own jewelry store. Lalique created jewelry that was informed by the French countryside and Japanese natural world.
By the early 20th century, Rene Lalique was actively experimenting with glassmaking, transitioning from jewelry designer to  creator and manufacturer of artistic glass objects. In 1908 Francois Coty commissioned him to design his decorative perfume bottles. This would eventually revolutionize the perfume industry by presenting fine fragrances in artistic containers at reasonable prices.  Originally perfume bottles were plain flasks holding an expensive fragrance. Rene Lalique turned the ordinary bottle into a unique art object, thus transforming the perfume business.  By the middle of the 1920's, as an industrialist and artist, he was the most celebrated glass maker in the world bringing decorative art objects into the homes of all people. Lalique mastered the ability to take everyday objects and render them as works of art.
Today, Rene Lalique is mostly remembered for his array of art glass vases. His early works used the familiar "lost wax" technique by which the model is made in wax while a mold is formed around the model. The wax is then melted and molten glass is poured into the mold. Lalique glass was made in this manner until approximately 1905 at which time the factory was redesigned for larger production. The large demand for these artistic glass objects resulted in the opening of his own glassworks at Combs-la-Ville in 1909. Unfortunately the factory was forced to close during World War I.  A new factory was built in Alsace in 1921 and remains the factory that produces Lalique objects today.
After the death of Rene Lalique in 1945, his son Marc continued the business, designing new pieces and using a brighter form of  glass.  Today Lalique Company continues to produce highly respected decorative glass and jewelry which is distributed throughout the world.
Original Rene Lalique glassware is a highly collectible art object and achieves record prices at auction houses; however buyers heed caution.  Like other collectible art objects, fakes abound.  The majority of authentic Lalique objects produced were signed in one form or another.  Many of the pieces produced by Rene Lalique are signed in script 'R. Lalique' or stamped LALIQUE. After the death of Renee Lalique, small numbers of objects were made from older molds with the molded R. Lalique signature but these pieces were also given a modern' Lalique, France' marking to indicate that they were manufactured post World War II.
Renee Lalique's life spanned from the Civil War to World War II and as the times changed so did Lalique. He was an artist and industrialist serving and creating new markets resulting in exquisite objects that are highly collectible today!
Colleen Boyle is an art appraiser and advisor.  She holds advanced degrees in Art History and a diploma in French fine and Decorative Arts from Christie's, Paris. She has appraised art and antiques  for private collectors and corporations throughout the U.S. and regularly publishes articles about art and collecting. cbfineart@gmail.com 610-470-5340 www.pallmallartadvisors.com