While other categories have declined, Chinese art objects are increasingly hot in the marketplace
By Colleen Boyle, Columnist, UnionvilleTimes.com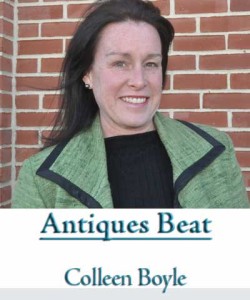 The New Year has arrived and along with it came 'the obligatory' New Year's resolutions.  A commitment that appears on most people's list is to get organized.  As you start rummaging through your household, be aware of the personal objects that you own.
While some collectibles may have declined in value over the past few years, others such as Chinese art objects have increased in value by over 200%.  In 2010, a Chinese vase that sat unnoticed in a very modest suburban London home has become one of the most expensive artworks ever sold.  The 18th-century porcelain vase found by a family member cleaning out a relative's house sold at auction to a Chinese buyer for $83 million, more than 40 times the pre-sale estimate and a record for a Chinese work of art. The vase had been in the family since at least  the 1930s, although the relatives do not know how it was acquired. Experts claim that the vase was an exceptional piece, made for the personal enjoyment of Qing dynasty Emperor Qianlong, at a time when Chinese porcelain making had reached a zenith.
In the fall of 2011, another Qing Dynasty imperial object, a white jade seal, was found in a suburban Philadelphia home and sold at auction for an impressive $3.5 million.  The price was 8-10 times the original estimate. Chinese lacquer pieces are also fetching high prices. In September, a cinnabar lacquer vase sold at a Philadelphia auction house for $10,000.  During 2012, China's sizzling art market shows no signs of cooling down.
China is the dominant player in the Asian antiques market.  China has a growing middle class with an increasing amount of disposable income and its booming economy encourages new collectors to join the art marketplace. Discretionary income is not the only factor motivating the Chinese to acquire antiques.  During the 19th and 20th century Chinese antiques were purchased by Americas and Europeans. Today, wealthy Chinese buyers are keen to repatriate treasures from their heritage. A number of areas in the Chinese antiques market are especially strong, such as Qing Dynasty imperial quality porcelains, lacquer ware, 19th century or earlier cloisonné, jade (especially white jade), and large carved ivory objects.
However prudence is advised, since Asian antiques, like European antiquities are plagued with fakes and reproductions.  The three primary attributes that affect the value of a Chinese art object are material, workmanship and age. Due to the availability of quality materials and skilled Chinese craftsmanship, often age is the sole differentiating factor.
China's economic boom has also helped develop an important domestic art scene due to the increasing number of upwardly mobile Chinese middle class. As a result, Chinese contemporary art prices are skyrocketing. One of the most expensive paintings sold at auction in 2011 was not in London, Paris or New York, but in Beijing. In May, a traditional ink and brush painting by China's blue chip artist, Qi Baishi, sold for $65 million at a Chinese auction house. Other rising Chinese artists include Zhang Xiaogang, XuZhen and Zeng Fanzhi.  Last year China became the world's leading auction marketplace for fine art, overtaking France, Britain and the United States. Remarkably only fifteen years ago, there were no contemporary art spaces in China and foreigners could not legally run galleries. Today Chinese venues for contemporary art are multiplying rapidly.
So before you give away the Chinese vase or cinnabar lacquer box that has been collecting dust sitting on your shelf for the past few decades, do some research on its value since these items are desirable for the growing segment of Chinese antique enthusiasts.
Colleen Boyle, is an appraiser of fine art and antiques as well as and an art advisor for Pall Mall Art Advisors. She holds advanced degrees in Art History and a diploma in French fine and Decorative arts from Christie's Paris.  She has appraised art and antiques for private collectors and corporations throughout the U.S. and regularly publishes articles about art and collecting. You can contact her via email at cbfineart@gmail.com or by calling 610-470-5340.