Month long break behind them, Unionville gets ready for stretch run  By Dave Conard, Sports Editor UnionvilleTimes.com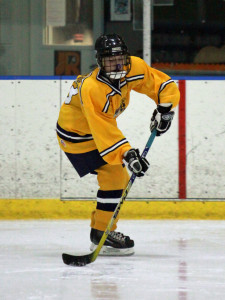 ASTON—November 23rd, 2011.
What is the significance of that date?
That is last time that the Unionville girl's varsity had allowed a goal scored on them.
December 23, 2011.
Another important date, the last time that the Indians took the ice in a competitive environment, until Friday night when they skated onto the surface at Ice Works in Aston where the rust was evident as they faced off against Strath Haven.
Following a celebrity appearance at the Winter Classic opening ceremonies in Philadelphia, Unionville has been working out and practicing at the Barn, but Friday was their first Opportunity to go up against some one in a different color sweater in almost a month.
In only took Indians junior Annabeth Donovan little over six minutes to pick up where she left off before the long hiatus as she took a feed from freshman Izzy McDonough and promptly deposited the puck behind net minder Devon Strachan (2-4-1, 2.57 GAA, .902 save percentage) to give Unionville a 1-0 first period lead.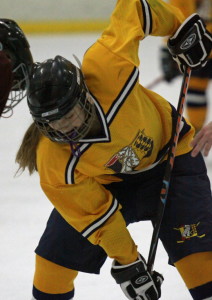 Prior to Friday night, Unionville (9-1-1) had gone five straight games with out allowing a goal while outscoring  their opponents 38-0 in that stretch fueled by the outstanding efforts in net by senior Jenna Lisicky (5-1-1, 1.09 GAA, .830 save percentage) and freshman Lillian Jones (4-0-0, 0.27 GAA, .969 save percentage), including stopping 4-of 4 shots faced against the Panthers.
Strath Haven (3-5-1, 7 points) battled back, eventually tying the game at the 8:34 mark of the third period when Anne Carruthers was able to sneak a rebound past Lisicky, snapping the Unionville scoreless streak at 256 minutes.
Unionville sniper Lyndsey Wenzel still holds onto the number four spot in the scoring sheet with 16 goals, 7 assists in 11 games played, while the Indians as a team are just three points out of first place with one game in hand.
Haverford (11-1-0, 22 points) and Downingtown East (10-2-0, 20 points) lead the Ches-Mont league standings while West Chester East (9-3-0, 18 points) are nipping at Unionville's heels.
Next up for the Indians is a match up with Conestoga on the 28th of January, before a rematch with Haverford, who are the only team to hand Unionville a loss all season long, on Saturday February 4th.
Unionville            1            0            0            -1
Strath Haven            0            0            1            -1
First period
6:31     U            Donovan from McDonough
Third period
8:34     U            Carruthers from Propp