Sports Editor Dave Conard catches up with Unionville senior captain
By Dave Conard  Sports Editor, UnionvilleTimes.com
EAST MARLBOROUGH—As the gripping heat of the summer gives way and the last few chances to hit the beach are upon us it can mean just one thing, school is back in session.
For Unionville senior, Alex DiFelice, the subject of out first "Top of the Tribe" profile of the season, fall is the time of year that she looks most forward to as it brings upon the start of field hockey season.
DiFelice, is not an athlete that fills her time through out the year by playing whatever sport comes along, instead she is focused on field hockey 24/7, 365 days a year.
Being named as one of the captains for this upcoming season by new head coach Beth Wheeler is something that DiFelice is very proud of, but pales in comparison to the team's success just one year ago as Unionville reached the state playoffs for the first time in more than 15 years and claimed it's first ever District One runner up finish.
"We had a great year last season," said DiFelice who will be sharing the captain role with Annabeth Donovan and Briele Hartzell. "Our main goal this year is to get right back to where we finished last season, we want to win the district and get into state again."
A the season progresses there is no doubt that DiFelice will make her presence know through out the Ches-Mont League along with her Indians team mates, while she continues to close in on what college she will be attending amongst James Madison, Villanova or Quinnipiac University in Connecticuit.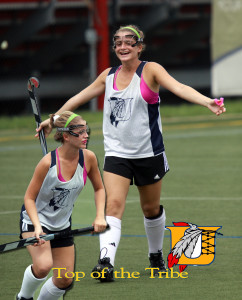 In our "Top of the Tribe" feature, we would like to take this time to give you in insight to DiFelice off the field as well.
The NINE questions we just had to ask the Indians captain.
What is your favorite subject in school?
"Definitely history, it is very interesting and I love look back at how things have been through out time.
Even though Field hockey is your ONE sport, If you weren't a field hockey player what sport would your possibly try?
"Well I am defiantly a field hockey girl, I play all year around and my club team is the Mystics in Feasterville. If I didn't play field hockey I might try lacrosse because it ha a lot of the same skills and it has contact and is pretty intense.
When you are not terrorizing Ches-Mont net minders what do you like to do in your free time?
"I like to paint, spend time with my friends and read a lot. John Greene is my favorite author. I have also played guitar since I was in seventh grade and I still love to do that.
We don't get anywhere in life with out a support system, who ha been most influential in helping you become who you are today?
"That's easy my mom (Mary Alicia) and dad (Vincent), they had taught m by example and always supported me in everything I have done. I am an only child and it has been them that have always made time for me, boosted me up when I failed at something and given me the confidence in myself to succeed."
If you got to choose three people in the world to hang out with all day in the city who would they be?
"First Ellen Degeneres, she just seems so cool and would be fun to be around. Next would be my BFF Erin Karcher and of course my honorary sister Logan Perkins, I just love them both and that would be a fun day."
If we tapped into you I pod before a game what kind of music would hear and how about when you just chilling' out?
"Before a game I listen to dance stuff and fun music. My favorite group is "Need To Breathe" and I will be seeing them in concert in September at Messiah College I can't wait."
What do you see yourself doing in ten years?
"I am undecided for school right now, maybe I would like to do something in Psychology or history."
What is you dream ride?
"I would love to have a Jeep Wrangler or a maybe a pick up truck, it has to be something fun to hang with my girls in."
What has been the highlight so far of high school?
"Last year when we finally found out that we had qualified for the State tournament, it was huge because Unionville hadn't been in the states since the mid nineties. It was just an awesome feeling."
Whether it is battling though the traffic in the hallways of Unionville High School en route to class the turf fields around the Ches-Mont league, one thing is certain Alex DiFelice will deal with any challenges she may encounter like she always has, attacking them head on.
Check back with UnionvilleTimes.com for more "Top of the Tribe" profiles through out the year, as we will be featuring outstanding students, athletes and artists on a regular basis.