Slow start, strong finish in 2012 sparks big hopes for 2013
By Mike McGann, Editor, The Times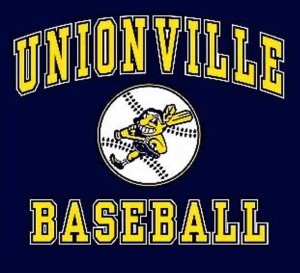 EAST MARLBOROUGH — There's an axiom that the second year a coach runs a school sports program says a lot about the long-term prospects for both the coach and the squad.
Unionville High School baseball coach Mike Magee buys into that argument and he's confident that the 2013 season — his second year at the helm — will be one that moves the Indians into the top echelon of programs in Chester County. In 2012, a young team overcame a slow start to miss the postseason by one game — but that team clearly improved as the season wore on, something Magee expects his team to build on in 2013, starting with Friday's season opener, at home against Garnet Valley.
"I have high expectations," Magee said. He said his team should be able to compete for both the state playoffs and the Ches Mont American league title in 2013.
After the slow start in 2012, Magee said his players began to buy into his philosophy of solid fundamental baseball — make the simple plays all the time and everything else will take care of itself.
"I preach to them 'make the routine play.' " Magee said. "If we do that, great plays will come, but we have to make the routine play. Pitching and defense wins games. You have to have it."
Despite losing big bats Ryan Hissey and Drew Diehl to graduation, virtually the entire pitching staff is back for 2013, leading a roster of experienced, versatile players.
"Our pitching should be strong," Magee said. "We've got everybody back with the exception of one, we lost a senior, Ryan Koehler, but other than that we should have our pitching back."
And Magee, who earned his coaching reputation as a pitching coach at Downingtown East and Bishop Shanahan, looks to build his teams around pitching and defense — two areas where he thinks Unionville should be right there with any squad in the county.
And while the weather has only recently allowed for much in the way of field work, Magee's pitching staff has been working indoors for months to refine their skills, so when they finally hit the field, they'd be ready.
"We focused a lot on mechanics in the winter on mechanics, and then when we get out here (the field) it's more mental stuff," Magee said. "
One other difference from many high school programs: Magee lets his catchers (and pitchers — through shake offs) call their own games. Even in youth baseball, a number of coaches have taken to calling pitches themselves, something Magee said he thinks could stunt the mental growth of players.
"Catcher is such a big part of the game, I want them to learn how to do it," Magee said. I want him and the pitcher to know why they're throwing a pitch, why they're calling a pitch. It's only going to help them as they move on and play in college."
With the experienced pitchers such as likely staff ace senior Andrew Taylor (5-1 in 2012), juniors Matt Foster and Brad Grow, who got innings as sophomores last season and senior Kyle Fries form a corps of experienced varsity arms back for the Indians in 2013. Adding to the staff depth will be junior Kevin Looby, coming up from junior varsity.
The lineup looks set — although some early injuries could mean a few different looks in the early games. Junior shortstop Sean Faux looks likely to miss the season opener with an injury, meaning regular second baseman Nick Ward, another junior, will likely slide over to short for a game or two until Faux is cleared to return to game action. Junior Chris Koehler will man second until Faux is ready to play.
Magee thinks Ward — an anchor on the school's golf and hockey teams — should have no trouble making the move, as he's already an emotional leader on the team.
"Nick's a fiery guy," Magee said. "He has a lot of on-field passion and intensity. He's a leader."
Seniors will fill much of the heart of the lineup, Magee said. Fries, when not pitching, will be a key piece in the outfield, while catcher Kyle Langerhans and first baseman Nick Godek should form a solid combo of run producers in the lineup.
But as was the case last year — a couple of youngsters, sophomores Drew Jarmuz, an OF, and INF Andrew Jones will play key roles. Jarmuz has impressed, Magee said, especially with the bat, and could bolster an already solid lineup. Jones will likely share time with Looby, especially when the later is pitching.