To The Editor,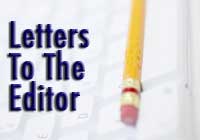 I've been a registered Republican for 75 years, and I've known and respected Leon Spencer for at least 20 years. And yet I am strongly supporting Christina Sappey for State Representative for the 158th District.
Firstly, Christina has done an excellent job for us. She is moderate, hardworking, and always tries to work in a bi-partisan fashion. I am disappointed that Leon's campaign website would seek to portray her otherwise. A simple examination of the facts gives a more honest story. Christina is endorsed by the Chester County Chamber of Commerce and the Chester County Fraternal Order of Police Lodge #11.
Secondly, Christina's office is always available to promptly address constituents' service requests. She has tirelessly worked with PennDot on the bridge repair on Route 162 which will begin before the end of 2022.
Finally, Christina Sappey supports keeping the government out of decisions between a woman and her doctor. At this time the radical wing of the Republican party would like to make abortion illegal under all circumstances. These circumstances include rape, incest and the life of the mother. Mr. Spencer does not even address this issue on his campaign website which calls into question why he is ducking this important issue.
Mr. Spencer's website would have us believe that his views are moderate. Yet the only prominent endorsement listed on his website is Eric Roe and there is certainly no mention of his position on women's reproductive freedom. Eric Roe is no moderate; he is straight from the radical right wing of the Republican party.
I hope my friendship with Mr Spencer survives, but Christina Sappey is clearly the proven better candidate for these times.
Marilyn G. Forney
Unionville