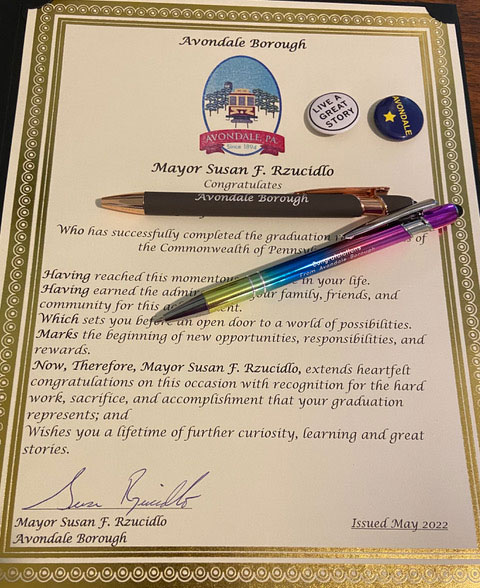 On Monday, May 16th, Avondale Borough Mayor Susan Rzucidlo recognized the borough's 27 graduating seniors at Avon Grove High School. 
After presenting Certificates of Recognition to each, Mayor Rzucidlo remarked, "I wanted to congratulate each graduate who lives in Avondale Borough. It has been a challenging past four years, and they succeeded, and I wanted to recognize them for this accomplishment."
The Mayor visited Avon Grove Charter School on Tuesday, May 24th, to deliver certificate packets to recognize the four Borough graduates from the Charter School.
If any student who lives in Avondale Borough is graduating from a private or charter school, a Special Education setting, or has earned their GED this year and would like a Certificate of Recognition, please contact the Borough office at 610-268-8501. The mayor will arrange a meeting or deliver the certificate to your home.