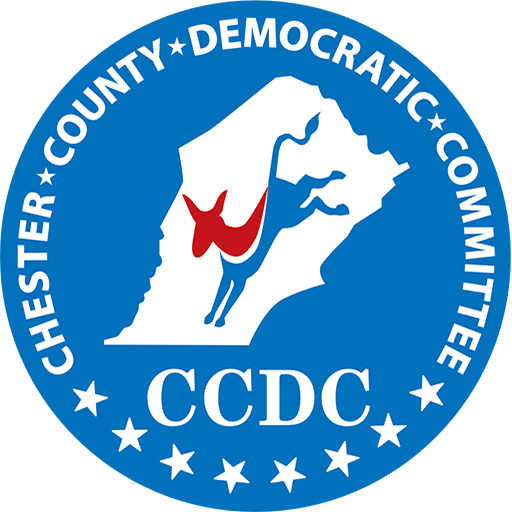 Chester County Democrats are on the verge of a sixth consecutive year of historic wins as they gathered virtually Thursday night to endorse their slate for the May 17, 2022 Primary.
More than 330 representatives from all corners of Chester County "packed" the virtual convention using digital voting. The fading pandemic is still affecting large tight gatherings, and delegates once again are missing the typical campaign hoopla of buttons, stickers and meet 'n greets as they checked in to the event.
Chairwoman Valyo began by recognizing the incredible bravery shown and the sacrifices being made by the people of Ukraine to defend their homeland and their democracy against a ruthless dictator and war criminal, and requested a moment of silence in solidarity with the people of Ukraine. She then discussed the importance of their candidate endorsements, since voters recognize that they have met, vetted, and listened to many of the candidates. Valyo reinforced the importance of having the energy to mount a second petition drive for candidates for State House and Senate and PA State Democratic Committee, since those districts have not yet been mapped and confirmed by the courts, and petitions may not yet be circulated.
Endorsed candidates (those receiving at least 65% of the vote Thursday or previously endorsed by the PA Dems State Committee*) are:
PA Governor                                Josh Shapiro*
PA Lt. Governor                            Austin Davis*
US 6th District Representative       Chrissy Houlahan (incumbent)
Following their nominations, the audience heard brief speeches from the three recognized US Senate candidates.
Lt. Gov Fetterman touted the broad appeal of his candidacy by 180,000 donors and his support for core Democratic principles, which have progressed to match his issues from earlier campaigns, and that he helped get Governor Wolf get re-elected by one million more votes in 2018 than 2014.
State Representative Malcolm Kenyatta voiced his grass roots support and that our government should be working more for working people and their families, providing for a living wage, affordable healthcare, and the ability to retire where there is clean air and water. He emphasized that he can widen the base of voters for this race.
Rep. Conor Lamb stated that democracy was on the line and Democrats need a clear majority in the Senate to pass important legislature protecting women's rights, voting rights, and provide for a living wage, among others. He closed by saying that he has won three times in districts where Trump visited and supported his opponent, and that he knows how to get things done in Washington for Pennsylvania.
The endorsement vote for US Senate was very close through the required two ballots, with none of the three nominated receiving the 65% sufficient for an endorsement. So this will result in an open primary for that race among Lt. Governor John Fetterman, State Representative Malcolm Kenyatta, and US Rep. Conor Lamb.
Rep. Chrissy Houlahan was nominated and endorsed unanimously; her strong service and support for the 6th District and Chester County were noted. Rep. Houlahan mentioned some of her recent legislative successes that included passage of family leave for federal employees, simplifying loan forgiveness of PPP loans for qualifying small businesses, supporting the bipartisan infrastructure bill that will result in $18B in projects for PA, and expanding support for Veterans.
She then indicated the clear and present danger to democracy here and abroad, that Russia's Putin must be stopped, and China's threats answered. Her concerns also include the Republican attacks on free and fair elections and the false patriotism of those who attacked the Capitol on January 6th. Echoing Ret. Lt. Colonial Alexander Vindman, she said, "Here, right matters."
Rep. Houlahan would like to be re-elected to ensure rights to affordable healthcare, an economy that works for all, and energy policies to combat climate change, indicating that her five Republican opponents have very different views. They have collectively expressed strong anti-LGBTQ and anti-science views, opposed universal vote-by-mail, and disputed that reproductive care is healthcare. Hers is a targeted race and the new district maps will make the 6th District race much harder to win. She closed by thanking the Chester County Democrats for their past support.
The convention closed with a short speech by Attorney General and Gubernatorial candidate Josh Shapiro, who was earlier unanimously endorsed by the PA Democratic State Committee. AG Shapiro thanked the Chester County Democrats for "being an amazing partner since 2016". He said the stakes for the Governor's race and the contrast with his 14 competitors could not be higher. Shapiro said "We have the responsibility together to win and meet the moment to defend democracy and the right to choose and the right to organize. We need to provide equal education opportunities to our children, good paying jobs, and not putting profits before people." He also wants to address criminal justice reform and address climate change in the state. He was looking forward to visiting Chester County on Sunday to launch the petition signing campaign along with Rep. Chrissy Houlahan and his endorsed running mate for Lt. Governor, Austin Davis.
Endorsement votes for PA General Assembly will be conducted at a later date when state house and senate maps are finalized in the courts, and Chairwoman Valyo indicated that a subsequent nominating convention may be in-person rather than virtual.
Tuesday, May 17 is the Pennsylvania Primary. The last day for residents to register to vote for the primary is May 2. The last day to apply for a Mail-in ballot from Chester County Voter Services is May 10.
The General Election is Tuesday, November 8.