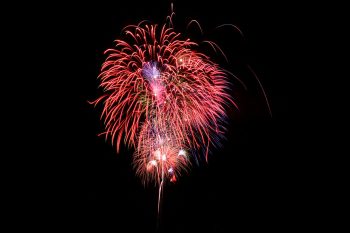 WEST CHESTER — State Senator Andy Dinniman said today he supports legislation to repeal Pennsylvania's 2017 fireworks law after fireworks accidents have led to injuries, claimed lives, and resulted in fires and significant property damage in just the past few weeks. 
"The ongoing and near-constant use of powerful fireworks in a disrespectful and downright careless manner has become a more than a nuisance – it's a danger," Dinniman said. "The intense noise, light, and smoke have a negative impact on senior citizens, young children, veterans, those with special needs, those suffering from post-traumatic stress disorder, and pets and animals."
Pennsylvania's fireworks law was loosened two years ago to allow larger and more powerful "Class C" consumer-grade fireworks including aerial devices like rockets, mortars, roman candles, and powerful firecrackers containing up to 50 milligrams of explosive material. Previously, Pennsylvania law only allowed sparklers and non-airborne novelties.
Dinniman opposed the measure, which was added in Act 43, a tax code bill passed as part of the state budget. It was designed to fill a budget gap by raising revenue through expanded licensing and fees, including a 12 percent tax on sales of consumer fireworks, in addition to the state's traditional 6 percent sales tax. Between the end of 2017 and mid-2019, the tax raised $8.2 million in revenue. Preliminary estimates show it is on track to bring in about that much in 2019-20.
"We cannot put a price tag on the health, safety, and peace of mind of our residents, families, and communities," Dinniman said. "Throughout this summer and especially following the July 4th weekend, my office has heard from dozens of residents who are fed up and living on edge. Some are even living in fear. Fireworks can be fun when used safely and respectfully, but that doesn't appear to be happening."
Over this past weekend, fireworks caused $100,000 damage in a fire that destroyed several garages in Lancaster, according to fire officials. Fortunately, no injuries were reported. 
During the month of June, two people tragically died in fireworks accidents in Pennsylvania, including a 31-year-old man in Scranton and a 50-year-old Lehigh Valley man, according to reports. 
And in late June, fireworks sparked multiple brush fires in Gettysburg. 
Earlier this month, the Pennsylvania Senate overwhelmingly approved a bill that would give officials in Philadelphia, Pittsburgh, Scranton, Allentown, Erie, Reading, Bethlehem, Lancaster, and Bensalem Township the option of banning the use of consumer fireworks within their borders.
While Dinniman supported that measure, he noted that it would not help residents and communities who feel that they're under siege by the careless and dangerous use of fireworks in the rest of the Commonwealth, including Chester County. 
Dinniman has signed onto legislation sponsored by Senator Judy Schwank that would repeal the 2017 fireworks law and return Pennsylvania to the ban on high-powered firecrackers and rockets that had been in place since 1939. He also noted that prior to 2017, stand-alone bills to liberalize Pennsylvania's fireworks law had failed.
"Two years ago, fireworks legalization was pushed through the legislative backdoor at the tail end of the budget process," he said. "Many didn't even know it until stores and stands began popping up and fireworks started exploding above and around their homes."
Currently, Pennsylvania statistics on fireworks-related fires, injuries, and deaths are simply not calculated and stored in a centralized place.
However, according to the US Consumer Product Safety Commission, last year:
Fireworks were involved with an estimated 10,000 injuries treated in U.S. hospital emergency rooms.

An estimated 7,300 fireworks-related injuries (or 73 percent of the total estimated fireworks-related

 injuries in 2019) were treated in U.S. hospital emer

gency departments 

between June 21, 2019 and July 21, 2019
Children younger than 15 years of age accounted for 36 percent of the estimated fireworks-related injuries.