By Denny Dyroff, Entertainment Editor, The Times
This is Fourth of July Weekend and that means it is time for parties, festivals, picnics and a lot of fireworks displays.
"Wawa Welcome America" (www.welcomeamerica.com), which is running through July 4, is a festival of free events in Philadelphia in celebration of our nation's birthday — a huge party that hits its peak with an abundance of festivities on Independence Day Weekend.
Activities this weekend include "Free Museum Day" at many Philadelphia museums and "POPS on Independence @ the Mann" on July 3 from 7-9 p.m. at the Mann Center (5201 Parkside Avenue, Philadelphia).
Featured events on July 4 are "Celebration of Freedom Ceremony," "Broad + Market: A Festival Experience," "Salute to America Independence Day," and "Wawa Welcome America July 4th Concert" from 7-9 p.m. at the Mann Center starring Bebe Rexha, featuring Flo Rida, and a special performance by Cam Anthony.
The grand finale will be the "Wawa Welcome America Fireworks Spectacular" on the Ben Franklin Parkway starting a 9:45 p.m.
Beginning at 8 p.m., guests are welcome to gather from Eakins Oval to Logan Circle to enjoy this rousing and patriotic festival grand finale. The official fireworks soundtrack will air on The Breeze 106.1 FM. The complete fireworks spectacular will be broadcast live on NBC10 and TeleXitos.
Tredyffrin Township Fireworks are scheduled for July 4 at 7:15 p.m.
The free, all-ages event will be held at Wilson Farm Park, which is located at 500 Lee Road in Wayne.
Families can gather to celebrate the Fourth of July at Wilson Farm Park staring with music by a local DJ at 7:15 p.m. The fireworks display begins at dusk.
It is important to bring lawn chairs or blankets. Picnic dinners and lawn games can be brought along as well. There will be no food vendors on site.
There will be a "July 4th Celebration" at Tubman-Garrett Riverfront Park (80 Rosa Parks Drive,
Wilmington, Delaware, riverfrontwilm.com) from 2-9 p.m. on Sunday.
The City of Wilmington residents and beyond are invited to celebrate this annual 4th of July tradition sponsored by Cityfest.
This popular event brings thousands of excited spectators to enjoy an incredible array of family festivities, food, games and entertainment. After the daytime activities, attendees can enjoy a spectacular 4th of July fireworks show launched from Tubman Garrett Riverfront.
On Sunday, there will be "July 4th Tall Ship Tours" of the Kalmar Nyckel (kalmarnyckel.org) at Tubman Garrett Riverfront Park in downtown Wilmington, Delaware.
The free tours will be offered from 2-6 p.m.
Capacity based on current COVID guidelines, and the event is weather dependent.
A popular event in Delaware this weekend is "Steamin' Days" at Auburn Heights Preserve (3000 Creek Road, Yorklyn, Delaware, 302-239-2385, http://auburnheights.org) on July 4.
The theme this weekend is "Stars, Stripes and Steam."
Visitors are encouraged to climb into an antique automobile or board one of the trains and experience what it was like to travel at the turn of the 20th century. They can also tour the magnificent 1897 mansion that was home to three generations of the Marshall family.
Also included is entry to the Marshall Steam Museum, which features the world's largest operating collection of Stanley steam cars along with a 1930s working Lionel electric train display, a hands-on engine display, kids' activities and exhibits and the Museum Gift Shop. Self-guided experiences will be available along a designated route to ensure one-way paths and proper spacing.
Activities run from 12:30-4:30 p.m.
New Holland Fireworks are scheduled for July 4 at Community Memorial Park Associates, which is located at 400 East Jackson Street in New Holland.
The event will run from 7-10 p.m. with a concert by the New Holland Concert Band with a fireworks display following show
Ridley Park Borough's Annual Fireworks is scheduled for July 3 at Ridley Park Lake, which is located on West Ridley Avenue in Ridley Park.
This event is free and open to everyone. The show will start at dusk.
On July 4, Fort Mifflin (6400 Hog Island Road, Philadelphia, www.fortmifflin.us) is hosting "The 4th at the Fort: Celebrate American Independence at the Fort That Saved America."
Starting at 10 a.m., visitors can celebrate the birth of our nation at an intact Revolutionary War battlefield.
They'll be able to learn the story of the greatest bombardment of the American Revolution during guided tours, enjoy musket and cannon demonstrations and Revolutionary War Soldier Life display. There will also be hands-on living history activities with an opportunity to play with 18th century toys and learn to drill with a wooden musket.
Guests can hear the Declaration of Independence read aloud at 1 p.m. and then discuss – does the language match the lived experience of the time?
The Colonial Pennsylvania Plantation at Ridley Creek State Park (3900 North Sandy Flash Drive, Newtown Square, http://www.colonialplantation.org/) gets into the spirit of the holiday with a reading of the Declaration of Independence, followed by reenactors portraying the colonial and loyalist reactions.
On July 3 and 4, visitors can enjoy a picnic at the farm and celebrate our nation's birthday by hearing the Declaration of Independence and witnessing the crowd's reaction. They can also watch the colonials make a demonstration against the king by burning him in effigy and see the loyalist reaction to this treasonous act. You are also welcome to show your loyalty by signing the Declaration.
Other activities at the farm include hearth cooking, textile demonstrations, long rifle, garden and animal talks. Visitors are welcome to bring a picnic basket lunch, a comfortable chair or blanket and enjoy the Fourth as it was celebrated years ago on a true colonial farm in Chester County. Readings will be at noon and again at 2 p.m.
Admission for this event is $10 for adults, $6 for children ages 4 to 12. Children under age 4 are free.
The Museum of the American Revolution (101 South Third Street, Philadelphia, www.amrevmuseum.org) is hosting a weeklong Fourth of July celebration that will run through July 5.
The Museum will have an array of special exhibits, events, and activities for all ages — including the summer special exhibition Flags and Founding Documents, 1776-Today, which is on view now as part of the Museum's Revolutionary Summer.
Another highlight can be found on the Museum's outdoor plaza featuring giant flags replicating those that were flown by ships during the Revolutionary War, as part of the True Colours Flag Project.
In the Museum's core galleries, visitors can view a rare 1777 broadside of the Declaration of Independence printed by Maryland postmaster and printer Mary Katharine Goddard. Goddard's printing was the first to include the names of the signers of the document. Her own name, as printer, also appears at the bottom of the page.
In a pocket theater that evokes the interior of Independence Hall, visitors can watch a film about the tumultuous weeks leading up to the adoption of the Declaration. Through a touchscreen installation, visitors learn about the 88 local declarations of support for independence that preceded the one issued by the Continental Congress. Galleries also explore what "the promise of equality" meant for all people, including women, native people, and enslaved people.
Admission to the museum is $21 for adults, $18 for seniors and $13 for youth (ages 6-17).
From one of the oldest, most iconic museums in Philadelphia to one of the newest, a new "Art & America" discounted joint ticket will provide access to two world-class institutions this summer.
The Philadelphia Museum of Art (2600 Benjamin Franklin Parkway, Philadelphia, www.philamuseum.org) and the Museum of the American Revolution have joined forces to offer visitors a convenient joint ticket that includes access to both museums for a discounted price.
The adult joint ticket, which is $35 (savings of $11), will be available for purchase from now through September 6 at www.philamuseum.org, by calling (215) 763-8100, or at the Philadelphia Museum of Art's front desk. Tickets will be redeemable through September 20 at both museums.
This summer at the Philadelphia Museum of Art, visitors can explore Philadelphia's extraordinary creativity in the brand new Early American Art galleries. They feature an unparalleled collection of paintings, sculpture, ceramics, furniture, glass, silver and more from the early 17th century until 1850.
More than 10,000-square-feet of new gallery space has been installed to tell new and inclusive stories of how Philadelphia became the young nation's cultural capital, and how Black, Indigenous, and Latin American artists contributed to the development of American art.
As part of the Museum of the American Revolution's "Revolutionary Summer," visitors can view more than 40 rare American flags alongside historic early state constitutions and the first printing of the proposed U.S. Constitution of 1787 as part of the special exhibition "Flags and Founding Documents, 1776-Today."  The exhibit will run from June 12- September 6.
Also beginning Flag Day weekend, the Museum's "True Colours Flag Project" will feature recreations of flags carried by ships during the Revolutionary War.
Extended summertime hours and family-friendly events and activities will take place all summer long, offering visitors of all ages the opportunity to explore the American Revolution's ongoing relevance.
Hagley Museum and Library (Buck Road East entrance via Route 100, Wilmington, Delaware, 302-658-2400, www.hagley.org) is presenting a special "Cannon Firing Demonstration" on July 4 at 1, 2, and 3 p.m. in the Machine Shop area.
The family-oriented event is fun, loud, exciting and educational.
Cannon firings in the Hagley Powder Yards demonstrate how black powder was made and used.
The demonstrations, which take place next to the Millwright Shop, are included with site admission tickets — Adults: $15; Seniors (age 62 and up): $11; Students $11; Children 6-14: $6.
The event is included with admission and free for Hagley members. The cannon firings are weather-dependent.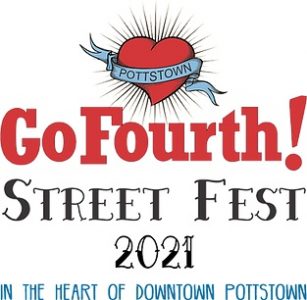 The 2021 "Pottstown GoFourth!" (Downtown Pottstown, www.pottstowngofourth.com) will be held July 4 starting with the Rotary Club of Pottstown Parade on High Street at 11 a.m.
From 1-5 p.m., the "Pottstown GoFourth! Street Fest" will take place on High Street from Charlotte to York streets in the heart of Downtown Pottstown. The festival will feature local restaurants, brew pubs and beer gardens, live music, kids' activities, vendors and artisans.
At 9 p.m., there will be a spectacular fireworks show at Memorial Park, sponsored by Precision Polymer Products.
Historic Skippack Village (Skippack Puke, Skippack) we will be staging its "Annual 4th of July Parade" during the day.
At dusk, there will be a fireworks display at Palmer Park, located next to Skippack Elementary School with parking areas off Heckler Road.
Area minor league baseball teams are onboard for July 4 fireworks displays.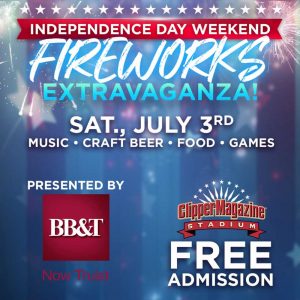 An "Independence Day Weekend Fireworks Extravaganza" is slated for July 3 from 6-10 p.m. at Clipper Magazine Stadium (650 North Prince Street, Lancaster, https://www.lancasterbarnstormers.com/23460-2/)
Guests can enjoy a fireworks display at Clipper Magazine Stadium. There will be live music, craft beer served at the Broken Bat, food, lawn games, and the kids park will be open.
On July 2 and 3, the Wilmington Blue Rocks (Frawley Stadium, 801 Shipyard Drive, Wilmington, Delaware, 302-888-2015, http://www.milb.com) will play the Rome Braves and then present a fireworks extravaganza after each game.
Game time is 7:05 on July 2 and 5:30 p.m. on July 3.
The Lehigh Valley Iron Pigs (Coca-Cola Park, 1050 Ironpigs Way, Allentown, https://www.milb.com/lehigh-valley) will have a game on July 3 with the Buffalo Bisons followed by the Great American Blast fireworks show.
The event features a variety of food options, family fun, and music, as well as the season's biggest and most spectacular fireworks show – more than three-times the size of a normal show at Coca-Cola Park.
Tickets are now available for just $6. Children two and under will receive free admission. Parking is priced at just $5 per vehicle.
Sesame Place (100 Sesame Road, Langhorne, www.sesameplace.com) will hold its "July 4 Fest" now through July 4.
Visitors to the park can celebrate America's birthday with everyone's favorite furry friends. They will be able to visit "Photos with Elmo" to take a patriotic photo with Elmo in his red, white & blue attire.
On Sunday, the amusement park in Bucks County will host an impressive display of fireworks at 9 p.m.
Guests can rock out with Elmo, Abby Cadabby, Cookie Monster and Count von Count, as their music fills the air and the sky is covered with colorful bursts of brilliance. And they'll be able to watch Sesame Place paint the sky red (and green and blue) from inside the park.
This weekend, Peddler's Village (Routes 202 and 263, Lahaska, 215-794-4000, www.peddlersvillage.com) is presenting a "Red, White & Blue BBQ Bash."
The classic barbecue picnic at Peddler's Village will run from noon-5 p.m. on July 4 with All-American grilled favorites and featuring live music, family entertainment, and kids' activities.
Chaddsford Winery (Route 1, Chadds Ford, 610-388-6221, www.chaddsford.com) will be presenting "Red, White, & BBQ" from July 2-5.
Visitors can keep it cool with wine by the glass and bottle, wine flights and the refreshing Firecracker Slushie featuring CFW's zesty Sangria wine topped with whipped cream and  blueberries.
For one weekend only, guests can score major discounts on '18 The White Standard, '18 The Red Standard, and '18 Harbinger. Glasses will be discounted by $1, bottles by $2, and cases by $24 for these red, white and blue wines!
The foods truck line-up features Buddy's Burger, Breast and Fries all four days, Albie's Burgers from Friday-Sunday, Town Hall Provisions on Saturday and Sunday and The Munchie Machine on Monday.
Live music will be performed on Saturday by the Jess Zimmerman Band and Sunday by the Raising Cain Vand.
Admission is free with two seating options available – walk-in or reserved.
The 2021 "Festival of Fountains" opened in May and is running through September 26. This weekend, there will be a special "Fireworks & Fountain Show at Longwood Gardens" on July 3 at 9:15 p.m.
Daily performances in the Main Fountain Garden will feature more than 1,700 spinning jets that spin dance to various music programs. These are no little jets as some shoot up as high as 175 feet in the air.
The 30-minute show is slated for Thursdays, Fridays and Saturdays at 9:15 p.m.
The Main Fountain Garden Show's "Fountains Then and Now" show is a 12-minute fountain performance that begins with a touch of narrated history and concludes with dynamic choreography marrying music and the site's newest fountain features.
These displays will be presented daily at 1:15 a.m. and 3:15 p.m. There will also be performances on Thursdays, Fridays and Saturdays at 7:15 p.m.
Another daily show in the Main Garden is "Classical, Jazz, and Hits of Today," another 12-minue show but with a different musical style. These will be presented daily at 1:15 and 5:15 p.m.
The third show on the roster is "Fountain Refresher," which is billed as "a five-minute mix of music genres that teases the theme of that evening's Illuminated Fountain Performance."
These are scheduled for Thursday through Saturday from May 6-August 28 at 6:15 and 8:15 p.m. and September 2 through October 30 at 6:15 p.m.
There will also be daily shows in the Open Air Theatre and the Italian Water Garden.
Featuring 750 jets in changing patterns, the Open Air Theatre comes alive with fountains set to music.
Since its 1914 Garden Party debut, this Italian-style outdoor theatre has expanded from its simple original fountains to the 750 jets that create the rainbowed curtain of water you see today, while playing host to more than 1,500 performances throughout the years.
To limit the spread of COVID-19, Longwood has made the difficult decision to temporarily suspend all ticketed concerts, fireworks shows and in-person continuing education classes. But live music can be heard in the Beer Garden, where live instrumental music from traditional Celtic tunes to Caribbean steel pan grooves sets the tone Thursday through Saturday evenings.
Beer Garden performances are scheduled through August from 6-9 p.m. from Thursday to Saturday evenings. They will also be held in September from 5-8 p.m. on Thursdays, Fridays and Saturdays.
As always, admission by "Timed Ticket" — tickets issued for specific dates and times. Timed ticketing limits the number of people in the Gardens at any given time and allows guests to enjoy minimal lines and a better viewing experience.
You may enter the Gardens up to 30 minutes prior and 30 minutes after your designated time. Make every effort to arrive at your designated reservation time. Earlier or later arrivals may not be accommodated.
Video link for "Festival of Fountains" — https://youtu.be/AHsC2YuFerY.
Admission to Longwood Gardens is $25 for adults, $22 for seniors (ages 62 and older) and college students, $18 for active military and veterans and $13 for youth (ages 5-18).
When the first Friday of the month comes around, it's a good time to spend the evening in West Chester or Lancaster.
On July 24, West Chester will host its version of First Friday (downtown West Chester, http://www.downtownwestchester.com) from 10 a.m.-8 p.m.
First Friday activities will take place all day in the county seat and include great shopping opportunities and delicious food offerings. Stores are open late and many of them feature free refreshments and shopping specials.
As an added attraction, there will be free on-street parking after 5 p.m. The remaining First Fridays in West Chester are scheduled for August 2, September 6, and October 4.
Downtown Oxford's "First Friday Summer Block Party" will be held on July 2 starting at 5 p.m.
The businesses of Third Street (AKA Main Street) in the tiny Chester County borough swing their doors open and set up outside, welcoming strollers and shoppers ready to support small businesses as they navigate economic recovery from COVID-19.
Lancaster has a lively First Friday celebration very month. This month's edition of First Friday Lancaster (http://www.firstfridaylancaster.com) will run from 5-9 p.m. on July 2 in downtown Lancaster.
The event will feature attractive exhibitions at art galleries, artisan studios and museums. There will also be live performances presented in a variety of genres — professional theater, symphony orchestra and performing groups.
First Friday will also be celebrated at The Lancaster Science Factory (454 New Holland Avenue, Lancaster) from 5-7 p.m.
The John Heinz National Wildlife Refuge at Tinicum (8601 Lindbergh Boulevard, Philadelphia, www.fws.gov/refuge/John_Heinz) is hosting an event titled, "Bird Walk with Chuck and Emily" on July 3 from 8-10 a.m.-noon.
Participants will be able to take an educational walk with one of the venue's knowledgeable volunteers.
Visitors to the Refuge can discover the 300-plus species of birds that use the Refuge during their migration routes — with a different species guaranteed each week.
The walk will be at a relaxed paced on flat surfaces. There are restrooms and a water fountain near the trailhead.
Also on Saturday, the Refuge will host "Nature Tots!" starting at 10 a.m.
Children (ages 3-5) and an adult are invited to explore nature with a refuge ranger. Participants will enjoy story-times, crafts, hikes, and more.
Another prime location to check out flowers in bloom is Tyler Arboretum (515 Painter Road, Media, 610-566-9134, www.tylerarboretum.org).
The arboretum's schedule for this weekend features "Saturday Evening Wildflower Walk,"
"Saturday Evening Wildflower Walk," which runs from 6-8 p.m., features wildflower expert Dick Cloud on an informative two-hour hike that will take guests through meadows, woods, and occasionally streamside. These walks are for those who have a love of plants, their role in ecology, or for those who want to learn more.
Although the focus is on plants, Cloud will also talk about whatever else is seen on the tour. Walkers should wear comfortable hiking shoes and bring a camera and/or a wildflower guide, for this botanical-filled walk.
Admission to Tyler Arboretum is $15 for adults (ages 18-64), $13 for Seniors (65+) and $9 for children (ages 3-17) and Military with valid ID.
If you enjoy walking around garden displays or if you like to look at model railroad layouts, then you should definitely check out the Garden Railway Display at the Morris Arboretum (100 Northwestern Avenue, Chestnut Hill, www.morrisarboretum.org).
The ultra-popular Garden Railway Display has become a major summer attraction at The Gardens at Morris Arboretum. The annual edition of the display has its official season opening a few days ago and will remain open until October 11.
The railway has a quarter mile of track featuring seven loops and tunnels with 15 different rail lines and two cable cars, nine bridges (including a trestle bridge you can walk under) and bustling model trains.
The buildings and the display are all made of natural materials – bark, leaves, twigs, hollow logs, mosses, acorns, dried flowers, seeds and stones – to form a perfectly proportioned miniature landscape complete with miniature rivers.
Philadelphia-area landmarks are all meticulously decorated for the holidays with lights that twinkle. There is even a masterpiece replica of Independence Hall are made using pinecone seeds for shingles, acorns as finials and twigs as downspouts.
This year the tracks are surrounded by miniature replicas of "Wonders of the World." Visitors will be able to see the Eiffel Tower, Hagia Sophia, the Egyptian Pyramids, the Wall of China and more.
Admission is $20 for adults; $18 for seniors (65 and older); $10 for students (ages 13-17 or with ID), active military and retired military; and free for children (under 3).
There is also plenty of special activity on full-size railroads.
The West Chester Railroad (610-430-2233, www.westchesterrr.net) is running its "Summer Picnic Specials" every Sunday now through Sept 19. There will be one excursion each day at noon.
Passengers can enjoy a 90-minute round trip train ride from West Chester to Glen Mills and return on a warm summer afternoon. Riders are invited to pack a lunch to have during excursion's stop at the Glen Mills train station picnic grove.
Tickets are $17 for adults, $15 for children (2-12) and free for children (under two).
On July 2, the Wilmington & Western Railroad will run a special "Fireworks Express." Passengers will board at Greenbank Station and the train will depart at 7 p.m. for Hockessin, which is presenting a festive Fourth of July fireworks extravaganza.
The excursion takes about four hours and is powered by one of the rail line's antique steam locomotives.
Tickets are $25 for adults, $23 for seniors, and $20 for children (ages 2-12). Children under 2 can ride for free.
The Colebrookdale Railroad (South Washington Street, Boyertown, www.colebrookdalerailroad.com) is running its "July 4th Fireworks Express" on July 4 at 7 p.m.
The tourist rail line's expedition features rides on meticulously restored century-old rail cars and visits one of the most scenic and historic regions in the northeast.
Deluxe coach fares are $36 for adults (13-64), $29 for children (2-12), $31 for seniors (65 and older) and $6 for toddlers.
The New Hope Railroad (32 Bridge Street, New Hope, 215-862-2332, www.newhoperailroad.com) is running its "Grapevine Express," which features "Wine & Cheese Tasting," from July 2-5.
Riders are invited to take part in a romantic "Wine and Cheese Excursion" and enjoy fine gourmet cheese, artisan crackers, meats, fruit, and our featured local wines. Additional Alcoholic and Non-Alcoholic beverages are also available onboard.
Wine and cheese will be served to passengers as they travel along the same railroad line passengers did when it was built in 1891 connecting New Hope with Philadelphia. The journey travels through the beautiful hills and valleys of Bucks County, along once vital waterways and streams and across numerous trestle bridges.
The excursions will take place aboard one of the railroads lavishly appointed early 1900's first-class parlor cars.
Tickets are $79.99 (Ages 21 and older only).
This weekend, the Strasburg Railroad (Route 741, Strasburg, 717-687-7522, www.strasburgrailroad.com) is celebrating one of its locomotives with a series called "611 at Strasburg: The Return of an American Icon."
The Norfolk & Western Class J 611, a National Historic Engineering Landmark by the American Society of Mechanical Engineers, is known as an engineering powerhouse of steam, technology, and near mechanical perfection.
The N&W Class J 611 is the sole survivor of 14 Class J steam locomotives designed and built by the Norfolk & Western Railway. The locomotive rolled out of Roanoke's East End Shops in 1950. Its mission was to pull the Powhatan Arrow, a 15-car passenger train, from Norfolk, Virginia, to Cincinnati, Ohio.
Now, the powerful and sleek locomotive is running the rails at the historic Strasburg Railroad in Lancaster County's scenic Amish Country.
Offered as part of the tourist railroad's regular daily steam train service, N&W No. 611 J will be the motive power for the day's main train on select days. She will pull 45-minute excursion rides to Paradise, Pennsylvania on the following days: July 10 and11; July 17 and 18: July 24 and 25; August 20-22; August 27-29; September 4-6; September 24-26; and October 2 and 3.
Ticket prices range from $9.50-$45.
The Northern Central Railway (2 West Main Street, New Freedom, www.northerncentralrailway.com) is presenting "17.76 – Happy Independence Day!"
The specially priced ride is $17.76 for adults, $10 for children (ages 3-12) and $5 for toddlers (in lap).
The railroad is taking the William H. Simpson No. 17, its authentic replica steam locomotive, to Glen Rock.
The ride follows the route of the original Northern Central Railroad, a former Pennsylvania Railroad mainline that has been in operation since 1838, through the scenic Heritage Rail Trail County Park.
The Delaware Art Museum (2301 Kentmere Parkway, Wilmington, Delaware, www.delart.org) has both outdoor and indoor special events this weekend.
The Dara Meredith Dance Premiere of "The Bridge of Our Roots" will run now through July 10 – on-site and virtual.
Recorded in front of "Southern Souvenir No. II," the dance responds to this powerful painting by Eldzier Cortor.
There will also be another edition of "Free Movies in the Sculpture Garden" on July 2 at 8:30 p.m. The featured film will be "Jaws."
Last month, The Delaware Art Museum unveiled its reimagined American art galleries, kicking off a series of gallery reopenings throughout the summer.
Shaped by feedback from more than 100 Delawareans, "Picturing America" expands the American stories told with art. Developed largely through gifts from local donors, the Museum's collection reflects art produced and collected in Delaware and the Brandywine Valley.
A highlight of the new American galleries is a large salon-style display, wrapping walls from floor to ceiling with Gilded Age artworks. Recent acquisitions on view include a bust of Frederick Douglass by Isaac Scott Hathaway, landscapes by 19th-century African American artists Robert Duncanson and Edward Mitchell Bannister, and a new painting by Mary Macomber.
Reimagined main floor galleries will continue to open throughout the summer, and public tours are available at delart.org.
Admission to the Delaware Art Museum is $14 for adults, $7 for students, and $6 for youth (ages 7-18).
On July 3, Laurel Hill Cemetery (3822 Ridge Avenue, Philadelphia, 215-228-8200, www.thelaurelhillcemetery.org) will present "Battle of Gettysburg Walking Tour" at noon.
The most bloody and pivotal moment in the history of the American Civil War was the decisive Battle of Gettysburg, fought from July 1-3 in 1863 and only 120 miles away from the home front of Philadelphia. Many prominent Philadelphians were engaged at Gettysburg, some losing their lives for the nation.
The Union commander at the battle, General Meade, Division Commander General Crawford, many officers, and enlisted men who participated now rest at Laurel Hill. The tour will highlight them and others who played important roles in the battle and who likewise lie under Laurel Hill's perpetual care.
This walking tour will depart from Laurel Hill Cemetery's Gatehouse entrance at 3822 Ridge Avenue in Philadelphia.
Tickets are $15/General Admission, $13/Seniors (65 & Up), $13/Students with ID, $10/Members, $7.50/Youth (6-12), and free/Child (5 & Under). Youth and children must be accompanied by an adult.
The Elmwood Park Zoo (1661 Harding Boulevard, Norristown, www.elmwoodparkzoo.org) has several upcoming special events with a canine twist.
The Zoo will have an animal-themed special activity on July 2 and 7 called "Dog Days."
All guests visiting the zoo with a furry friend must complete an online waiver and submit required documents before visiting the zoo. You must upload a copy of your most recent veterinary visit, including proof of vaccine and heartworm test here. All items will be required for you to attend "Dog Days."
The "Dog Days" event is slated to run from 1-5 p.m. It will also be held on selected dates throughout June.
Pricing is $10.95 per dog with each additional dog at $9.95. Regular zoo admission is required for all humans.
"Yappy Hours" is scheduled for July 5 from 5:30-7:30 p.m.
"Yappy Hours" are like Happy Hours except they cater to canines as well as their owners. Guests and their furry friends will enjoy drink and food specials at our Zoo Brew Beer Garden. Each dog that is registered will receive one free puppy whipped cream treat cup.
"Zoo Revue" will be held every weekend throughout the summer with live entertainment by a variety of talented performers including musicians, young actors, magicians and more.
All performances will take place on Saturdays and Sundays from 11 a.m-3 p.m. on the stage located next to the bison feeding deck and across from Zoo Brew Beer Garden.
Performances are free to attend with regular zoo admission – Adult, $17.95; children (ages 3-12), $13.95; and Students and Seniors, $15.95.
The Brandywine River Museum (1 Hoffman's Mill Road, Chadds Ford, www.brandywine.org) is saying, "Welcome Back."
The Museum is now open Wednesdays through Mondays from 10 a.m.-4 p.m. and closed Tuesdays.
To ensure the safety, security and quality of the visitor experience, the Brandywine has implemented a variety of procedures, including timed ticketing and capacity limits. While not required, advance purchasing of timed tickets is highly recommended. Click below to reserve your timed tickets.
During its closure, the Museum underwent several facility renovations to its second and third floors. Upgrades included a complete refurbishment of the restrooms on the second floor, making them fully ADA accessible, as well as switching their current location with the Strawbridge Family Gallery (which will open later this summer), plus new HVAC and fire suppression systems.
Opening into the Museum's central atrium, the reimagined Gallery — complete with new state-of-the-art lighting — will improve circulation within the Museum building, enhancing the visitor experience.
The special exhibition currently on view is "Ralston Crawford: Air & Space & War," which will be running now through September 19.
Admission is $18 for adults, $15 for seniors (65+), $6 for students with ID and children (ages 6-18) and free for children (ages five and under).
Summer is back and so is Winterthur Museum, Garden & Library (5105 Kennett Pike, Wilmington, Delaware, 800-448-3883, www.winterthur.org).
Summer stunners — hydrangeas, astilbes, and daylilies — continue to delight in the garden.
Guests can enjoy a stroll on shaded paths as the old-growth trees shelter them from the midday sun. They can wander by the Reflecting Pool to the Glade Garden, where they will be be greeted by the brightly colored koi swimming in their ponds. Then, it's just a short walk to Enchanted Woods, which is always a delight for the young and young at heart.
"Music Along the Bank" will resume on July 1 from 5:30-8 p.m. The featured entertainer will be singer-songwriter Allison Dietz. Her musical style is grounded in traditional Americana and blended with modern pop sensibilities.
"Terrific Tuesdays" return on July 6 from 10 a.m.-3 p.m. with the theme of "Nature Is Nifty."
Guests are invited to drop in for crafts, games, and demonstrations inspired by the natural world that engage kids ages 3–10 and the adults they bring with them. This week's theme is "Homes and Habitats."
Winterthur's website posted this message:
Please bring a face mask. Effective July 1, fully vaccinated visitors do not need to wear masks, except in crowded settings or in places where signs indicate that a mask is still required. All others should continue to wear a mask. Please maintain a safe social distance of three feet. All events comply with or exceed state regulations.
Hope Lodge (553 South Bethlehem Pike, Fort Washington, 215-343-0965, http://www.ushistory.org/hope/) will be presenting a "Self-Guided Mansion Tour" on July 4.
Hope Lodge was built between 1743 and 1748 by Samuel Morris, a prosperous Quaker entrepreneur. Morris acted as a farmer, shipowner, miller, iron master, shop owner, and owner of the mill now known as Mather Mill. Hope Lodge is an excellent example of early Georgian architecture, and it is possible that Edmund Woolley, architect of Independence Hall, offered advice in building. Samuel Morris owned the estate until his death in 1770.
The site opens at 12:30 p.m. with self-guided tours starting at 1 p.m. The site closes at 4 p.m.
Because of COVID-19 restrictions, guests will be able to tour the main floor of the mansion and summer kitchen areas only. Interpretive signage will be available including photos and text describing the other closed areas.
Tour admission is $8 for adults, $5 for seniors (age 65+) and for youth age 6-17, and fee for children under 5. Hope Lodge is a Blue Star Museum which means that active-duty military personnel, including National Guard and Reserve and their families, are admitted free for regular tours from Memorial Day through Labor Day.
The Rose Tree Summer Festival (Rose Tree Park, Route 252, Media, www.delcopa.gov/departments/parks) returns with a summer-long series of free outdoor shows at the scenic park just north of Media.
The schedule of upcoming shoes in the next week includes Steve Pullara and His Cool Beans Band on July 2, Chester County Concert Band on July 7, Rose Tree Pops om July 8, The Ebonys on July 9, and Eric Roberts' Tribute to the Piano Man on July 10.