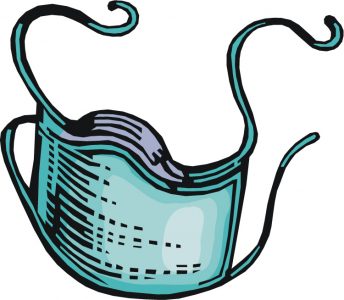 In response to the Pennsylvania Department of Health and the CDC's advising of all residents to wear masks when in public, State Senator Andy Dinniman announced a community challenge: MaskUp Chester County.
"When one person wears a mask, they're making the conscientious decision to protect others around them," Dinniman said. If everyone wears a mask, everyone has an added layer of protection. My mask will protect you, and your mask will protect me."
Many Pennsylvania residents have asked where they can find or purchase masks to keep themselves and others safe. Online guides and official Pa. Dept. of Health guidelines have shown that masks which limit the spread of COVID-19 and other airborne infections are able to be made from home.
"I am launching the MaskUp Chester County Challenge — a homemade mask challenge, because we want to see all the amazing homemade mask designs that our community creates," Dinniman said. "Whether it's an art project, a family craft day, or your way to express your creativity – you can post a photo of you wearing a mask on our Facebook challenge. We will be providing links and sources here to learn how to make a mask, and what materials you can utilize for it."
The theme of the challenge is "My mask will protect you, and your mask will protect me," a slogan utilized by the Pa. Dept. of Health. Submit your photo www.facebook.com/SenatorAndyDinniman/
At the end of the week, the masks will be opened to a community vote in two categories: "Most Creative" and "Best In-Theme." The winners will receive a senate certificate from Senator Dinniman's office.
A mask doesn't make you immune. Staying home is the most effective way to protect yourself, but if you must go out, wearing a mask as an extra layer of protection to protect others.
"Let's continue to work together to protect one another. Wearing these masks is a symbol of how we can keep our fellow Chester Countians and Pennsylvanians safe and healthy," Dinniman said.