Lots of options for those kitchen and bathroom counters
By John D'Annunzio, Columnist, UnionvilleTimes.com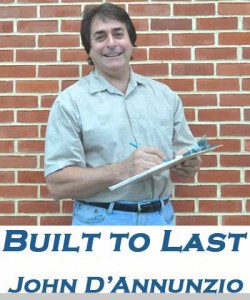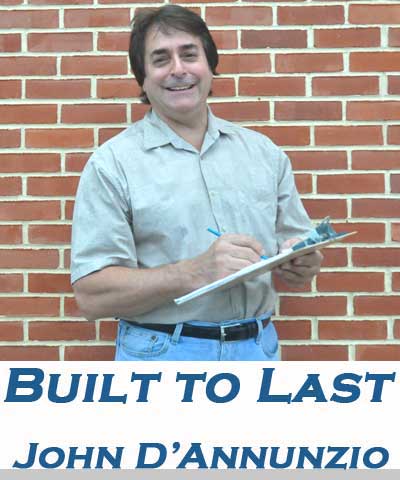 Centuries back man didn't have many options as far as counter tops. They probably cut down a huge oak tree and started working the daylights out of it to come up with something that was feasible. As far back as I can remember, people used tile or Formica. But today we have a few more options available. In this edition of Built to Last I will discuss a few choices.
Granite is a very popular because of its natural beauty. Veining in the stone mimics water flowing and there are many different colors available. When ordering for a specific job, don't leave out any area you want to cover because you may not match the same grain or color again.  Most granite surfaces are maintenance free but in some instances they should have a stain sealer applied. Because it is a stone, you may notice small cracks or small; after a fine polish it isn't an issue. Granite is very flexible in terms of shaping but it is a very heavy product so check your floor to see if it can carry the additional weight.
The cost can range from $ 60 to $120 per square foot installed and about $34 per square foot for the material only.
Marble is also very popular. It was used for sculptures and buildings since the Roman Empire. Some may say that marble must be good for durability since some of those statues are still around today. What is marble? It is crystallized limestone from the earth, and after cutting and polishing, it gives off an attractive sheen. Marble is available in 2cm and 3cm and can be shaped to fit around sinks, oblong shapes, and routers. Since marble isn't as hard as granitite it is susceptible to stains and scratches, and damage from strong chemical cleaners which will ruin the finish in time. Use a colorless wax to keep these tops in good condition. The best marble is from Italy and China. The cost can range from $60 to $100 per square foot.
Cultured marble is made up of marble dust, fiberglass resins, calcium carbonate, pigments for color, and a gel coating using 100% mildew resistant silicone. When cured it has a hard surface but not like Corian or granite. The advantages are that it comes in all kinds of patterns and can be made for bathroom vanity tops. However, the surface can be nicked or chipped when dropping something out of a medicine cabinet. But despite its relatively soft surface, cultured marble is still being used and holds it own in the market place. Pricing for a 49 x 22 vanity top can range from $99 to $360 depending on the seller.
Lastly, Corian was introduced in 1967 by DuPont and is made of acrylic polymers which make it a strong material. It comes in a variety of designs and colors that are embedded deep within the product. One of the advantages of these tops is that they can be made in one piece with no seams; this means that they will not trap dirt. They can also be used outdoors. Clean up is easy; just use soapy water, no harsh chemicals needed. Any scratches can be sanded or buffed out.  Price installed per square foot $50 to $100.
So there you have it, the most popular surfaces used for countertops. With all of these varieties you can choose the best fir for you, be it budget, beauty, or durability.
John D'Annunzio is a local Commercial and Residential builder who has held nearly every job in the construction industry from heavy equipment operator to home builder. He is ICC building code certified and lives and operates in Chester County, PA. His column will appear weekly and address various home improvement and building issues with special attention to subjects of interest locally.

Contact John at johnd3656@verizon.net