By Mike McGann, Editor, The Times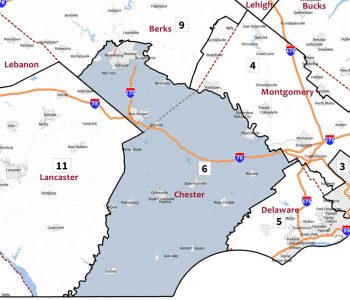 Two Federal courts refused Monday to set aside new Congressional districts — meaning that all of Chester County will now be in the new 6th District, starting with this fall's election.
A three-judge panel said that it lacked the authority to do anything but dismiss the complaint brought by a number of current members of Congress alleging that the Pennsylvania Supreme Court has usurped the power of the state legislature by imposing a new map, after ruling that the previous map violated the state Constitution.
Just hours later, the U.S. Supreme Court — in this case Justice Samuel Alito — declined a request for a stay brought by Republican Party leaders and legislative leaders, effectively ending the legal challenge to the maps.
Gov. Tom Wolf said he was happy with the rulings.
"I applaud these decisions that will allow the upcoming election to move forward with the new and fair congressional maps," Wolf said. "The people of Pennsylvania are tired of gerrymandering and the new map corrects past mistakes that created unfair Congressional Districts and attempted to diminish the impact of citizens' votes.
"I want to thank every citizen who spoke out in favor of fair maps and against partisan gerrymandering. Now, Pennsylvania must move forward and work together to enact nonpartisan redistricting reforms.
"The Department of State has been working proactively to oversee an orderly transition to the new congressional map and will continue to assist counties, voters, and candidates through this process to ensure we have a smooth election in May."
Candidates have until tomorrow to file their nominating petitions, which require at least 1,000 signatures of registered Republicans or Democrats (depending upon which nomination the candidate intends to run for) who live in the district.
Current U.S. Rep. Ryan Costello is expected to face at least one, if not two, primary challenges for the Republican nomination. Democrats Chrissy Houlahan and Elizabeth Moro are expected to compete for the Democratic nomination in the May 15 primary.