By Lele Galer, Columnist, The Times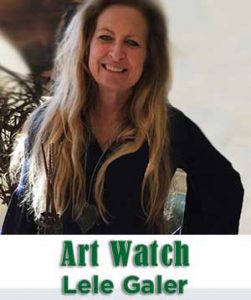 By now most everyone knows that studies have shown that having some creative outlet in your life increases longevity and personal happiness; but where to begin? This August, consider signing up for Fall classes at the many art associations in our area, or a class with private art teachers, or going back to school, or entering an art competition. The greater Brandywine Valley has so many opportunities for adults at every experience level to enjoy being creative, perhaps this is the time for you to take the plunge! While you ponder that creative plunge, check out the local galleries and museums in our area – First Friday art openings are a great way to see local art, sip some wine and chat with other artists and art lovers who are visiting galleries too.
This First Friday, August 4th, make sure to check out the new location of the wonderful Mala Galleria in Kennett Square, at 200 East State Street. Mala Galleria, owned by Stella Scott, has officially moved up a few hundred feet to the large location that was formerly the Longwood Art Gallery. It is a beautiful space, and it is already filled with local and international paintings, sculpture, jewelry, wood carvings and more. Photographer Michael Gunselman is the first featured artist in the new Mala Galleria space, and his opening reception is this Friday from 6-9pm. "Mala" means "small" in Serbian, and this space is large, but thankfully Stella kept the gallery name as it resonates such an ever-present welcoming charm for all of us in the local community. Check it out this Friday and say cheers to the new Mala Galleria in Kennett Square!
While in Kennett Square, also check out Salt & Stone, across the street from Mala, with gorgeous handmade jewelry, paintings, leather work (and so many beautiful handmade things, curated by owner and artist Amanda Kane, that you will not leave without taking something home), and Metamorphosis Wellness Center at 331 East State Street. Metamorphosis has a New Age vibe, and carries beautiful jewelry and ceramics as well as stunning crystals and other earthen treasures that are a pleasure to hold – and if they do something more, all the better! Many artists also have their studios in Kennett Square, including Carol Lesher, Peter Willard, Neilson Carlin, and newly arrived Karen D'Allaird who owned and taught at the very successful Willowdale Art Academy in Kennett Square. All of these studio locations are one or two blocks from Mala Galleria.
So, let's say that you have always wanted to paint, sculpt, draw, but for whatever reason, you never committed to art 100%, but are now willing to give it a solid try – where do you start? Art classes for every level of experience abound in our area. We are so fortunate! For painting and ceramic classes (and more) check out the Fall offerings at your local art associations, like Chester County Art Association (in West Chester), the Main Line Art Center ( in Haverford), The Wayne Art Center (in Wayne), the Oxford Arts Alliance (in Oxford) and The Delaware Art Museum (in Wilmington). Remember, art instruction is a bit like hiring a psychologist, if you don't feel in sync with the teacher, don't give up, just get another teacher.
If you would like to experience a private art teacher, small class, with a particular point of view, then you have some amazing options here in Chester County. Karen D'Allaird has just moved to a studio/teaching location in Kennett Square in Charlie Metzger's prior ceramic location at 107 South Union Street. Karen is an inspiring painting teacher of youth and adults and an accomplished realist oil painter. Her former teacher, Neilson Carlin (www.carlinacademy.com), has a studio and classes at 128 South Willow Street in Kennett Square. He is the best painting teacher that I have ever had – teaching "soup to nutz" oil painting for those wishing to paint realism. It is a painstaking process which he guides you through with such passion and thoughtful attention that honestly, he can turn a stick figure painter into gallery artist within a year! Many of your favorite artists in the area are also now teaching more intimate art classes out of their studios, so follow them on Instagram or Facebook and just ask them if they are teaching and you may be pleasantly surprised.
For ceramics, check out classes at Yellow Springs (www.yellowsprings.org), Chester County Art Association (www.chestercountyarts.org), or the Delaware Art Museum(www.delart.org), all of which have open studio sessions once you have mastered the basics.
For welding metal sculpture, we are so incredibly fortunate to have master metal sculptor Stan Smokler who teaches week long welding classes out of his beautiful Marshall Bridge Studio in Kennett Square during the Summer. Stan Smokler teaches two week-long classes of ten students each, every Summer, culminating in a huge, fun studio party where each of the students show there works to their friends and family. For a taste of Stan Smokler's workshop, check out his studio party on this Sunday, August 6th from 5-9pm at 2017 Marshall Bridge Road in Kennett Square. I am not exaggerating when I say that his class was life-changing. The most fun adult summer arts camp that can be had. I know several sculptors , including Dave Beck, Monique Sarkessian, Laurie Murray, Katee Boyle and me, who credit Stan Smokler's Summer workshop as the turning point in their artistic career. Rumor has it that he may offer two classes in the Fall…stay tuned, and try to get on that list!
If you want to start making jewelry, definitely check out the list of offerings at The Delaware Art Museum, and there are also classes at the various art associations in our area.
If you just want to show your artwork that you have been working on and see how people respond, Chester County Art Association, Oxford Arts Alliance, Main Line Art Center or Wayne Art Center all have non-juried venues for you to show your work. My favorite venue to show often is DVAL, the Delaware Vallery Art League, which has at least 20 venues every year for its members, as well as monthly art demonstrations, artist chats and more, all from their location in Paoli. Go to their website www.Delwarevalleyartleague.com for more information. This is a lovely group of mostly-over-age -50 artists who all know who is showing where and are kind and friendly with advice and wisdom.
The first time I showed my artwork was at The Chester County Art Association – a non-juried art show-and a lot of people seemed to like my work, so that led to a solo show, which led to another solo show, and then a group show, and so on. Brandywine Valley is truly a unique place art-wise with its plethora of venues to learn as well as show and sell your artwork. There is no excuse! Take a class and or bravely submit your work to an exhibition. It is exhilarating and there will be more supportive voices than critical ones!
Final note, Art Watch Radio is now every Wednesday from 1-1:30 on am radio station WCHE 1520, and this week guest host John Chambless discusses the theme of "Starting Out" with art, with guests Wendy Kershner, Executive Director of Chester County Art Association, Rachel Ammon of Main Line Art Center and John Baker of West Chester University. Tune in to hear more about "starting out" in the creative arts in our area! The following week, August 9, Caroline Roosevelt guest hosts the theme of "Teaching Art" and interviews Kennett artists and painting teachers Neilson Carlin and Karen D'Allaird. I am off to France for a couple weeks, and Caroline Roosevelt will be in charge of Art Watch next week.