What you don't know about wood might end up killing you
By John D'Annunzio, Columnist, UnionvilleTimes.com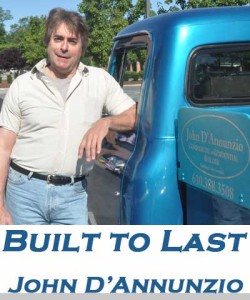 Roughly 2.5 million decks were built last year; some by contractors, others home owners.
Improperly installed and aged materials create a dangerous situation. I understand that money is tight right now and people want to do their own projects, however, most people aren't familiar with the specifics on lumber species that are best used for decks, such as cedar joist or treated wood joist materials. These errors could mean the difference between a safe deck and a hazardous one
I've seen many instances of deck failure where people were either seriously injured or killed.  Most of the problems come from decks being overloaded by people having parties; especially on holidays and special occasions. Again, with the proper species of wood, correct spacing, and spans, a wooden deck will hold a sizable amount of weight.
According to the American Forest and Paper Association, different wood species have different strengths. So what does this mean? Cedar joists might have a different span and load rating than treated joists. Fiber bending characteristics are different between species and modules of elasticity vary. Also, newer preservatives used on wood can be corrosive when in contact with any metallic materials such as hangers, flashings, nails, etc.
The farther the deck is from grade the more it will wobble. To avoid this problem, place your deck posts on top of concrete footings at least 8" thick. Once the posts are placed, surround them with concrete for additional support. Footings should be below the local frost level (at least 3 feet in this area) and on undisturbed soil and should be at least 12" to 18" in diameter.
Another problem I commonly notice is that nails are the only means of support for deck construction. Nails are weaker than lag bolts or carriage bolts. These bolts can support a greater amount of weight than nails when properly spaced. However, nails are prone to failure under great stress.
When fastening the deck to the building, make sure there is a band joist at least 2" wide attached to the existing structures. This band joist should be attached to your floor joist. I recommend using either ½" to 5/8" wide and at least 3 ½" long lag or carriage bolts and washers with two bolts spaced every other bay on the treated deck header. Be sure to check for plumbing or wiring before installing them.
Simpson Strong-Tie sells a variety of approved deck fasteners. When shopping for fasteners it is important to look for an approved testing agency seal such as, American Society of Testing Materials. It should be visible on most products.
Quick ICC Building Code references:
Wood decks are required to have at least 40 lbs. PSI live load. This means that this is the maximum occupant load. For example, a 200 lbs. individual would stress 5 square feet of deck. Again, to avoid overstressing your deck, check your spans and lumber to keep in check with you 40 lbs. load.
All wood in contact with the ground must be pressure–preservative treated. Fasteners must also be hot dipped zinc coated or galvanized steel. The use of these specific materials helps to ensure longevity and the structural integrity of the deck. Guards must be installed where the grade or floor is 30" or more below the deck. This includes stair guard rails.
For overall comfort and safety are concerned, handrail grip sizes should be a minimum of 1 ¼" to 2" cross-section for round rails and 4 ½" to 6 ½" when measuring the perimeter of a rails. Anything wider than that doesn't meet code: you want to be able to grasp it comfortably to ensure stability. Guard rails also need to hold a 200 lbs. load in any direction.
Using the right materials, following the proper instructions, and adhering to the building codes is essential for having a safe and strong deck. With summer right around the corner it's important to make sure your deck is up to spec.
Be sure to look out for more home improvement tips in next week's edition of this column.
–John D'Annunzio is a local Commercial and Residential builder who has held nearly every job in the construction industry from heavy equipment operator to home builder. He is ICC building code certified and lives and operates in Chester County, PA. His column will appear weekly and address various home improvement and building issues with special attention to subjects of interest locally.
Contact John at johnd3656@verizon.net