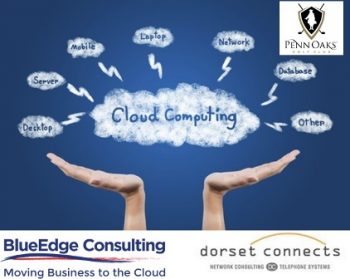 CHADDS FORD — IT consulting firm Dorset Connects is hosting two upcoming events  to help business learn more about Cloud services. 
Legal and business professionals face many challenges; they need to ensure compliance and make sure their documents are secure and easily shared with teams and clients. They expect their technology solutions to reduce overhead, increase billable hours, enhance productivity, and provide the ability to work anywhere, anytime. Register at http://bit.ly/2bSdBHo for Dorset Connects' free webinar on Wednesday, September 14 at 12 pm to learn how Office 365 provides solutions to address these challenges and more, helping to increase the number of hours that business professionals have available to spend on their clients' needs, resulting in increased client referrals and revenue.

Also, Dorset Connects plans to partner on an upcoming event with BlueEdge Consulting on at the Penn Oaks Golf Club to answer your questions about how the Cloud can make your business more agile and successful. This presentation will be part of hybrid happy hour presented by the Greater West Chester Chamber of Commerce; register at http://bit.ly/2b2kVff to reserve your spot. Keep an eye out for more information on this event — details to come.
Dorset Connects gives small to mid-size businesses in the greater Philadelphia area personalized, hassle-free IT support services, such as 24×7 monitoring, a U.S.-based helpdesk, fixed monthly budgets, and the ability to focus on your business, not your network. 
If you would like more information about Dorset Connects or either of these events, please contact Neal Zimmerman via email at nzimmerman@dorsetconnects.com.