To The Editor,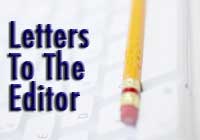 Receiving proper financial support from local governments to make our Chester County communities are safe at all of times of the day and night is becoming almost impossible.
I was dismayed to read of the treatment Fire Chief John Edwards and the East Brandywine volunteer fire company received at a recent township meeting. More than 100 citizens turned out to support the fire and EMS organizations that safeguard their community. The reaction from the township elected officials was that no additional funding was coming the way of the fire company.
I know Chief Edwards and how hard he works to keep his company functioning as a professional organization. Chief Edwards spends many volunteer hours attempting to secure funding for essential firefighting and rescue endeavors. I know because I put in the same hours here at Longwood Fire Company.
The cost of equipment, overhead and training is extreme. At the meeting Edwards said, "But when you call 911, 100 percent of the people expect a response. These people are putting their lives on the line. I want them to have state of the art equipment and the best possible gear. I want it for them, and I want it for you."
I was pleased to see that the residents of East Brandywine rallied to support the fire company. It's too bad the elected officials didn't offer the same support.
Chief A. J. McCarthy
Longwood Fire Company