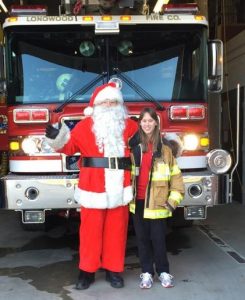 Santa has scheduled his yearly arrival trips on a Longwood Fire Company truck.
"It's that time of you year again for Longwood Fire Company to escort our buddy, Santa, to hand out candy canes to all of our residents in the area," said Longwood Fire Chief A. J. McCarthy.
All of the trips begin at 8:30 a.m. Santa will visit areas served by Longwood's fire and rescue service. Santa's schedule:
Sunday, December 8 – East Marlborough Township
Saturday, December 14- Kennett Township
Sunday, December 15 – Pocopson Township
Saturday, December 21 – Pennsbury Township
Longwood Fire Company has served the communities of Kennett, East Marlborough, Pennsbury and Pocopson townships since 1921. Longwood Fire Company provides fire and rescue and emergency medical services 24 hours a day, 365 days a year. For more information see www.longwoodfireco.com.