Of barndoors, robes and othr fun items for November
By Kelly Hockenberry, Columnist, The Times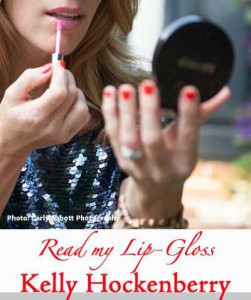 Helllllllo, it's me. I was wondering if….you'd like to know about my November Super Six? OK, yes, I'm starting my article with lyrics stolen from Adele. But, I cannot STOP listening to her new song "Hello". In fact, the HIGHLY anticipated album, "25", drops November 20th and I could not be more excited. I don't like to brag but, I sound exactly like her when I sing in the shower.
Seriously. (Not really). OK, let's get down to business with the remaining five on my list…
Our master bathroom is the last part of our house that we need to renovate (before we have to start from square one since we've been in our house for over nine years and I want all new things, sssshhhh). I really don't have the design solidified in my head, other than I absolutely know that there must be a barn door on a track. SO cool, right? Home Depot has the all of the necessary equipment to hang it…I just need to find the right door. Good thing we live in Unionville. Lots of barns around here.
When Daylight Savings Time hits and it is dark at 3:45pm, there's a guarantee that I am in a robe for a large chunk of my waking hours. But, this Barefoot Dreams CozyChic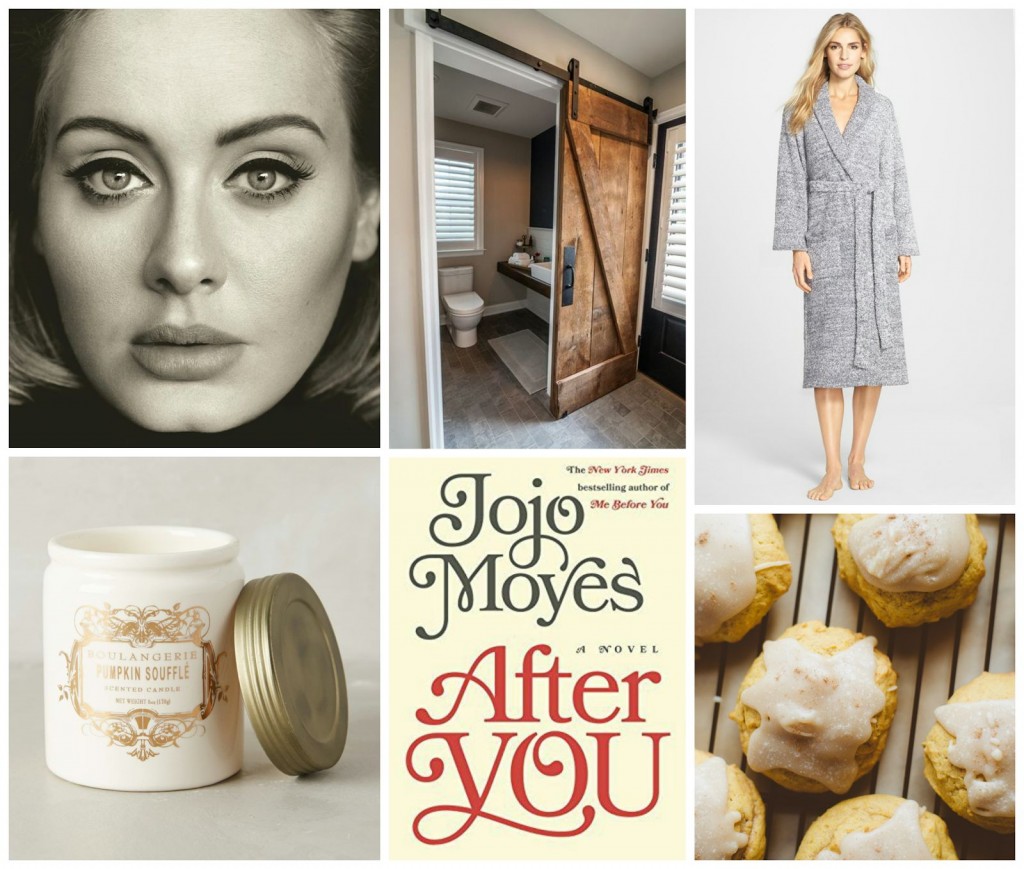 Robe from Nordstrom is dreamy couture and therefore, acceptable. It comes in a variety of colors, but the heathered graphite is my fav. Click here for yours: http://bit.ly/20h0xwF
What would a fall Super Six be without something pumpkin or a candle? Well…I managed to get both in one fabulous package! Actually, Anthropologie did. These are the best, most fragrant, candles in the universe. However, just smelling them adds 10 pounds…so, if you are trying to shed a few lbs, these are not the home decor items you need. Trust me. Click here: http://bit.ly/1E4eaGQ
If you didn't read "Me Before You"by JoJo Moyes, go do that first. It is A­MAZING. Then, read "After You" and tell me that this woman is not uber talented. She writes the kind of book that you pick up, can't put down, neglect your family, cry for hours, and re­hash in your mind forever. LOVE those books.
OK, one more pumpkin thing. What? It's autumn. Pumpkin stuff is mandatory. These cookies look delish. Of course, since they do not come in a slice­n­bake form, the chances of them happening for my family are slim. My youngest sister, Erin, loves to bake…so, this recipe is to inspire her. Click here for the details: http://bit.ly/1M6G0Vo
What are your must haves for this month? Please, share in the Comment section below! Happy Weekend