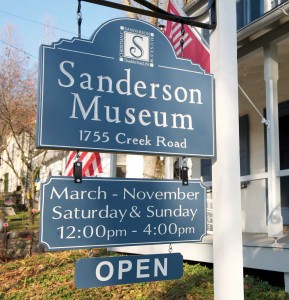 CHADDS FORD — Volunteers Needed!  The Christian C. Sanderson Museum – A Man's Life, A Nation's History. An eclectic array of art, military memorabilia, presidential artifacts, local history and collectibles.
History like you've never seen it before!  Open March through November, Saturday and Sunday, 1pm to 4pm, the Sanderson Museum is run by volunteers just like you!  We are people who are interested in history, delight in talking to other people, have a bit of the "pack rat" in them, and want to touch a moment in time.
If you are interested in volunteering your time and/or talents, call 610-388-6545 or email info@sandersonmuseum.org to join our volunteer family. Visit us at 1755 Creek Road (old Route 100), Chadds Ford, just north of Route 1, or at www.sandersonmuseum.org.