To The Editor,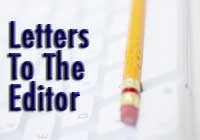 Shame on You, Jeff Hellrung!
It is a very sad day for the UCFD school district when a sitting school board member (Jeff Hellrung) uses his position to engage in politics in an election outside his region. Jeff's scurrilous editorial attack on Kathy Do, Bev Brookes and Gregg Lindner has no place in schoolboard dynamics. It will only poison the well of our deliberations.    
I've been a member of the UCFCD Board for nearly two years. Kathy Do and Gregg Linder have never raised politics in any of our meetings. Both have repeatedly said to me that politics has no place in School Board deliberations. I couldn't agree more. I have watched Gregg, who is vice chair and who sits on both the finance and buildings and ground committees, work tirelessly to do what is best for the school district and our students. I've also watched Kathy, as chair of the curriculum and technology committee, give countless hours and thought to a wide range of curricular and technology issues trying to figure out what is in the best interests of our students.
Unlike Jeff, neither Gregg nor Kathy ever developed a political action committee to spread their political views about education and our public school system. Jeff's and his colleague Keith Knauss' political action committee aims to promote what they called efficient education. When I first joined the Board Keith encouraged me to visit their website Efficient Education. What I found there was alarming—the use of shoddy statistical work and cherry picking of the academic literature to suit their ideological predispositions. As a practicing research economist I was appalled. To make matters worse, Jeff's political action colleague said at a recent Board meeting that he'd like to see the UCFSD create a KIPP charter school. Except for the Hellrung/Knauss ideological predispositions, I can't see how this makes any sense. Sad to say, I'm led to conclude that Jeff not only carries his political predispositions into his role as a school board member, now he is parlaying his political action work into a local school broad election outside his region where it has no place. Jeff, shame on you!
Michael T. Rock
Unionville Chadds Ford School Board Director
Samuel and Etta Wexler Professor of Economic History
Bryn Mawr College
Newlin