EDITOR'S NOTE — The Times asked the 2015 candidates for Chester County county-wide office to answer a serious of questions relative to their campaign and office, as well as their personal background. Wanting to give each candidate a direct, unfiltered, option to communicate with the voters, these responses are not edited nor abridged in any way.
By Matt Holliday, Candidate, Chester County Prothonotary
1. Whether you are an incumbent, or a challenger, what prompted you to seek public office?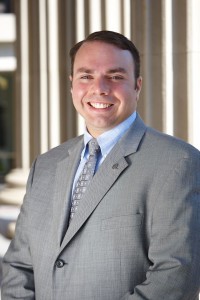 Many people aren't sure what they want to do with their lives until they are in their 20s, but luckily I never had that problem. Ever since I was a child, I had a need to help others in any way I could. In High School, I attended Board of Supervisor meetings in Thornbury Township with some regularity. By the time I moved to Chester County in 2004, as a college student at West Chester University, I was deeply involved with several community service organizations and by my sophomore year, I was serving as the WCU Student Government Senate's Representative to the Borough of West Chester. In 2008, I began four years of service on the West Chester Borough Parks and Recreation Commission.
This was the turning point that led to me devoting the majority of my time outside of work to local non-profits and the community. Currently, I serve as the President of the West Chester Public Library Board of Trustees, a member of the Board of Directors of the Domestic Violence Center of Chester County, a member of the Board of Trustees of the Friends Association for the Care and Protection of Children, the Public Relations Chairman and Member of the Board of Directors for the Rotary Club of West Chester, a Member and Secretary of the Board of Directors for the West Chester Area Senior Center, the Vice President of the Board of Directors of the West Chester Downtown Foundation, the Service Committee Chairman and Vice President of the Board of Directors for the West Chester University Alumni Association, the Vice President and Member of the Board of Directors of the Friars' Society Alumni Association, a Board of Directors Member for the Arc of Chester County, and a Third Degree Knight of Columbus. Seeking public office seemed like an obvious way to continue my mission of giving back to the County that has provided me with so much.
2. Can you describe an achievement in your professional or elective life that you are especially proud of, and why?
For the past five years I have served as the Chief of Staff to a State Representative here in Chester County. One of the achievements that I accomplished early on in that position was containing costs and being very careful with our tax-payer funded budget. I was thrilled after the Representative's first two years in office to return over 25 percent of the money that had been allocated to us back to Harrisburg as we were able to do all the outreach and constituent services that most Representatives do at 75 percent of the cost.
3. Talk about a difficult decision you've had to make, how you went about it and what the outcome was.
Growing up we didn't have a lot of money, and I always knew that I wouldn't be receiving financial support from my family if I decided to go to college. In fact, I really didn't even have the spare funds to cover all the application fees just to try to get excepted to six or seven different institutions. With this situation in mind, I decided to apply to West Chester University as it was a fantastic (and local) state school that was very cost effective. Even still, I knew that I would have to take out almost $30,000 worth of student loans in order to cover the costs of getting a BA from WCU. Making the tough choice to take on that debt (knowing that I would be entering a field that notoriously doesn't pay well and doesn't have a lot of job opportunities) was difficult. However, it ended up being one of the best decisions of my life. I loved my time at West Chester University, and it helped shape me into the man I am today. Fortunately, due to my obtaining gainful employment shortly after graduation and the frugalness I obtained from my childhood, I was able to pay off all of my loans within five years of graduating from West Chester University.
4. As not all Row Offices are as self explanatory as District Attorney or Sheriff, can you, briefly, explain the duties of the office you seek?
The Prothonotary is involved with non-criminal court records and filings. Work is generated from the court and through filings from both attorneys and the general public. For example, divorces, name changes, civil and family court records, passports, judgments and liens are handled or have corresponding records administered by the Prothonotary's office. The office also processes Protection from Abuse Orders. Additionally, the Prothonotary personally gets to swear in all the new citizens in Chester County as well as many other officers of the court. For more information please go to my website www.mattholliday.org
5. What qualities do you feel make you the best candidate for that job?
People are often frustrated with government bureaucrats, because they think they are apathetic or lazy. For the last five years, I have managed a government staff. During that time I have also interfaced with dozens of state agencies to try to get results for citizens of Chester County. This experience will be a key factor in how I will work with employees at the Prothonotary's Office to ensure that they are providing the best possible customer service to the tax payers. I intend to bring my polite but insistent personality to bear whenever it is needed to cut through red tape and help someone who has been given the run around. When you combine my persistence with my desire to always be available to the public (I give out my personal cell phone number and email address), it ensures that our office will be constantly looking out for the citizens.
6. What do you feel are the most important issues in your race?
One of the main issues facing the office is its lack of user friendly technology. Many of the counties surrounding us have the ability for citizens and legal counsel to file all the forms and documents they need to submit to the Prothonotary's office online. Electronic filing has been in place in several of these places for almost 10 years. If I am elected tackling this issue head on will be my first priority.
7. Is there anything else that you would like the people of Chester County to know about you?
If you elect me to be your next County Prothonotary, I will work tirelessly to ensure that we have a well-run, cost-efficient, and user-friendly office. I consider being a public servant an honor and a privilege. We should serve the public, not the other way around. Please consider supporting me on Tuesday, November 3rd.