By Dr. Stephanie McGann, DMD FAGD, Columnist, The Times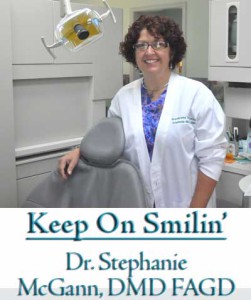 Like anything in life, if you want to get the most out of something you need to know how it works. People fortunate enough to have dental insurance should take the time to know what their policy covers and what it's limitations are.
Never assume your dental office's business staff knows everything. Every employer group negotiates their own policy. Some larger companies may over many levels of benefits. Unlike medical insurance many dental policies are unique.
Here are some of things people overlook – that can maximize the benefits you receive from your insurance. Dental benefits are "use it or lose it" they aren't like your cell-plan there is no roll-over. Don't wait till too late and waste your benefits.
Annual Maximums: dental insurance has a maximum payout per year. If a policy will pay out $1500.00/year and you know you need work, don't wait – use this year's benefits now so that you have benefits for 2016 if you need them.   Need more dentistry? Ask your dentist if you can phase your treatment to take advantage of benefits for the end of this year and the beginning of next.   Have a family policy? The maximums are per person, not per policy. Too many times we see one spouse skimping on care because they thought the other has used up their benefits.
Preventive limits:  know if your policy is a calendar year (rolls over in January) or a contract year, (the year is determined by when the policy went into effect).  Does your policy cover preventive visits every six months (they won't pay for dental hygiene service at 5 months 29 days) or twice in a year? Some policies now cover three times a year. Always take advantage of all of the preventive services your policy includes.
Alternative Benefits: sometimes policies will downgrade their coverage from the treatment that is appropriate for you to the cheapest possible alternative.  This means your insurance company is finding a way to pay less. You or your dental staff can often appeal this decision to attempt to get better coverage. Some policies now are not offering alternative benefits, they are insisting that unless you do the cheapest option, you have no benefits at all. This is NOT the type of policy that you want.
Losing a tooth? It may be more important to ever to replace it quickly after it has been lost. Some policies are now denying tooth replacements if the tooth was taken out prior to the policy going into effect.
Pre-treatment estimates are a great way to have peace of mind about your benefits; however the fine print is always there that the insurance company does not have to honor the estimate. Pre-treatment estimates expire, so once you get your dental care approved, don't wait to get it done.
There are many different policies and different types of benefit structures. Be sure to give your dental office all of the information they need to help you find out what benefits are available to you. Don't wait till it's an emergency to find out what coverage your have.
Maximize your dental benefits, take advantage of all preventive services, remember that with most PPO plans even some cosmetic dentistry has a reduced fee option. Talk to your dental office about what you can do today to make your dental costs less tomorrow.
Dr. Stephanie McGann, who has more than two decades of dental practice experience, is a resident of the Unionville area and along with her partner, Dr. Marie Scott, operates The Brandywine Smile Center, a family-friendly dental practice in Concordville. Dr. McGann has opened a new practice in Valley Township, Rainbow Valley Dental. She is a Fellow of the Academy of General Dentistry.