Plus, acts that stretch musical boundaries at local venues
By Denny Dyroff, Staff Writer, The Times
It may be hard to imagine having a good time by watching a story with a tragic ending — unless you have heavy sado-masochistic tendencies. But, just such a situation exists for all those who attend the current production at the Candlelight Theater (2208 Millers Road, Arden, Delaware, 302- 475-2313, www.candlelighttheatredelaware.org) .
Now through June 21, the Candlelight is featuring a stage production of "Steel Magnolias."  It has the same storyline as the hit movie that had Julia Roberts in the heart-breaking central role along with a star-studded cast that included Sally Field, Shirley MacClain, Olympia Dukakis and Dolly Parton
The play, which falls into both the comedy and drama genres, is about a group of gossipy southern ladies in a small-town beauty parlor. Inspired by the award-winning film of the same name, "Steel Magnolias" is alternately hilarious and touching.
Directed by Marsha Saunders, the production features Hannah Parke as Shelby, Neena Boyle as Truvy Jones, Tori Mittleman as Annelle, Tanya Lazar as Clairee, Nancy Bennett as M'Lynn, and Susan Dewey as Ouiser.
Parke faced the challenge of playing a role made iconic by Roberts' film performance.
"I had seen the movie but never a stage version," said Parke, who has done a stellar job of portraying the ill-fated Shelby. "My dad and I watched the film a lot when I was a little girl. When I got the role for the show at the Candlelight,  I didn't watch the movie because I didn't want to be influenced by Julia Roberts.
"I knew I was going to read the text and listen to the language. And, I knew my interpretation would be different than that of Julia Roberts or anyone else who has done it. Actually, one review said I was more feisty than Julia Roberts."
Unlike the movie version, the stage version has all the action taking place in a beauty parlor in Louisiana — and the entire cast is made up of women.
M'Lynn  is the mother of bride-to-be Shelby Eatenton and their friend Truvy Jones is the hairstylist who fixes the women's hair for the wedding. Shelby has Type 1 diabetes and is told she should not try to have children. She ignores the doctor's recommendations, has a premature baby and eventually pays for it with her own life.
"The biggest challenge was the scene between Shelby and M'Lynn when she tells M'Lynn that she's pregnant," said Parke. "We must have blocked it 14 times. We'd block it and then have a change of heart. We knew the scene would be one of the main points of the show and needed to be very honest.
"Shelby and I have similar energy. I have so much energy so much of the time. Shelby's positive attitude is something I really admire. She always tries to find the best in the people around her and create happiness for them.
"But, playing this part is such a roller coaster. The part I struggled with is that Shelby doesn't show her cards very often. I had to work on that a lot. Throughout it all, M'Lynn and Shelby always feel they'll find the light at the end of the tunnel."
Playing the key role in the show at the Candlelight is Parke's first role since she graduated from the University of the Arts in Philadelphia last month. She was an acting major with a musical theater minor.
Like Shelby, Parke is a girl from the South.
"I'm from Andersonville, Tennesse and went to high school in Chattanooga," said Parke. "I grew up spending a lot of time in Dollywood (an amusement park owned by Dolly Parton) and Gatlinburg.
"When I was at the University of the Arts, friends told me about the Candlelight Theatre but I had never seen a show there. It is fun that the actors also work as the theater's waiters and waitresses.
"I wear rollers in my hair in the first act of the show so I also wear them when I'm waiting on tables. The audiences seem to love that the actors are out in the audience waiting on them."
The audiences also have shown their love for a show that has a tear-jerking ending.
"The story is a dark comedy," said Parke. "The first word that comes to mind is 'heart-breaking.' The way it's written, you feel she's going to make it — until the last scene. It's a story about friendship, kinship and taking care of each other."
Video link for "Steel Magnolias" — https://www.youtube.com/watch?feature=player_embedded&v=lUSaYSlBqxc.
Performances are Friday and Saturday evenings (doors 6 p.m./show, 8 p.m.) and Sunday afternoons (doors, 1 p.m./show, 3 p.m.). Tickets, which include dinner and show, are $59 for adults and $33 for children (ages 4-12).
The Felice Brothers, who will headline a show on June 11 at the Ardmore Music Hall (23 East Lancaster Avenue, Ardmore, 610-649-8389, www.ardmoremusic.com), got their start in music playing shows at venues in the home area — New York's Catskill Mountains.
After awhile, they spent time in New York City busking in Manhattan's subway stations. One thing led to another and before long they had a record deal with a label in the U.K.
"We had already put out two self-released albums," said James Felice, during a phone interview Wednesday from a tour stop in Pittsburgh. "Our first record for a real label was about five years ago.
"We were busking at a farmers' market in Fort Greene in Brooklyn. A guy heard us and introduced us to a record label owner from England — Tom Bridgewater. His label is Loose Records.
"We sent him some of our music and then he came over to America to hear us play. He signed us to his label and we released our 'Tonight at the Arizona' album with them in 2007. I think we put out three records altogether with Loose Records. We were just playing locally in the Catskills and in New York City.
"After that first record, we realized we could make music for a living.  In 2007, we did a tour around the country in a Winnebago. Then, we toured with Bright Eyes in fall 2007.
"Then, we recorded 'The Felice Brothers' album in 2008 and it was on Teen Love Records in the U.S. and Loose Music in the U.K. It was our debut album in the states. It was very exciting."
The Felice Brothers' blend of modern and traditional folk music styles established a solid fan base for them here and in England.
"We play country, folk, Americana, folk-rock — and just plain American pop," said Felice, who is joined in the band by his brother Ian Felice along with Josh "Christmas Clapton" Rawson, Greg Farley and David Estabrook.
"We have a lot of different types of people in our audiences — a lot of people our age which is late 20s. But, we also have a lot of older folk fans and we're getting college kids too. It sort of runs the whole gamut. We do a lot of folk festivals every year and that always brings in new fans."
The Felice Brothers are currently touring in support of their latest album "Favorite Waitress," which was released on Dualtone Records.
"We recorded 'Favorite Waitress' in Omaha," said Felice. "We recorded it with Conor Oberst (Bright Eyes) and producer Mike Mogis at Arc Studios. Some of the best gear in the world is there. It's a great studio. We also went there because we wanted to get away — wanted something different."
The band, which is known for its high-energy live shows, will headline a string of stateside concerts in June and then play a number of festivals including Newport Folk Festival, Big Barrel Country Music Festival and Solid Sound Festival. In the past, the Felice Brothers have gotten rave reviews for their shows at the Philadelphia Folk Festival.
"We've had funs shows in the Philly area, including the Philadelphia Folk Festival," said Felice. "It's always a great time in Philly. We've played there a dozen times or more. And, we have a great relationship with WXPN."
Video link for the Felice Brothers — https://www.youtube.com/watch?feature=player_detailpage&v=-BZQ6iuJ2kM.
The show on June 11 will start at 8 p.m. with Della Mae. Tickets are $20.
The Ardmore Music Hall will present a twin-bill on June 13 with a pair of acts that stretch musical boundaries — in an experimentally instrumental way. Consider the Source, a jazz/fusion/prog trio will open and British underground legends Ozric Tentacles will headline.
Drawing from progressive rock, fusion and jazz, with alien sounds soaked in Indian and Middle Eastern styles, CTS blends disparate parts into a striking, utterly original whole. Dubbed "Sci-Fi Middle Eastern Fusion", the band's music strikes a rare balance between cerebral and emotional, intellectual and primal.
In February 2014, Consider The Source completed a crowdfunding campaign to fund the production of its most ambitious studio release. Titled "World War Trio," the album has three parts.
The first part was the "World War Trio EP (Part 1)," which was released last October. A few weeks ago, the band, which features double-neck guitarist Gabriel Marin, bassist John Ferrara and drummer Jeff Mann, released a double album titled "World War Parts II & III."
"I joined the band about three years ago," said Mann, during a phone interview Wednesday afternoon from his home in the New York City area. "I knew about them for awhile. I saw an ad on Craigslist. I was one of the last drummers to audition. They went for someone else originally. About four months later, they asked me to join.
"The band's previous album was about four years old so a lot of material had gotten stacked up. So, we made the 'World War' records to cleanse the palate — to clear out the closet.
"The entire album with all three parts is about two-and-a-half hours. Some of the songs were older so we had to go back to them and work on transitions and to work on the arrangements.
"Some of the songs from the new album we had played live before. But, we intentionally avoided playing a lot of them so they would be new at the shows we're playing now. By having two full discs, we could road-test some songs and have over an hour of material that was new."
The band plays a lot of improve material. But, even when the three talented musicians are not improvising, they still exhibit dynamic interplay — each alternately leading and following.
"The fun part about this group is that we get to improvise a lot — not just with solos but also with song structures," said Mann. "Things change in every show. A few songs are fairly completely composed while other have heavy improvised sections. We try to keep a nice balance."
Video link for Consider the Source — https://www.youtube.com/watch?feature=player_detailpage&v=bS3reqhnBDY.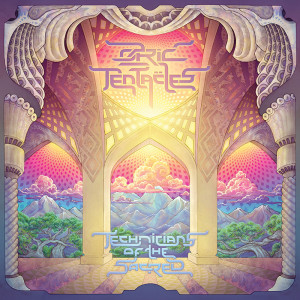 Ironically, Ozric Tentacles are also touring in support of a recently-released double album. The instrumental rock band from England released "Technicians of the Sacred" in May. Formed in 1983 by Ed Wynne, his brother Roly Wynne and Nik Van Gelder, the Ozrics have released more than 30 albums.
Ed Wynne, who plays guitars and keyboards, is the only founding member remaining. The current lineup includes Brandi Wynne on bass, Silas Wynne on keyboards, Balázs Szende on drums and Paul Hankin on percussion.
"There is one track on the album — 'Epiphlioy' — that I started working on 15 years ago," said Ed Wynne, during a phone interview last week when the band stopped for lunch en route from a gig in Colorado to a festival in Wisconsin. "The rest of the album was done over the last three years. We live in the studio because we record at home.
"The kind of feeling I got — it was done without any hurry at all — no deadlines. And, with recording on a computer, I can have as many channels as I want. We wanted to take our time and indulge as much as I wanted.
"When I first started making records, it was four-track and then eight-track and then 24-track. It's been a gradual thing with channels. Now, there are an infinite number of channels. I literally lost count of how many channels. "I'm not sure about what was the largest number on any one song.
"I know there were 65 channels used on one of the songs. It's tricky. With so many channels, it was getting difficult. Then, I took it to analog. With just eight channels, it helped a lot. I think it came out pretty clean. It had room to breathe. I'm very happy about that."
The double album is cohesive musically but there is no concept linking the songs together.
"There is no definitive theme — no concept," said Wynne. "I just do what I normally do — just play. Usually, when I start a track, I don't have much of a concept where it's going to end up. For me, it's much easier to start a tuner than to finish it. It's hard at times to know when to stop.
"The band's current lineup has been together for three years. In our live shows, we play the new material and we also go way back in our catalogue for songs. We even do stuff from the 'Jurassic Shift' album and that album is more than 20 years old. And, we like to play long sets. The longest one on this tour has been two-and-one-half hours."
Video link for Ozric Tentacles — https://www.youtube.com/watch?feature=player_detailpage&v=3YSNFk-yYuo.
The show on June 13 at the venue in Ardmore will start at 8:30 p.m. Tickets are $20 in advance and $25 day of show.
Fans on non-mainstream music will have a tough choice on June 13 because jazz guitar great Stephane Wrembel is performing at the World Café Live (3025 Walnut Street, Philadelphia, 215-222-1400, philly.worldcafelive.com).
Born in Paris and raised in Fontainebleau, home of impressionism and Django Reinhardt's music, Wrembel was classically trained in a music conservatory starting at age four. His life took a decisive turn in his late teens when he first discovered the music of Django Reinhardt and the Gypsies.
He spent the next ten years of his life learning, playing, and expanding on this musical tradition. This hard work gave Wrembel the technique, but the time spent playing around the campfires and trailers of the Gypsies gave him the soul — both necessary ingredients for him to master his art form.
Wrembel has done a lot on his own to keep Reinhardt's music alive. Several years ago, he staged a tribute show in New York called the Django A Go-Go Festival. The event was a huge success and has become an annual event in Manhattan. In 2011, Wrembel took the show on the road – including a visit to the Philadelphia Museum of Art.
"I learned the music of Django in France – in gypsy camps near Paris," said Wrembel, during a phone interview. "I learned it the traditional way — by being with the people and hearing the music being played. The music brings people together.
"I started playing guitar when I was 15. One of my earliest influences was Pink Floyd. I discovered Django when I was 18 or 19. I grew up in France where Django worked his art. I really discovered how incredible he is."
When Wrembel returns to Philadelphia this weekend, he is bringing an all-star lineup for "Django A Gogo 2015: Made in France". This year, Wrembel pays tribute to Reinhardt by inviting a caravan of world-class Gypsy musicians from France and the U.S. to share the stage with him as they pay homage to the guitar master.
"It's a nine-day festival tour," said Wrembel. "It's a celebration of Django's music. Every few years, I like to do this. I like to pay tribute to the master so I want to do it properly by bringing top musicians over from France."
The guest lineup features John Intrator, a master French/American violinist;  guitarist Sebastien Felix, a Sinti gypsy from France; Kamlo, a guitarist who grew up in Tunisia and Spain;  Howard Alden, one of the most renowned contemporary American jazz guitarists;  percussion specialist David Langlois; guitarist Roy Williams; bassist Kells Nollenberger; drummer Nick Anderson; and guitarist Barry Warhaftig.
"Sebastien is one of the great masters of Gypsy guitar," said Wrembel. "It's a rare treat to have him come to America. "Kamlo is French and he discovered Django's music at 19 when he came back to France. He's very traditional but also very original.
"These musicians are my buddies. I know them all very well. We're going to play and really blast the songs. I don't want it to get like other festivals and be too prepared. I want people to get a real Gypsy experience — like sitting at a Gypsy campfire.
"We'll play a song and improvise — just sit and play…very organic, very powerful. Each room has a different vibe every night. We're just going to play what is right at the moment. It's going to be dynamite — raw and organic. It will be a really unique experience."
Video link for Stephane Wrembel — https://www.youtube.com/watch?feature=player_embedded&v=aUnBY8PNB8U.
Showtime at the World Café Live in Philly on June 13 is 8 p.m. Tickets are $25.
The World Café Live at the Queen (500 North Market Street, Wilmington, 302- 994-1400, www.queen.worldcafelive.com) will have guitar great Sonny Landreth on June 11,  Zoso on June 12, Richard Raw on June 13 and Trevor Hall with Mike Love on June 16.
Laura Promiscuo, a talented young singer from West Chester will follow a June 10 performance at the World Café Live in Philadelphia with a June 11 show locally at Spence Café (West Chester 610-738-884, spence312.com).
This weekend, there will also be non-mainstream ballet performances by the Pennsylvania Ballet from June 11-14 at the Merriam Theater (250 South Broad Street, Philadelphia, 215-551-7000, paballet.org) — a program titled "Keigwin, Fonte, & Forsythe."
The Pennsylvania Ballet and Artistic Director Angel Corella will premiere works by two contemporary choreographers — William Forsythe and Larry Keigwin — and present a "World Premiere" by Nicolo Fonte to close the 2014-2015 season.
"All our other shows this season had connections with the past," said Corella, during a phone interview last week. "This is looking into the future — the direction where the Pennsylvania Ballet is going.
"We have to embrace the past because of who we are and where we came from. But, we also have to look into the future and expand — to find new choreography. These are wonderful new ballets that these new choreographers are creating, They use more edgy music.
"The energy of the movement is great. You feel like the dancer is never stopping. Edgy stuff is important to challenge the audience and get a younger crowd. I thnk people are ready for it."
Featuring an original score and choreography commissioned for the Vail International Dance Festival in 2013, the Company premiere of Larry Keigwin's "Canvas" explores the fusion of classical and contemporary dance. Created on a group of dancers from both New York City Ballet and Keigwin + Company, "Canvas" features witty choreographic phrases and a bright, cinematic score by Adam Crystal.
Another Company premiere "The Second Detail" is quintessential William Forsythe — full of attitude, a pulsating electronic soundscape by Thom Willems, and vigorous, unexpected movement.
Fonte, a highly-regarded young choreographer from New York, has created a brand new work entitled "Grace Action" — a dynamic piece set to the music of Philip Glass.
"I finalized the music for this in 2014," said Fonte, during a phone interview last week. "I listened to a lot of music — electronic, acoustic, even world beat but I found myself always coming back to Philip Glass.
"I struggled with it. I thought — just what the world needs…another Phillip Glass ballet. But, I felt I could reveal something new about the music with my choreography. It started leading me in a direction.
"The piece is about questioning what is beauty — what is grace — how does one find grace and elegance in life. It's sort of like testing humanity. That's the overriding theme. But, it's not a literal translation.
"This ballet is not archaic — moving legs and arms while the upper body is not very involved. I tend to move in a very full-bodied way. I love extremism in movement. You could literally fall over. I love that in this piece — having it stay fluid without pushing it too far.
"This work is very contemporary. There is nothing classical about it. But, at the same time, it's wrapped in this very accessible music. People see the ballet. It's so athletic and so beautiful — and that's enough."
Fonte's piece will be the program's second act. The first act will feature "Canvas" and "The Second Detail" and will conclude with the Grand Pas de Deux from "Don Quixote" with choreography by Angel Corella (after Marius Petipa).
This will be the final program of Corella's first season as the Pennsyvania Ballet's Artistic Director. Born in Madrid, Spain, Corella joined American Ballet Theatre in 1995 and was quickly promoted to principal dancer. In his 17-year career with ABT, he established himself as one of the greatest male dancers of his time.
Corella has also appeared as a guest artist with the Royal Ballet in London, the Kirov Ballet in Russia, and New York City Ballet. From 2008-2014, he served as director for his own company, the Barcelona Ballet.
"The Pennsylvania Ballet dancers are learning to trust me and to let go," said Corella. "The dancers are ready for magic to happen."
Performances will be on June 11 and 12 at 7:30 p.m., June 13 at 2 and 8 p.m. and June 14 at 2 p.m.
Doc Watson's Public House (150 North Pottstown Pike, Exton, 610-524-2424, docwatsonspublichouse.com) will present Milton Carrero on June 11; Blackrue, Houseguests, Jason Ager Band and Dizzy Bats on June 12; Welter, Clashing Plaid, Zentenna and Paddy Cardigan on June 13; and the Fighting Burrito Comedy Show with Mary Radzinski, Ryan Shaner, TJ Hurley and Rick Juliani on June 17.
The Flash (102 Sycamore Alley, Kennett Square, 484-732-8295, http://www.kennettflash.org) will have the Improv Comedy Troupe on June 11, Ellis Paul on June 12, and Neil Young Tribute Band RUST on June 13.
The weekend lineup for Chaplin's (66 North Main Street, Spring City, 610-792-4110, http://chaplinslive.com) includes Lucky 3, The Floats and Truth on June 12 and HONOR and Laela on June 13.
The Steel City Coffee House (203 Bridge Street, Phoenixville, 610-933-4043, www.steelcitycoffeehouse.com) will host Jim Boggia on June 12 and Beaucoup Blue with Kevin Killen on June 13.
If you're a jazz fan, you'll love what's happening over the next week or so — five straight nights of free concerts with top-flight acts.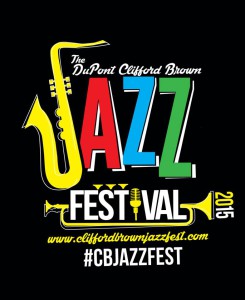 From June 16-20, Rodney Square in the center of Wilmington will host the 27th Annual Clifford Brown Jazz Festival (11th and Market streets, Wilmington, 302-576-3095, www.cliffordbrownjazzfest.com). The free festival honors Brown, an internationally-acclaimed trumpeter (and Wilmington native) who was killed in a car accident on the Pennsylvania Turnpike in 1956.
The first concert at Rodney Square will start at 6 p.m. on June 16 with Jackie Brown Jazz Band, Clifford Brown Trumpet Consortium and Aniya Jazz. On June 17, the concert at Rodney Square will showcase an ensemble featuring Denise Montana, Ray Drummond, Sharp Radway, Shirazette Tinnen, Jermey Pelt, Jason Curry, Leon Jordan, Jr., Daniel Bauerkemper, Wayne Escoffery, Jason Marshall and Robin Eubanks .
The concert on June 18 will feature Edgardo Cintron & The Cintron Band and the Tito Puente, Jr. Orchestra. On June 19, the festival will host John "Sax" Williams, Point Blank and Leela James. Acts slated to perform on June 20 are Norman Conners, Pieces of a Dream and the Jeff Lorber Fusion with Eric Marienthal, Chuck Loeb, Jimmy Haslip and Khari Parker.
If you're a fan of blues music, be sure to check out the 15th Annual State Street Blues Stroll. This year's 15th Annual State Street Blues Stroll (http://www.statestreetblues.com) which will be held along State Street in Media on June 13 from 6 p.m.-1 a.m.
Some of the headline acts will be the Lonnie Shields Band, Deb Callahan Band, Eryn Shewell & The Whiskey Devils, Dukes of Destiny, Bickel Brothers County Seat Band, Stevie & The Bluescasters, Fred Miller Band,  Andrea Carlson, Johnny Never & Zep Harpo, BC Combo featuring Bev Conklin, DapTune, Blues Brothers & A Sister, Don Evans Band, Norman Taylor and Sonoma Sound.
Tickets for the State Street Blues Stroll are $20. For additional information, call (610) 566-5039 or visit www.statestreetblues.com.
The Sellersville Theater (24 West Temple Avenue, Sellersville, 215-257-5808, www.st94.com) will present Ottmar Liebert & Luna Negra on June 11, Marcia Ball on June 12, Tuck and Patti on June 13, Mycle Wastman on June 14, The Real McKenzies on June15 and Gabe Dixon on June 17.
Burlap & Bean Coffeehouse (204 South Newtown Street Road, Newtown Square, 484-427-4547, www.burlapandbean.com) will present Downtown Shimmy and Danielle Miraglia on June 12 and Found Wandering with Bill O'Meara on June 13.
Melodies Café (2 East Ardmore Avenue, Ardmore, 610-645-5269, www.melodiescafe.com) will host Joshua Popejoy. Ethan Pierce and Silveeo on June 13.
The Keswick Theater (291 N. Keswick Avenue, Glenside, 215-572-7650, www.keswicktheatre.com) presents Marc Cohn and Shawn Colvin on June 14.