By Denny Dyroff, Entertainment Editor, The Times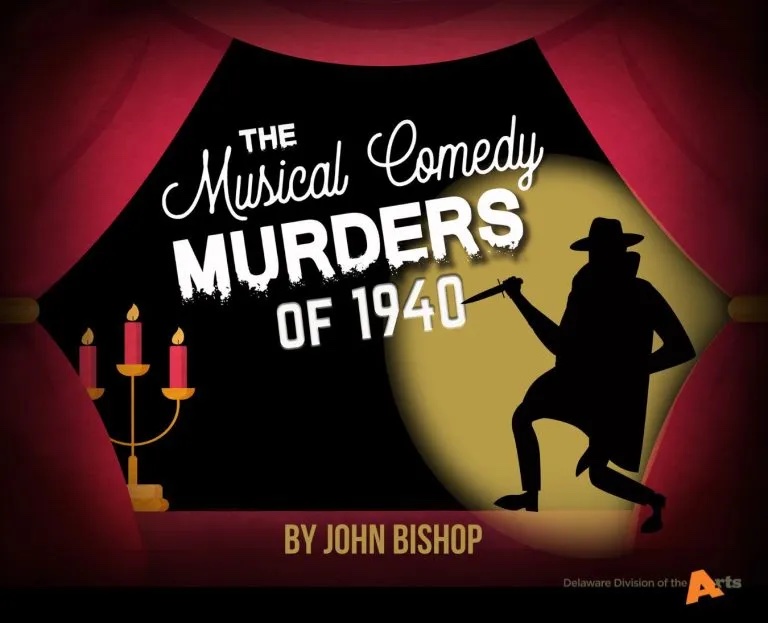 Some years ago, Susan Giddings made the 3,500-mile journey from the London area of England to the Philadelphia area – more specifically from Hartfordshire to Chester County.
Once in America, Giddings became involved with theater.
Now, she is playing one of the major roles in the production of "The Musical Comedy Murders of 1940," which is running now through June 25 at the Candlelight Theatre (2208 Millers Road, Arden, Delaware, 302- 475-2313, www.candlelighttheatredelaware.org).
Giddings' first love has always been horses.
"I came to the United States in the 1980s," said Giddings, during a phone interview Monday from her home in Lionville.
"I came here for a three-month vacation. Then, the Pony Club, which is headquartered in West Chester, offered me a job.
"I had horses and used to teach. I love horses and theater was second. I really loved them both.
"I always liked theater but never had time to do it when I was in England. Once I moved here, I started auditioning for shows. I didn't get into it deeper until the mid-90s.
"I started with some community theater. The first show I did was 'Nude with Violin' at Barley Sheaf Players in Lionville. Then, I decided I wanted to work in Philadelphia."
Giddings performed in productions with theater companies all around the Delaware Valley including Inis Nua Theatre, New City Stage and Theatre Horizon.
She also performed in two productions at Candlelight Theatre – as Mother in "Barefoot in the Park" and Martha in "Arsenic and Old Lace. Now, she is back at Candlelight performing the role of Bernice in "The Musical Comedy Murders of 1940."
"I saw the show once," said Giddings. "A friend of mine was in the show years ago in community theatre and she asked me to come. But I didn't remember anything about the show."
"The Musical Comedy Murders of 1940" is a murder mystery. The action takes place on an estate in Chappaqua, New York in December 1940.
An eccentric heiress has invited a group of theater people to her home on the pretense of holding a backer's audition for a new musical. The creative team for this new project was also involved in a recent Broadway flop that closed abruptly when three of its showgirls were mysteriously murdered.
As the mayhem at the mansion unfolds, murders begin to pile up and everyone's a suspect. The zany show features a lot of slapstick comedy along with blizzard conditions, secret passageways and musical snippets.
The play was first performed at the Circle Repertory Company in New York and later moved to Broadway in April 1987 at The Longacre Theatre. Both productions were directed by the playwright and shared the same cast. The play is said to have been based on several 1940s mystery movies, including The Cat and the Canary, one of Bob Hope's first films.
Bernice Roth is a perpetually thirsty lyricist and alcoholic. She is Roger's partner. Bernice is very odd and emotional, frequently losing her composure and screaming. When Marjorie fails to respond to the second act opening number of "White House Merry-Go-Round", Bernice is hugely offended, despite the fact that Marjorie was dead at the time. She spends the entire second act attempting to "fix" the play, even when she is held hostage.
"Bernice is enormous fun to play," said Giddings. "The audiences seem to really get into this show. They're a little quieter during the firs act. The second act takes off more. They're like two different acts."
The production at Candlelight also features a standout cast of Chelsea Paradiso, Susan Wefel, Henry Glejzer, Walter Todd, Chris Fitting, Sarah Mackus, Robert Gene Pellechio, Samantha Ricciuti and Shaun Yates.
"The Musical Comedy Murders of 1940" is running now through June 25. Performances are Friday and Saturday evenings (doors 6 p.m./show, 8 p.m.) and Sunday afternoons (doors, 1 p.m./show, 3 p.m.). Tickets, which include dinner and a show, are $71.50 for adults and $33 for children (ages 4-12).
Lyric Fest (https://lyricfest.org) is back again with another edition of its project featuring just one composer from the middle part of last century. This time, it's the songwriting duo of Rodgers and Hart.
This month, Lyric Fest presents "Bewitched, the Bothered, Bewildered Songs of Rodgers & Hart" on May 23 at Moorestown Community Center and May 24 at The Academy of Vocal Arts.
The tribute to the American Songbook features mezzo-soprano Suzanne DuPlantis and baritone Brian Major with pianist John Conahan and saxophonist Ron Kerber.
"We're an art song revival series and this is our 20th season," said DuPlantis, during a recent phone interview from Philadelphia.
"We take a theme and create a program. We curate songs and also do commissioned music. We do one concert a year featuring the Great American Songbook. The rest is classical."
This music has been around much longer than Lyric Fest has existed.
"Every year for the last six, we've been ending the season with an American Songbook composer," said DuPlantis.
"We started at the beginning of the 20th century. We did the Gershwins. We did Kurt Weil, Irving Berlin and Cole Porter. Now, we're doing Rodgers and Hart."
Rodgers and Hart were an American songwriting partnership between composer Richard Rodgers (1902–1979) and the lyricist Lorenz Hart (1895–1943). They worked together on 28 stage musicals and more than 500 songs from 1919 until Hart's death in 1943.
Rodgers was an American composer who worked primarily in musical theater. With 43 Broadway musicals and more than 900 songs to his credit, Rodgers was one of the most well-known American composers of the 20th century, and his compositions had a significant influence on popular music.
Rodgers is known for his songwriting partnerships, first with lyricist Lorenz Hart and then with Oscar Hammerstein II. Rodgers was the first person to win all four of the top American entertainment awards in theater, film, recording, and television – a Tony, an Oscar, a Grammy, and an Emmy – now known collectively as an EGOT.
"Since high school, I've always loved Rodgers and Hart," said DuPlantis. "Rodgers & Hart is more sophisticated than Rodgers & Hammerstein – not as sweet and sugary. His music with Rodgers & Hart was more virtuosic. For this concert, I wanted to keep Rodgers & Hart and Rodgers & Hammerstein separate.
"I really wanted to talk about how Rodgers and Hart met. They grew up about a block apart in New York's Jewish Harlem. Hart was seven years older, and they didn't meet until later.
"They met in 1919 at Columbia University and wrote together all through the 1920s. Rodgers needed a librettist and people told him about Hart. They met and felt immediately that they were going to work together."
DuPlantis has been working on assembling this program for a while.
"I stared working on the program six months ago," said DuPlantis. "Deciding what to include was difficult. I wanted to have a good mix. I started with about 30 songs and brought it down to 19. It was hard because they're all really great songs."
The line-up of Rodgers & Hart classics includes Dances on the Ceiling, Spring is Here, I Could Write a Book, Lady is a Tramp, Small Hotel, Where or When, Wait Till You See Her, Have You Met Miss Jones, Bewitched, Bothered and Bewildered, To Keep My Love Alive, Ship Without a Sail, My Funny Valentine, It Never Entered My Mind, Glad to be Unhappy, Blue Moon, Manhattan, This Can't Be Love, I Wish I Were in Love Again, and My Romance.
"This is our final production of the year – and our 20th anniversary party," said DuPlantis. "There is no stage. Brian and I both sit at floor level and sing separately and together. It's about an hour show with 19 songs and talking in between."
The show on May 23 will start at 7 p.m. at Moorestown Community Center, which is located at 16 East Main Street in Moorestown, New Jersey. The show on May 24 will start at 7 p.m. at the Academy of Vocal Arts, which is located at 1920 Spruce Street in Philadelphia.
Tickets for either show are $25.
If you're looking to hear jazz or blues music live, then you need to look no further than Jamey's House of Music (32 South Lansdowne Avenue, Lansdowne, 215-477-9985,www.jameyshouseofmusic.com). The Delaware County venue is a prime destination to hear folk, jazz and blues music every Thursday through Sunday.
The "Jazz at Jamey's" on Thursdays and the "Sunday Blues Brunch & Jam" are regular features on Jamey's calendar while Friday and Saturday night shows feature national and regional acts.
On May 19, there will be an album release party by Aaron Nathans & Michael G. Ronstadt with Greg Klyma as the opening act.
On May 20, the headline act will be The Billy Price Band.
The show at Jamey's on Friday will start at 8 p.m. Tickets are $20 in advance and $25 at the door.
The show at Jamey's on Saturday will start at 8 p.m. Tickets are $30 in advance and $35 at the door.
Kennett Flash (102 Sycamore Alley, Kennett Square, 484-732-8295, http://www.kennettflash.org) will present Scott Tournet on May 19 and Three Ton on May 20.
Uptown! Knauer Performing Arts Center (226 North High Street, West Chester, www.uptownwestchester.org) will present the musical "Into the Woods" from May 19-21.