By Denny Dyroff, Entertainment Editor, The Times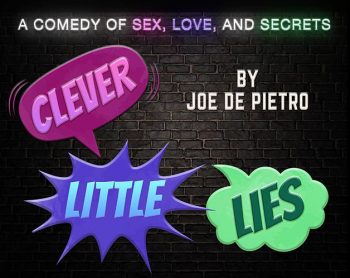 Attending live performances of plays is nowhere near in the immediate future – in Pennsylvania.
It is somewhat different in Delaware.
Theater fans in the First State have reason to rejoice because a new season is starting at the Candlelight Theatre (2208 Millers Road, Arden, Delaware, www.candlelighttheatredelaware.org) this weekend.
April 23 is Opening Night for the Candlelight's production of "Clever Little Lies." The show will be presented every Friday, Saturday and Sunday through May 23 with an added matinee on May 19.
An expertly crafted situation comedy about marriage, infidelity, and the deceptions necessary to cover one's tracks…until one by one they begin to unravel. Written by Joe DiPietro, winner of two Tony Awards for Memphis, "Clever Little Lies" is a hilarious exposé of the relationship between husbands and wives, parents and children and unintended consequences.
THE STORY: A mother always knows when something is wrong. When Alice notices her beloved husband, Bill, has returned home on edge after a tennis match with their son, she grows suspicious and springs into action. Determined to piece together the puzzle, she invites her son, Billy, and daughter-in-law, Jane, over for drinks and dessert.
Sidesplitting chaos ensues as Alice digs for the truth, resulting in even more honesty than anyone expected. Shattering and hilarious, "Clever Little Lies" is a story of long-term love and marriage…for better…and for worse.
The play is a four-character show which featured Marlo Thomas when it played New York four years ago. The cast at Candlelight features Tom Hornung as Bill, Sue Hornung (his wife in real life) as Alice, Hallie Hargus as Jane and Max Redman as Billy.
"I had not heard of this show prior to Candlelight's production," said Hargus, during a recent phone interview prior to a rehearsal at the theater.
"Since this is the first show back, Candlelight's Bob Kelly called me and offered me the part. There were no auditions.
"Candlelight has become my place – my home away from home. I'll do anything at Candlelight."
Hargus is a Candlelight veteran. She was the ingenue in "Lend Me A Tenor," played opposite Anthony Connell in "Brigadoon" as Bonnie Jean and has done some Christmas Shows at the dinner theater in Arden. Hargus also has played major roles in productions at the Walnut Theatre in Philadelphia.
"We started rehearsals for 'Clever Little Lies' a couple months ago," said Hargus, a native of Lexington, Kentucky. "It's a true production of the original script. I saw highlights and read reviews.
"One of the most attractive things about this play is that there are no good guys and no bad guys. Everyone is a fully human person. You see their good sides and you see their flaws.
"It's a comedy but it can be heavy at the flip of a switch. It deals with some heavy topics – love, fidelity, relationships."
The show starts with the revelation that Billy is having with a hot, sexy affair with a 23-year-old personal trainer at his gym – a beautiful upbeat girl named Jasmine. It then gets more complicated and involves his dad and hiss mom as well as his wife.
"The younger couple is in their twenties and the parents are in their sixties," said Hargus, a graduate of Northern Kentucky University in Highland Heights, Kentucky. "The other woman is in her twenties. Billy's infidelity is a real active relationship.
"It's set in the modern day – right here and right now. There are four scenes that take course in one day. It starts in a lockerroom after a tennis match. The other scenes are in the parents' living room. The last scene is the bulk of the play taking place in the parents' living room.
"We had a long discussion about the tone of the ending. It's left a little open for the audience to decide."
"Clever Little Lies" has been performed both as a one-act play and as a production with two acts.
"We also had a discussion whether to add an intermission," said Hargus, who moved to Wilmington in 2019. "It's only 72 minutes so there will be no intermission.
"This will be different from before. There will be no buffet dinner and the actors won't be waiting on tables. They're doing everything they can to maintain COVID-19 safety guidelines."
Moving forward during the pandemic has forced the Candlelight to make many changes. The theater's website posted this message:
WE'RE LOOKING FORWARD TO WELCOMING YOU BACK WHEN YOU'RE READY.
We are anxious for your return and have been busy getting the theater ready. Our shows will be exciting and memorable just as they always have been, but the experience will be a little different. Safety is our #1 priority. We have taken important steps to keep you safe and can't wait to share them with you!
Preparing for Your Night at the Theater:
2-3 days before your selected performance you will receive an email with your arrival time.
Arriving and Entering the Theater:
Please arrive at your assigned time. You'll notice that the theater's parking lot has been resurfaced. The even pavement will make our lot much safer.
Masks covering the nose and mouth must be worn at all times except when you are eating or drinking.
We will take everyone's temperature with a contactless thermometer when you enter the building. (Please do not attend if you are are not feeling well or have a fever. Get well and we'll see you soon, Call the box office and let us know)
Seating at Candlelight:
To keep everyone safe, we will have fewer tables and more widely spaced tables. Your favorite table may not be available. We hope you understand.
Masks are required at all times except when eating and drinking. Servers and staff will all wear a mask and gloves.
The Meal Service:
We can no longer have a buffet. But no one goes hungry at Candlelight.
Instead, we will serve your dinner at your table including shrimp cocktail, caprese salad, house salad and dessert. As always, your server will deliver drinks to the table. Second servings are available!
Enjoying the Show, Safely!
After the meal, we ask that you stay in your seat or you can go outside. The restrooms will be open, but we will have less people in
restrooms at one time and there will be a physically distanced path established for restroom lines.
Clever Little Lies was written to have no intermission. The show should be approximately one hour and 20 minutes.
Following the show, you will be called by table to exit the theater so physical distancing can be maintained.
And Lots of Work Behind the Scenes:
The theater has been treated from top to bottom with a long-term antimicrobial treatment which eliminates 99.99% of germs, bacteria, and viruses including Covid-19. This powerful treatment protects treated surfaces between monthly cleanings. There will be enhanced cleanings between performances.
Additionally, we are using Aerus ActivePure Purifiers. Our entire ventilation system now employs advanced air purification, using HEPA, ionizers, and ultraviolet technology to renew the air 24/7.  In fact, the combined system is so effective, that the theater's air is completely renewed every 30 minutes.
We are looking forward to seeing you when you're ready. We cannot wait to welcome you back!
If you have any questions, please feel free to call our Box Office at 1-302-475-2313.
So, if you've been champing at the bit to get out and see a live theater production, you no longer have to wait.
"Clever Little Lies" will run from April 23-May 23. Tickets are $65.50 for adults and $33 for children (ages 4-12). All seats are reserved.  You must call the box office if you have special seating requirements or if you are joining another party.
When Professor Louie & The Crowmatix, who will headline a show on April 23 at the Sellersville Theater (24 West Temple Avenue, Sellersville, 215-257-5808, www.st94.com), released their most recent album, the timing of the music was impeccable — Professor Louie is a master in the recording studio – but the timing of the LP's release was not so good.
"Miles of Blues," the 15th release from Professor Louie & The Crowmatix, dropped in August 2019. Plans were for the Woodstock, NY-based band to tour extensively across the United States and Canada in support of the new disc. Then, COVID-19 came along and disrupted everybody's plans.
"'Miles of Blues' was our last blues record and it did well," said Professor Louie, during a phone interview Wednesday afternoon from his studio in Woodstock.
"Before the calamity hit, we had scheduled six-to-seven months of shows. We were going to be driving across the country to South Dakota and then to western Canada for the Salmon River Blues Festival in British Columbia. We have a lot of fans in that part of North America.
"These days, we're just playing the East Coast and New England. Now, we're just trying to stay three-to-four hours from home. We went down to South Carolina and North Carolina. We're just trying to keep the band going."
Professor Louie has been more than successful at keeping the band going. The blues-based group is now entering its third decade.
Professor Louie has emerged over his five decades in the music industry as the torch bearer of the true spirit of American Roots music. Seasoned live performer, prolific recording artist and versatile multi-instrumentalist (Hammond B3 organ, piano/keyboards, accordion, vocals), Professor Louie also is an award-winning recording producer and engineer, capturing the talents of some of the world's premier musicians including The Band.
Professor Louie & The Crowmatix began as the studio backing band for Aaron "Professor Louie" Hurwitz's musical productions for the Rock and Roll Hall of Fame Inductees, The Band. Rick Danko christened him "Professor Louie" because of his work and friendship with The Band
This Grammy-Nominated band usually plays 150 shows a year in the US and worldwide. They have performed at the Thunder Bay, London & Windsor Festivals in Canada, The Tondor Festival, Falcon Ridge Festival, The Sellersville Theater, BB Kings in NYC, The House of Blues in LA and The Bearsville Theater in Woodstock.
Professor Louie has performed three times on the "Legendary Rhythm & Blues Cruise."
"Because of COVID-19, there has been no 'Blues Cruise' for the last two years," said Professor Louie. "We love playing the 'Blues Cruise.'
It's one of the greatest places to play."
Professor Louie & The Crowmatix have a repertoire that is steeped in rock-and-roll, blues, gospel and American roots music. They have a huge discography that features 15 studio albums on The Woodstock Records label.
The band's lineup features Professor Louie (Keys, Accordion, Vocals), John Platania (Guitar, Vocals), Gary Burke (Drums), Miss Marie (Vocals, Percussionist, Keys) and Frank Campbell (Bass, Vocals).
Professor Louie collaborated with The Band for more than 16 years and produced the group's three comeback albums in the 90's – "Jericho." "High on The Hog" and "Jubilation." Louie has produced and performed with such artists as Graham Parker, Commander Cody, Guy Davis, Buckwheat Zydeco, and New Riders of The Purple Sage.
Platania is a session musician, guitarist and record producer known for his work with Van Morrison for more than 30 years. He also has performed and recorded with Chip Taylor, Randy Neuman, Bonnie Raitt, Natalie Merchant, Don Mc Lean, and Judy Collins. Burke is a drummer and percussionist with The Radio City Music Hall Orchestra He has performed with Bob Dylan's The Rolling Thunder Review and recorded and toured extensively with Joe Jackson.
Miss Marie has performed and recorded with Levon Helm, Rick Danko, Garth Hudson and The Commander Cody Band and was an integral part of Mercury Rev's gold album "Deserters Song." Campbell (Bass-Vocals) was Levon Helm's Music Director with the Woodstock All-Stars. He also has performed and recorded with Steve Forbert.
"The current lineup has been the same for the last 15 years," said Louie. "We've had the nucleus of the same five for quite a while. We also have different horn sections we use in different part of the country. In Pennsylvania, we usually use a horn section from Scranton.
"We've played the Sellersville Theater a lot and have always had horns there. This time, we won't have horns. With the pandemic and social distancing, there is less space and it's too small for a band with nine or 10 people.
"We're also a good recording band. So, people use us a lot when they record. They hire us to be their studio musicians."
Professor Louie & The Crowmatix have established a truly international reputation.
In 2007, they recorded their song "Melody of Peace" with the Czech Symphony in Prague that was released on the 2007 ERM Media CD "Holidays of The New Era Vol.2". Professor Louie's documentary "Woodstock – Siberia Blues Express" was filmed in Russia and featured in the Woodstock Film Festival in 2007.
"We have a good following in Russia," said Louie. "We've toured there seven times. We've played a lot of shows in Novosibirsk and other Siberian cities."
The group has managed to stay productive despite the pandemic.
"We've been sticking to the studio and writing a lot of songs," said Louie. "We're hoping to release in 2022 three different types of albums – three different genres. One album will be all originals.
"Since we've played with so many acts such as Dylan, The Band and a lot more, we're doing an album of covers of their songs. For the third album, we've got to pay homage to the great blues people from way back – blues acts that musicians like Muddy Waters covered."
Shows at the Sellersville Theater by Professor Louie & The Crowmatix are always special. The show this weekend will be extra special.
"This will be our first show in more than a year that we'll actually have a live audience to play for," said Louie. "I can't wait."
Video link for Professor Louie & The Crowmatix — https://youtu.be/ghtiQ3_ste4.
The show at the Sellersville Theater on April 23 will start at 8 p.m. Ticket are $21.50. Livestream tickets are $12.50.
Another upcoming show at the Sellersville Theater will feature Mike Guldin & Rollin' And Tumblin' on April 27.
Many comedians talk about being funny for as long as they can remember and have tales of being a "class clown."
Such was not the case with standup veteran Liz Miele.
Miele, who will the headliner at Punch Line Philly (33 East Laurel Street, Philadelphia, www.punchlinephilly.com) from April 22-24, got a late start.
"I started comedy when I was in high school – when I was 16," said Miele, during a phoner interview Wednesday from her home in Brooklyn, New York. "I started writing jokes and telling them to my friends. Then, I began reading books on how to be a comedian.
"Prior to that, I was always very shy. And I'm dyslexic so I was in special classes. At a young age, I was writing and illustrating my own books starting in third grace with 'Spiffy the Spider.'
"When I was 16, I started doing shows in the city (New York City) every week. They were 'bringer shows' where you'd get stage time if you brought a certain number of paying customers to the club. I was doing open mics and bringer shows. I also got kicked out of a lot of clubs because I was only 16.
"My first standup show at 16 was at the Comedy Cellar in 2002. It was a bringer show. If you got five paid, you got seven minutes. I got to be a regular at the club – what's referred to as being 'passed.'
"At 17, I did shows at Ha! In the city. You had to hand out flyers to get stage time. You'd hand them out with your initials on the back and then they'd count them and give you time. It was less about being funny and more about doing labor with the flyers. Did I get laughs – yes. Did I murder – no."
Miele is a self-described "Jersey Kid." She grew up in Pennington, New Jersey and graduated from Hopewell Valley High School.
"When I started working as a standup, it was before the time of the internet and podcasts," said Miele. "I read a couple books about performing comedy. I knew it took 10 years to get good.
"I got passed at Comedy Strip Live. They liked me but said my setup was too long. I do talk a lot and take my time. But, if you're funny, it doesn't matter how long the setup will be."
Miele was she was profiled in The New Yorker Magazine when she was 18 and, four years later, appeared on Comedy Central's "Live at Gotham." She also has appeared on Comedy Central's "This Week at the Comedy Cellar," NPR's "Wait Wait Don't Tell Me," Hulu's "Coming To The Stage," and AXS TV's "Gotham Comedy Live."
"I was on TV for the first time when I was 22," said Miele. "That first TV credit helps you get work. And it gets you a manager. I started going on the road at that time – featuring and headlining."
Miele has done several tours with the "Nobodies of Comedy" and Armed Forces Entertainment and performed on a book tour for Chris McDougall, author of "Born to Run."
She has several viral videos on YouTube, Instagram and TikTok including jokes "Feminist Sex Positions," "F*ck Finland," and "London Cops Are Better Than American Cops. She regularly tours internationally and has three albums out on spotify and itunes and released her first special "Self Help Me" in May 2020 free on YouTube.
Her first book, "Why Cats Are Assholes," was released on March 30, 2021.
"It's 200 pages about cats," said Miele. "It's the history of cats and jokes about cats. I love cats. They are great. Both my parents are veterinarians, and my mom is a cat specialist. I grew up with cats and love living with them.
Miele wrote and produced season one of her animated web series "Damaged," voiced by great comics including, Maz Jobrani, Hari Kondabolu, Ted Alexandro, Dean Edwards, DC Benny, Joe Machi and so many more. She also co-produced and co-starred in 40 episodes of a web series called "Apt C3" with fellow comic, Carmen Lynch and fashion photographer, Chris Vongsawat.
She released her debut comedy album, "Emotionally Exhausting" in 2014 and followed with "Mind over Melee" in 2017 and "Self Help Me" in 2020.
"I put out my first album about eight years ago," said Miele. My whole goal was to show people that I'm a headliner. After the album came out, I started touring overseas – London and Europe. I also performed at the Edinburgh Fringe Festival in Scotland.
"All my videos started going viral two years ago. Now, it's been effortless. Gigs are coming to me instead of me looking for them. I was just starting to reap the rewards of 16 years of hard work and then the pandemic hit. So, I developed my own Zoom show. I also did park shows and rooftop shows."
In addition to this weekend's shows in Philly, Miele has upcoming shows scheduled in Minneapolis, Minnesota, Brooklyn and Arlington, Virginia.
"I've been working a lot on new material," said Miele. "My show at Punch Line will be completely new material."
Video link for Liz Miele — https://youtu.be/0JnqlLRbpoo.
The shows at Punch Line Philly are scheduled for April 22 at 8 p.m. and April 23 and 24 at 7:15 and 9:30 p.m.
General admission tickets are $27 on Thursday, $30 on Friday and $32 on Saturday.
Other shows at Punch Line Philly this month are Pandemic Poetry (April 25), Lovable Monsters (April 28), Omar Terrell (April 29) and Majah Hype (April 30-May 1).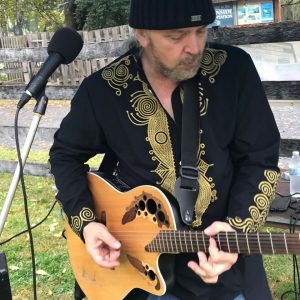 Audience members at Frank Porter's show on April 24 at Jamey's House of Music (32 South Lansdowne Avenue, Lansdowne, jameyshouseofmusic.com) might find themselves wondering where all the sound is coming from – especially since there is just one guitarist on the venue's small stage.
Porter is an award-winning professional guitarist, independent songwriter, and band leader with over 30 years of experience who signed with Tate Music Group for his "Who I Am" album. He is a dedicated and reliable professional entertainer who writes and performs acoustic original songs, upbeat and unique instrumentals, as well as select classic rock cover songs with an emphasis on blues, folk and rock.
Fans know him for his deft playing on acoustic guitar and his emotional playing on electric guitar and lead guitarist in various bands. When Porter plays at Jamey's, he will be playing guitar and looping.
Live looping is the recording and playback of a piece of music in real time using either dedicated hardware devices, called loopers or phrase samplers, or software running on a computer with an audio interface. Musicians can loop with either laptop software or loop pedals.
"Now, I use a looper pedal," said Porter, during a phone interview Tuesday from his home in Center Valley, Pennsylvania. "I can do guitar solos and have the rhythm track on loop. I wanted to use some more lead guitar."
Porter grew up in Lake Placid, New York and has been living in Pennsylvania for three decades. He has been performing music since a very young age.
"I used to sing along with my father's record," said Porter. "I learned a song — 'Okie from Muskogee' – that was also on the jukebox of a bar my father used to go to. When I was six, I sang it at the bar – the Handle Bar in Lake Placid – and people were throwing coins for me. My father was also a trombone player.
"Later, I saw Roy Clark and Chet Atkins on TV and that attracted me to country music. Then, an art teacher at my school brought in a Kiss album. When I heard that, I changed directions. I decided I wanted to be a rocker.
"I asked my dad to buy me a guitar. He said I had to wait a year and, if I was still interested, he'd buy me one. A year later, I had my first guitar.
"I graduated from Kiss to Led Zeppelin and guitarists like Jeff Beck, Eric Clapton, Jimi Hendrix, the Bluesbreakers and Muddy Waters. That was during my high school years in Lake Placid. My first gig was in 1978 with a band called Demon. We played mostly original music."
Famous as "Chuck Porter" in Lake Placid, New York, Porter started out playing in the Lake Placid area. Able to play multiple instruments (Bass, Drums, Mandolin) and gifted at songwriting and arranging, he began singing with a female lead vocalist.
"Six years after Demon, I was in a cover band called Wild Root," said Porter. "Our female lead singer was from North Wales, Pennsylvania. We did a duo thing after the band broke up.
"She decided she wanted to come back to Pennsylvania. I had to decide between staying in Lake Placid or moving to Pennsylvania with her. So, we continued as a duo down here.
"We had some success with 36 originals along with a lot of covers we could play. We had Elektra Records seriously interested in signing us. But when the guy from Elektra explained to her that it would mean a lot of touring, she quit. She just didn't want to tour."
Obviously, Porter continued with a career in music.
"I started a band called Frank Porter's Problem Children in 2008," said Porter. "I was living in Center Valley at the time. After a while, I was trying to get us to do an album, but the band didn't want to work on stuff. So, I started doing solo shows and got a record deal. I got signed to Tate Music Group.
Porter, who mainly played electric lead guitar in bands, started producing solo acoustic albums between bands – "Who I Am" in 2013, "Frank Porter Live" in 2015 and "I Can Win" in 2017. He took sixth place in the Indie International Songwriting Contest in 2015 and won the Indie Music Channel Radio Music Award in 2017, both for an original instrumental song. In 2008, he won the last Gibson/Epiphone Guitar Solo contest ever held at the House of Guitars in Rochester, New York.
Porter has played acoustic and electric guitar. He has performed solo and in bands. Now, fans can hear him accompanying himself when he performs live – thanks to looping.
"I have had my looper since 2019," said Porter. "It's made by a company called Ammoon."
Video link for Frank Porter — https://youtu.be/F8q4LlMUaPU.
The show at Jamey's House of Music on April 24 will start at 8 p.m. Tickets are $15 in advance and $18 at the door. The show will also be available via Livestream for $15.