Cheers to The Longwood Art Gallery in Kennett Square!
By Lele Galer, Columnist, The Times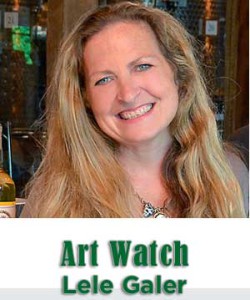 In Kennett Square,  The Longwood Art Gallery, is celebrating its 10th Anniversary with "The Art of Glass" featuring the light-filled glass works of Lore Evans, Lisa Sabol and Don Jost April 3-35.  Lore Evans, of the Glass Gallery in Chadds Ford, feels that "each sheet of glass has its own point of interest of 'heart.'"
From functional works in glass, to mobiles and unique art objects that catch and reflect the light, this will be a dazzling show to celebrate the Gallery's Ten years in Kennett Square. The opening for the show is First Friday, April 3rd, from 6-9pm where you can meet the artists, enjoy food, wine and live music by The Ladeens.  Pop in to the gallery and say congratulations!
Also in Kennett Square, for the month of April, Mala Galleria will show two different shades of magic with  the new naïve folk artworks by  artist Bogdan Miscevic, as well as local traditional equine painter Mamie Duff.  Bogdan 's artworks have strong Yugoslavian roots in illustration, fantasy and history.
Vibrantly colored, fantastically detailed magical scenes make you crave to see more. His work is featured in museums and collections around the world, and we are fortunate to see a glimpse of his creative universe right here in Kennett Square.
Juxtaposing these lively illustrative scenes is a large round canvas with a single white majestic horse by artist Mamie Duff. An avid horse rider, Mamie clearly loves her subject matter .
She draws in the viewer to a kind of magical reverie that is the beauty of a horse. Stella, the owner of Mala Galleria is always bringing in such an interesting mix of talent, but I wish she had a larger gallery so we could see more!
West Chester's First Friday in April will have a local artists showing at various business locations, but the really big Friday West Chester Art Stroll is in May, so stay tuned.
This month, The Art Trust Gallery at Meridian Bank shows  "The Chester County Studio Tour Exhibit"  which features the works from many of the 100 artists that will be exhibiting at 47 studios throughout Chester County on May 16-17. I will be writing more about this incredible art tour-de-force next month, but you can catch a sneak peek at The Art Trust show starting on April 1st.  Founder of the Chester County Studio tour, artist Jeff Schaller describes the show as  "A plethora of Chester County's finest all in one location." I am looking forward to seeing it, and it will give visitors to the big tour an idea of which artist studios that they would like to visit.
In Phoenixville, at The Art Gallery at Franklin Commons on Friday April 3rd from 6:30-8pm is Family Fun Night where you may bring your whole family to enjoy a gallery tour, go on an art and science scavenger hunt and create some take home science art. If you are looking for other fun family art activities in this area, check out The Brandywine River Museum of Art, The Delaware Museum of Art and of course The Chester County Art Association and The Oxford Art Alliance for their weekly offerings.
Speaking of The Oxford Art Alliance, Friday April 3rd from 5-8pm will be the opening to their newest show "Architecture".   Seven local architects are showing their work, models, sketches and the process that it goes through in an artful way.  Says exhibiting architect Wayne Simpson, "Anytime you raise awareness of architecture is a good thing….it is a big part of our lives and most people don't understand how it works!" I love that idea and I do hope that they follow this exhibition with a open discussion with the architects. That would be fascinating!
Lele Galer is a local artist who has chaired numerous art shows, taught art history and studio art, public art and has chaired, written and taught the Art in Action Art Appreciation series for the UCFSD schools for the past 12 years. She worked at the Metropolitan Museum of Art, and wrote for the Associated Press in Rome.  She has been dedicated to Art History and art education for most of her adult life. Lele and her husband Brad own Galer Estate Winery in Kennett Square and she is on the Board of the Regional Center for Women in the Arts, Chester County Art Association and The Delaware Valley Art League.