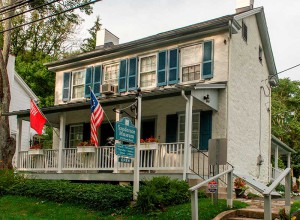 CHADDS FORD — A very exciting 2015 season is planned at the Christian C. Sanderson Museum on Creek Road in Chadds Ford.  The Museum's doors will re-open on March 1st and visitors are invited to see history like they've never seen it before.
The Sanderson Museum is proud to present two fascinating exhibits this year. The Abraham Lincoln Exhibit will open on April 16th and highlight many unusual artifacts related to this important statesman. The World War I exhibit, opening on September 17th, will display intriguing artifacts from this major war.
The museum will also host two "Wine & Sign" events in March and November where guests can sample local wine and purchase the works of regional authors and artists.  Great gifts for any occasion. Additionally, in May, visitors can relax and enjoy outdoor music as the museum hosts its 2015 Tribute to the Pocopson Valley Boys.
New to the Museum's event calendar are "Sanderson's Summer Stories". Children will enjoy an interactive book reading and participate in a related craft and snack.
The Sanderson Museum represents a man's life and a nation's history. It contains an eclectic array of art, military memorabilia, presidential artifacts, local history, and collectibles.  Open March through November, Thursday through Sunday, 12pm to 4pm or by appointment. Visit the museum at 1755 Creek Road, Chadds Ford, just north of Route 1. Admission to the museum is $5 for adults and free for members and children under 12. For more information, call the museum at 610-388-6545 or visit the website at www.sandersonmuseum.org.