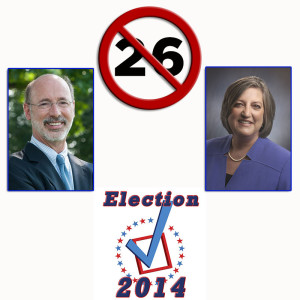 This represents the final installment of The Times' first-ever political endorsements. Friday, we offered our take on the U.S. Congressional races and Saturday we offered our thoughts on six state representative races in Chester. We welcome your comments and thoughts.
Governor: Tom Wolf
Barring a meteorite strike, Tom Wolf is almost certainly going to be the next governor of Pennsylvania. But we still find ourselves asking this: Are we sure that's a good thing?
To be sure, the first term of Gov. Tom Corbett has been something of a disaster — he pretty much tried to keep all of his campaign promises, and they largely turned out poorly. He struggled (and that may be a kind description, based on private comments made by GOP legislators) to find common ground with a state legislature dominated by his own party. 
He failed to make any progress toward liquor privatization. He failed to do anything about the growing public pension crisis and, despite a slowly recovering national economy, clearly has left Pennsylvania in much worse financial shape than he found it.
Gov. Corbett has been what the kids call an "epic fail" so it's no shock that he stands to be the first incumbent governor to lose a reelection bid.
But is electing Tom Wolf the solution, or just a reaction to Corbett's failure?
We're not sure, which is troubling.
Wolf seems bright and personable, but his lack of specifics on how he'll tackle problems makes one wonder whether there is any there, there. Pennsylvania is a deeply wounded state and it badly needs the political equivalent of a trauma surgeon (especially after eight years of a carney snake oil salesman, Ed Rendell, and four years of kindly drug store clerk in Corbett). After all these months of campaigning, we're still not sure that Wolf is up to the job — or even has a full grasp of what he's getting into.
So, like many in Pennsylvania — with a brush fire closing in behind us — we're crossing our fingers and jumping off the cliff for Tom Wolf. We could be making a proverbial leap out of the frying pan and into the fire, or in the badly-needed direction of real change in Harrisburg.
How a Wolf Administration will pan out is unclear, but four more years of Tom Corbett is something the commonwealth cannot endure.
44th Senate District: Kathi Cozzone
This was among our toughest choices, as Sen. John Rafferty has been a solid, two-term senator and is dignified and respected, with cause. So, understand that this is less an indictment of Rafferty than of Harrisburg and a startling need for change, a beginning of true bipartisanship and a serious attempt to address this state's many looming crisis'.
Kathi Cozzone, as a Democratic County Commissioner in a strongly Republican county, has proven herself able to work to get things done. She might not have gotten the headlines some of her predecessors got, but in many ways, her work with colleagues Ryan Costello and Terence Farrell have proven much more valuable, as Chester County has managed to weather horrible financial times and still manage to provide key essential services — and social services — to those most in need.
Cozzone fought quietly, yet effectively, and knew when to negotiate rather than pontificate — and Chester County is better for it.
And while Rafferty is clearly a good and honorable man, rather than being an agent of change, he's been an agent of same. We need change, and we need it badly, and we think Kathi Cozzone can help be part of a new and more effective state government.
26th State Senate District: None of the above
We wish that we could endorse a suitable candidate in this race — were there one in the race. While on any number of races we chose to pass on making a recommendation, either because we felt no candidate was clearly superior or there wasn't massive difference, in this race we felt some statement was needed.
Simply, it's clear neither deserves office in Harrisburg.
In the 26th, with two candidates seeking to replace Sen. Ted Erickson — Republican Tom McGarrigle and Democrat John Kane are waging the nastiest race in recent history, making folks in Delaware County, used to bare-knuckle political brawls, blush, let alone those of us in Chester County, who expect our campaigns to be run with a tad more dignity than a pro wrestling match.
Worse, both candidates appear to be wholly-owned subsidiaries of their respective special interest groups and show no sign of being able to speak for themselves.
In short, neither of these two have earned your vote, so we suggest writing in almost anyone else. Obviously, one of these wretches will win — and it should be to our collective embarrassment that either party is rewarded for running this sort of campaign.  That's a point that should be made, and made loudly, to whomever tallies the most votes on Nov. 4.