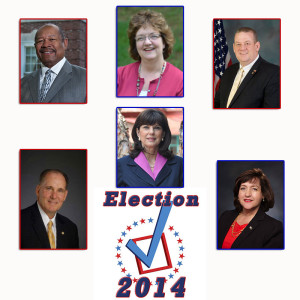 Today, The Times, continues our formal endorsements of candidates, with six state Representative races today. We did not choose to make endorsements in every state house district in the county, in part as they are not primary coverage areas as yet, or we did not feel an endorsement was appropriate. Our endorsements started yesterday with Congressional candidates and wraps up with state Senate and Governor on Sunday.We appreciate your feedback in making these first-ever endorsements.
74th District: Harry Lewis, Jr., Republican
In what is arguably the most-watched legislative race in Chester County there has been little heat, little light and not much in the way of actual issues conversation in a race pitting former Coatesville Area High School principal Harry Lewis Jr. and Downingtown Mayor Josh Maxwell.
While there is no doubt that Maxwell is bright and passionate about the issues, there are a few things that make us question whether he is ready for higher office. Harrisburg is no place for someone in over their heads — and while we think Maxwell will eventually win and hold this office and serve with distinction, we're not sure the time, and the situation is right.
The district — and Coatesville in particular — face deep, deep challenges and will need a strong advocate with some pull in the halls of Harrisburg. It's no secret that the city may be less than three years from financial insolvency — and headed for Act 47, without state help. Lewis, a city native and someone who has seen the impact of the city's struggles for more than a generation, we think, knows what is at stake and would be the best advocate for the city in Harrisburg.
The voters of the 74th District are lucky to have two candidates, either of whom would likely serve their constituents well. We just think at this point, Lewis is the better option.
156th District, Dan Truitt, Republican
Dan Truitt may not be the best-known elected official in Chester County, but he always seems to be involved when it counts. Unusual, too, is his blunt honesty at times, his business-honed focus on the bottom line and general unwillingness to play politics. He is, admittedly, deeply conservative (probably more so than his district at large), but also has been willing to buck his own party when he feels it is the right thing to do.
To date, we've not seen anything from Democrat Sandra Snyder to indicate that she would be an upgrade over Truitt. And maybe it was disappointing that she glossed over errant claims about Truitt on one of her mailers — and rather than apologize, went on the attack. With Harrisburg polarized already, adding another angry voice to the chorus seems counterproductive.
While we might disagree with Truitt on a number of issues, he has shown a willingness to listen, to explain his positions and engage with his community. As such Truitt has been an asset to the people of Chester County and deserves return to Harrisburg for another term.
157th District: Marian Moskowitz, Democrat
If it seems a bit like State Rep. Warren Kampf's campaign has been scrambling, it is with good reason. Moskowitz is that rarity among Democrats: a proven entrepreneur and job creator, who played a strong role in the renaissance of Phoenixville. And Kampf's attempt to lamely use a benign Tweet by Moskowitz to attack her over a potential tax hike demonstrates a character problem — another voice that could improve the dialog in Harrisburg by being removed.
Granted, Kampf, in his four years in General Assembly was a strong supporter of liquor privatization, a prime sponsor of one failed bill in that effort, and for reducing the size of the legislature, both laudable initiatives. Neither, though, went anywhere. Nor was there progress on solving the public pension crisis. Other of his votes — anti abortion votes, expansion of red light cameras (little more than a technology-driven tax lottery than a real law enforcement measure) and more that are deeply out of step with his district.
With Pennsylvania now among the worst states in the entire U.S. when it comes to job creation, it makes a lot of sense to send someone who has created a number of private sector jobs, which why we think Marian Moskowitz is the best choice for the 157th District.
158th District, Susan Rzucidlo, Democrat
With the chaos that has befallen the race in the 158th District, with the sudden late September withdrawal of Cuyler Walker and the substitution of State Rep. Chris Ross, at best, it has been a difficult race to evaluate.
Ross has been a solid, respected and moderate member of the state legislature. If not a standout, he does and has represented southern Chester County well. As a member of that dying breed, the moderate, pro-choice Republican, he harkens back to a day when politics was a little less polarized and a bit more effective.
So why not send Ross back for his 10th term? A fair question, with two answers: one, after announcing his retirement a year ago, and his decision to step away, it's hard not to feel like Ross' heart — no matter his and other's protestations otherwise — isn't really in it. And there is some reasonable sense that the process that put Ross on the ballot after Walker's very late withdrawal from the race has left many in the community feeling the entire process was rigged.
But the second and larger reason: Rzucidlo herself.
She shoots from the hip — and it's very likely that the folks least excited about her winning in November are the Democratic Party leaders of the state house. If elected, we have no doubt that she will be an ongoing pain in the posterior for party leaders of all stripes. She is tenacious, stubborn, passionate and honest. We can think of no better advocate for southern Chester County than Susan Rzucidlo.
160th District, Stephen Barrar, Republican
This race asks the question: how much does ideology matter when you need help with something in Harrisburg?
We can think of very few issues on which we agree with State Rep. Steve Barrar — his unwavering support for first responders and veterans and work on their behalf come immediately to mind, but it's not too long a list beyond that — and yet, it is difficult to find a state representative who works harder and is more responsive to both local officials and the public at large than Steve Barrar.
We have heard countless accounts — even from self-described "liberal Democrats"  — gushing about how Barrar and his office went out of their way to help them solve a problem. That should count for something, even if we think he probably is much, much more conservative than his newly drawn district. And even with that, he has slowly moved a tiny bit toward the middle, supporting an extraction tax for natural gas, which may be a sign of some evolution.
And in fairness, Democrat Whitney Hoffman has shown herself to be a savvy candidate with a solid grasp of the issues and many of the skills that would make her an excellent state representative. In many other races, she would earn an easy nod from this corner.
But at the end of the day, whatever you think about Barrar's stances on the issues, he's been such a strong presence in the 160th District that he has earned another term in Harrisburg.
We note that we would like to see Hoffman make a second run in 2016 — especially as pressures mount from within and without the Republican party for Barrar to consider retirement after what would be his 10th term. As an example, a potential 2016 race between Hoffman and Chadds Ford supervisor Frank Murphy would prove to be interesting, enlightening and probably very close.
District 167: Anne Crowley, Democrat
State Rep. Duane Milne is certainly a nice enough individual, but, as one gets the impression that he is miscast in politics. While some West Chester University professors have, at minimum, been interesting in elective office (see Dinniman, Andrew) Milne has seemed more absent-minded than cutting edge. His celebrated lack of discussion about the pension crisis led to a brief, but passionate challenge in the GOP primary — and wider dissatisfaction with him among party regulars.
Meanwhile, Anne Crowley knows all too well about the impact of the public pension crisis. She spent four years on the Tredyffrin/Easttown Board of Education and watched first-hand how spikes in pension costs hurt even that high-performing school district. One can rest assured she won't go to Harrisburg and sit idly by as further hikes continue to hurt education and strangle state programs.
We think that Anne Crowley represents the best option for breaking the gridlock in Harrisburg and is the best candidate for the residents of the 167th District.