Let's just say the race got a lot more complicated
By Mike McGann, Editor, The Times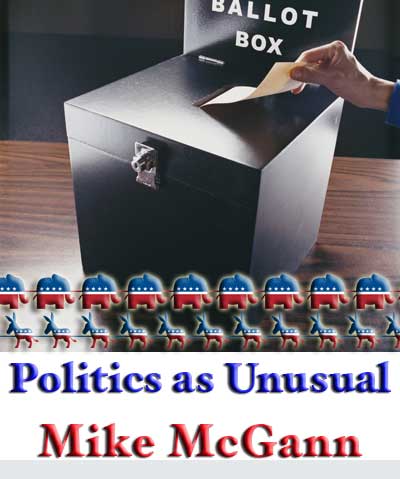 So Cuyler Walker is out, and it appears that Chris Ross is in.
Let us set aside the circumstances for moment, as complicated and messy as they are, and look at the situation in the 158th District from a purely political standpoint.
Obviously, assuming that Ross is the choice Sunday night — and every single indication is that he will be — there are obvious positives for picking the nine-term incumbent, but some even more clear minefields created by the move and process.
First, let's look at the obvious positives:
Name recognition: as a nine-term member of the house, Ross is one of the better-known state representatives in Chester County. He is a known quantity, a fairly moderate voice (he's Pro-Choice) and typically draws solid independent and even some Democratic support in November elections.
Fundraising: again, a known quantity, not just to voters, but to individuals and political action committees who will have a high comfort level in writing checks.
Network: Ross has two decades of relationships and supporters, who can quickly mobilize and put the word out on his behalf.
Matchup: Ross has beaten Democrat Susan Rzucidlo twice already and it can be an enormous challenge to convince voters they were wrong twice previously.
The Chester County Republican Committee: to be blunt, whatever their shortcomings, they're still really good at old-fashioned politics. They turn out the vote well, even against a prevailing tide and still retain a lot of internal discipline, meaning committee people will largely push hard for Ross when it counts.
But (and there's always a but) the choice also comes with some baggage.
Again, we'll set aside the Walker issues, including what did the party know and when and whether or not the entire situation impacts the race. Passions are high now, but six weeks from now, when more is known, the situation could be vastly different — it's impossible to judge right now how that will go.
That aside, there are some very sticky issues for the GOP to navigate.
First: Roger Howard. There is very strong sentiment among segments of the rank and file of the GOP that Howard should be given the nod as "next man up." Although party regulars don't see him as a strong enough candidate to win in November, a number of folks have complained to me that the "fix is in" and that they either won't vote at all or will vote for Rzucidlo in protest. The simmering anger over the party leadership backing Walker in the spring — which turned into a mess — and then backing a much less conservative candidate in Ross now is likely to boil over in an ugly way.
Best case scenario: a small number of conservative GOP voters disenchanted with Gov. Tom Corbett and angry over the Howard snub, especially at the hands of socially moderate candidate, stay home. Worst case: out of anger, there is an organized protest effort to back Rzucidlo (under the assumption she could be beaten in 2016) and Wolf to send a strong message to party leadership.
Resources: until this week, the House Democratic Campaign Committee wasn't taking this race that seriously, despite being an open seat. Walker's personal wealth and ability to fund raise appeared to worry the HDCC — which granted, has about the same track record in Chester County as a travel agent for The Hindenberg — so they were largely sitting the race out. Now, that has changed, and insiders tell me that they are going to move resources into the race.
District changes and demographics: until redistricting, the 158th was a pretty safe Republican district. But now it only leans Republican — which should give a Democrat a fighting shot, especially in a female versus male matchup (women are more likely to gender select then men — typically it is worth about 1.5% depending on the district).
History: Although Corbett has high negatives, so does the legislature. For better or worse, Ross has to carry the legacy of his 18 years in the house — and his vote in 2001 that helped touch off the current pension crisis. At a time when voters are angry and may have a bit of a "throw the bums out" mentality, Ross may find a backlash from some quarters.
Desire: the last lingering issue for Ross is this — he wanted to retire. Does he really want to do this for two more years? Will voters question whether he really wants the job? Ross will have to make a strong case as to why, suddenly, he wants to stay, less than a year after saying he was ready to be finished. Voters are oddly attuned to when a candidate's heart isn't in a race.
These will all be issues to watch and may well be why this race suddenly is one of the most-watched races in the entire state.
And while it will be interesting, the potential for a long-lasting internal fight — the sort of internal strife that has paralyzed the county's Democrats for more than a decade — is clearly there. It's been bubbling up for a few years, but never reached critical mass. This week's events may have changed that.
* * *
It appears that with everything else going on, there was either a bit of dirty pool or a poorly timed technical glitch in the cyber world this past week.
The Facebook page of the Kennett Area Democrats was apparently hacked and deleted last week. Local Democrats weren't pointing any fingers, but suggest that it seems like the usual theft of campaign signs and other "thug" behaviors they've encountered over the last decade, from fringe types who seem to still feel Democrats shouldn't even exist in Chester County.
The new Facebook page for the Kennett Democrats can be found here:
https://www.facebook.com/KennettDems
* * *
A couple of interesting changes in status — at least in my mind — in other state legislative races in the county.
I'm a lot less bullish on the 156th District race being competitive than I was a few weeks back — and I'm hearing polling numbers that confirm that. Sandra Snyder has struggled with fundraising — and a couple of county committee people have suggested to me that she has had issues "playing well with others" at times, and there doesn't seem to be a lot of passion for her race among party insiders. Dan Truitt appears a lot safer than he did even six weeks ago — but the district still offers some challenges, especially if Corbett drives down GOP turnout.
On the converse: the race in the 157th District is really heating up. Democrat Marian Moskowitz is reportedly doing very well in fundraising — and Republican Warren Kampf has been forced to air cable TV commercials — an unusual move for an incumbent. I'm told by sources in both parties that the polling, while showing Kampf ahead, doesn't suggest a comfortable lead. With Corbett likely to hurt GOP turnout, the race may now be solidly in play.
Obviously, the races in the 167th (where Democrat Anne Crowley is taking on GOP incumbent Duane Milne) and the new, open seat in the 74th, pitting Downingtown Mayor Josh Maxwell, a Democrat, against former Coatesville Area High School principal Harry Lewis Jr., a Republican, are still among the top races to watch in the county. I've been a little stunned at how quiet the 74th race has been — Maxwell has done a lot of visibility events in his role as mayor — but it seems like both candidates have been a bit under the radar so far.
Keep an eye on the 44th state Senate race. Although Sen. John Rafferty appeared to have a firm grip on the race, I'm hearing that County Commissioner Kathi Cozzone is doing better than expected in polling. Like Kampf, Rafferty has taken to the airwaves as well.