A busy Fall Art Scene & the Influence of Mentors with 'Uncommon Denominators' and 'Celestial Spheres!'
By Lele Galer, Columnist, The Times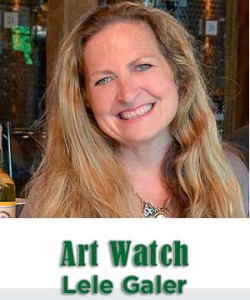 The Fall line-up for Gallery shows is heating up with September's First Friday openings for new shows this Friday, September 5th all over Chester County. New Fall Class schedules are also available now for sign-up at The Chester County Chester County Art Association and The Oxford Art Alliance.
There is a double show for artists Katee Boyle and Lele Galer entitled "Celestial Spheres Shining" which will open at Galer Estate Winery's Pop up show this Thursday September 4th from 4-8pm, and then reopen at The Chester County Art Association's Exton Gallery for an art reception from 1-4pm on Saturday September 6th. The Exton Gallery exhibits art in its gallery in the Exton Mall, (located between Boscovs and H&M) and features a different artist every month. Katee and Lele are friends who decided to collaborate on an over-the-top, exploratory,  mixed-media show that highlights their own unique points of view.
The show's title is from Dante's Inferno, and suggests an other-worldly realm of shining spheres, angels and dreamscapes. Katee and Lele are showing a combination of welded steel pieces, encaustic, fabric and oil paintings. Katee says, "'Celestial Spheres' represents my movement as an artist, growing forward and upward while exploring different mediums that I have been exposed to by fellow artists.
Like the motion of a sphere, sometimes, it feels like running in circles to get to what i feel is the "next level." Both Lele and Katee acknowledge a great debt to artist and mentor Stan Smokler whose summer welding workshop introduced them to the fascinating and wonderful medium of mig welded steel. Both openings should be a lot of fun.
Speaking of sculpture and great mentors, "Uncommon Denominator: a mentor's influence" will open this Wednesday September 3rd from 4-7pm at the New Gallery at West Chester University. This is an exciting exhibition of sculptural works from 19 different artists who are all linked by their inspiration from the same art professor, James P. Nestor. Artist Karen Delaney writes, "I have curated this show in celebration of the influence this mentor has had on all of us." What a wonderful idea for a show!  Each of the sculptors have a very distinct point of view that is fresh and challenging, and this is sure to be a fascinating exhibition.
Also showing at West Chester University, The Delaware Valley Art League presents a members-only exhibition of juried paintings in the Knaur Gallery at Swope Music Building. The opening for the DVAL show will be Sunday September 7th from 1-3pm.
Painter John Hannafin is opening up his West Chester studio/gallery at 19 South Church Street for this First Friday from 6-9pm. Just returning from an inspiring trip to see the Van Gogh museum in Amsterdam, John's newest works  strive to "express the humanity, life and spirit that Van Gogh so truly expressed."  At 12 South Church Street, The Church Street Gallery will be unveiling its newest exhibition "Beauty First" with paintings by Monique Lazard. Gallery owner Carol Giblin says that she is "very excited to present Monique Lazard's first large scale solo exhibition show in this area". Her work has been seen in a number of area venues including the Carspecken-Scott Gallery, Sunset Hill Gallery and twice participated in the prestigious Wayne Art Center "Plein Air" event. The opening reception will be this Friday from 5-9pm.
In Kennett Square, Mala Gallerie is opening the new season with a reception on Friday from 6-9pm for "Trees" featuring the powerful paintings of Frank DePietro. You have got to stop in there while you are enjoying all the fun at the famous Kennett Square Mushroom Festival! Mala Gallerie is located at 206 State Street in Kennett Square, just up from  the post office. This local gem of a gallery  features a new artist every month in the main gallery as well as a smaller room exhibiting the of works from a variety of local artists.
The wonderful Wine and Dinosaurs event at the Delaware Museum of Natural History still has tickets available for its big annual event Sunday September 14 and its silent auction features some sculptural work by some of our local favorite sculptors including Jeff Bell, Stan Smokler and Kevin Bielicki. This is a terrific event for a great cause, and a nice chance to purchase some great local sculptures.
www.kateeboyle.weebly.com
www.wcupa.edu/cvpa/art/Exhibitions.asp
www.chestercountyarts.org/exhibit/exton
Lele Galer is an artist who has chaired numerous art shows, taught art history and studio art, public art and has chaired, written and taught the Art in Action Art Appreciation series for the UCFD schools for the past 12 years. She worked at the Metropolitan Museum of Art, and wrote for the Asociated Press in Rome.  She has been dedicated to Art History and art education for most of her adult life. Lele and her husband Brad own Galer Estate Winery in Kennett Square.